August 23, 2018–March 31, 2019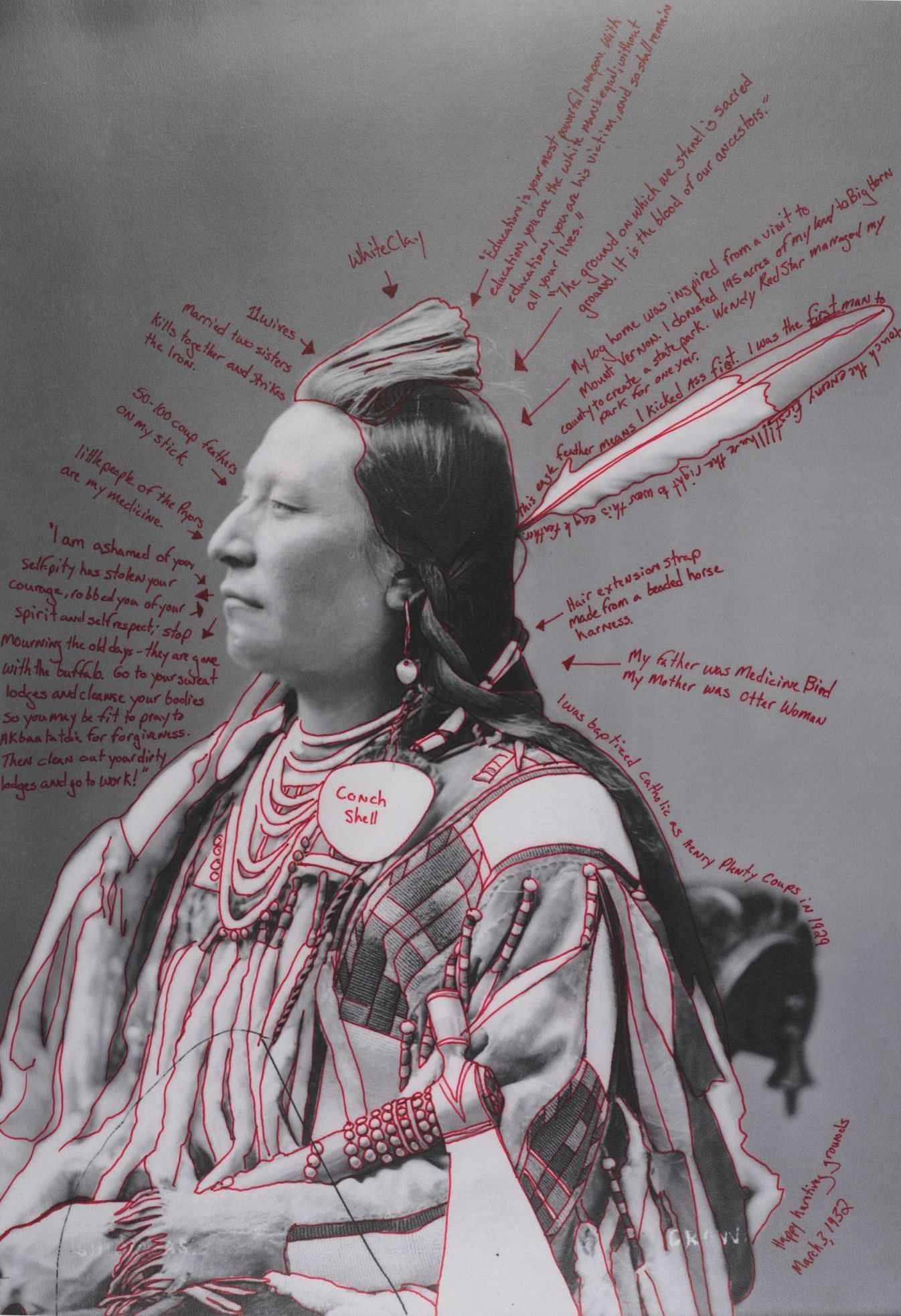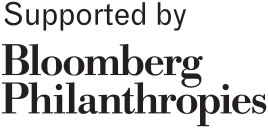 Tell me more.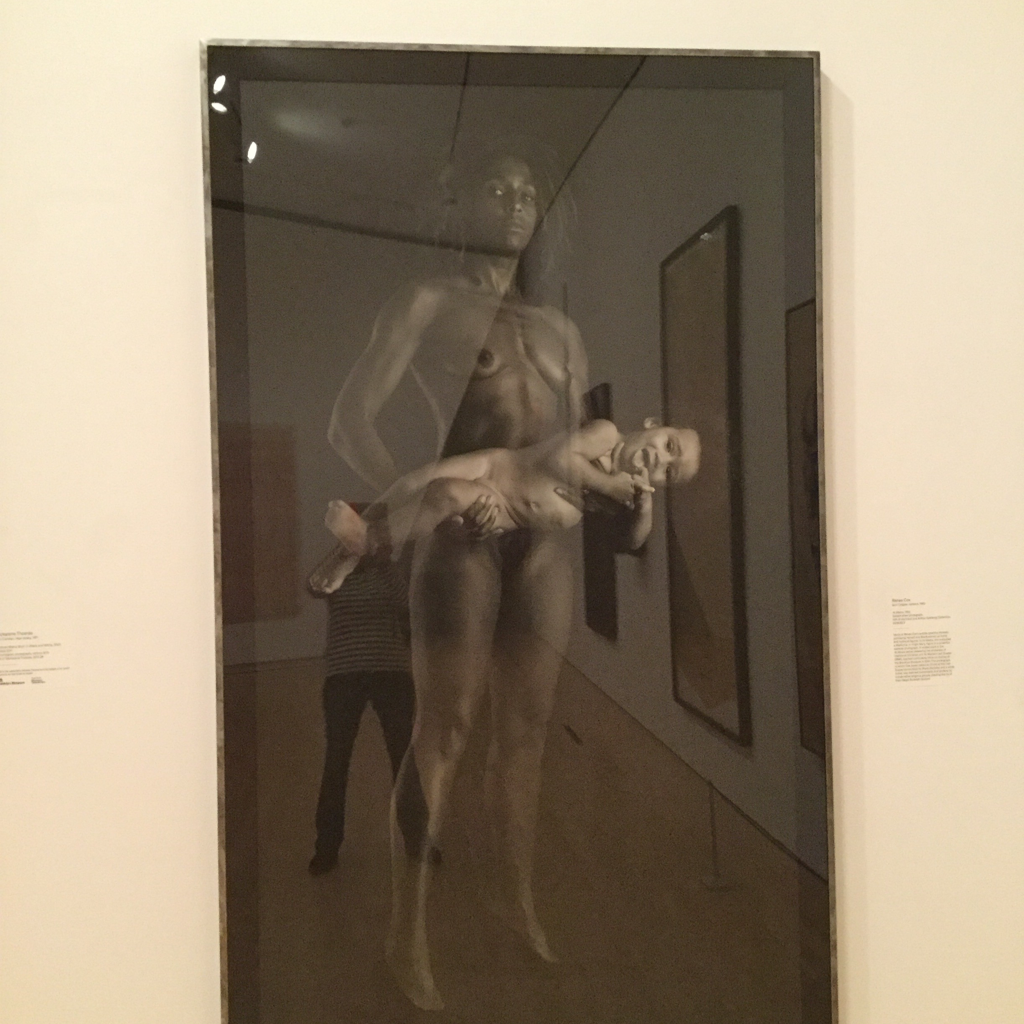 Renee Cox is an African-American artist who primarily works in the medium of photography. Her work addresses social issues, especially related to race and gender, and has been considered controversial for the way in which she reinterprets traditional Catholic imagery. Here, Cox is positioning her nude body as a response to the archetype of the white, virginal Madonna.
I love this close up on bedazzled shoes! Tell me more!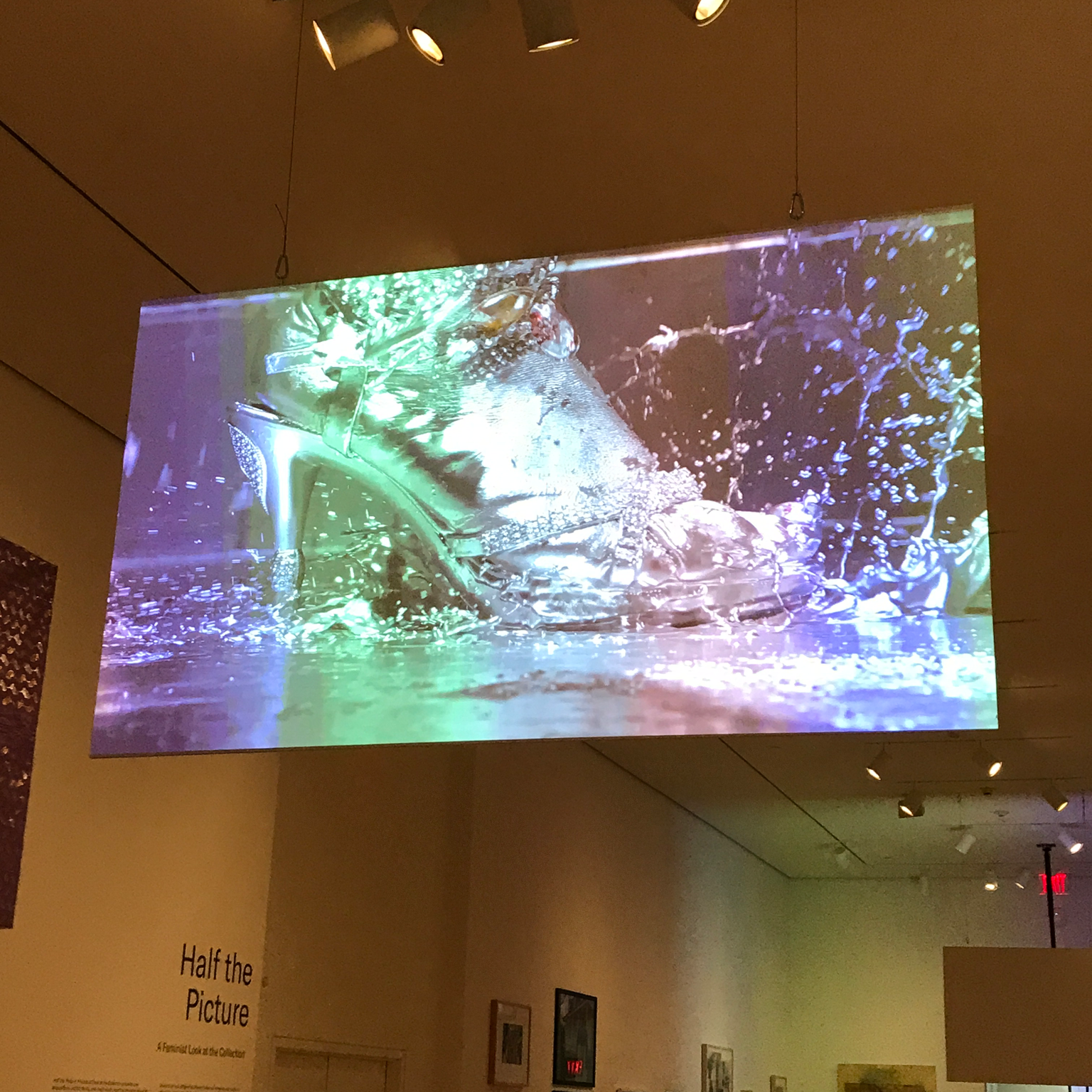 This work was actually commissioned for a previous Brooklyn Museum exhibition "Killer Heels." The artist, Marilyn Minter, is known for her close up and unflinching portrayals of the fashion industry.
You can see the model's feet are uncomfortably squeezed into the bejeweled heels which slowly destroy the glass pane separating the subject from the viewer; a kind of breaking of the fourth wall. The whole scene is further exaggerated through Minter's use of silver paint.
What's the significance of this work?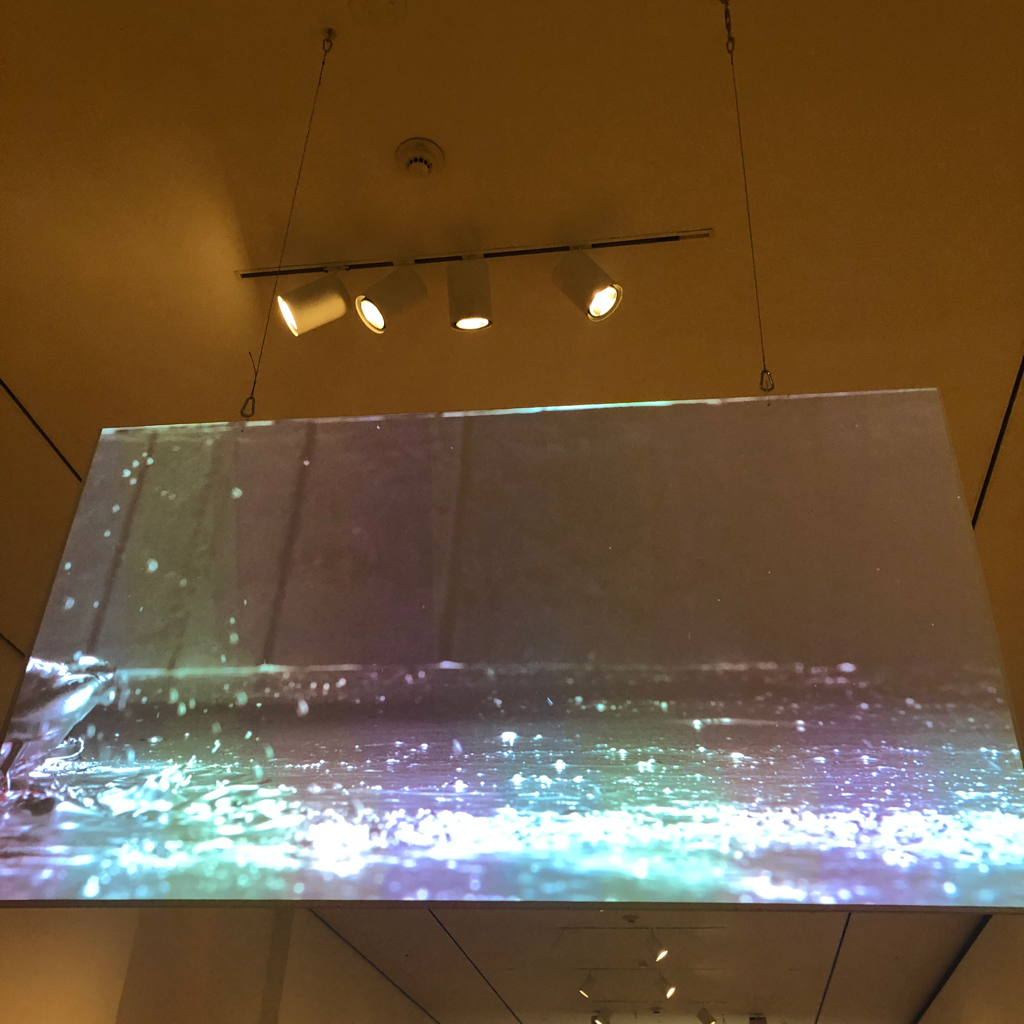 Minter often photographs fashion professionally and then critiques the industry in her fine art work. By having Armstrong wear shoes that are obviously too small she highlights issues like the association between beauty and pain.
At the same time, when a kick smashes through the glass that you may not have known was separating the viewer from the video, it's like "breaking the fourth wall," breaking down the barrier between art/entertainment and daily life.
What is this?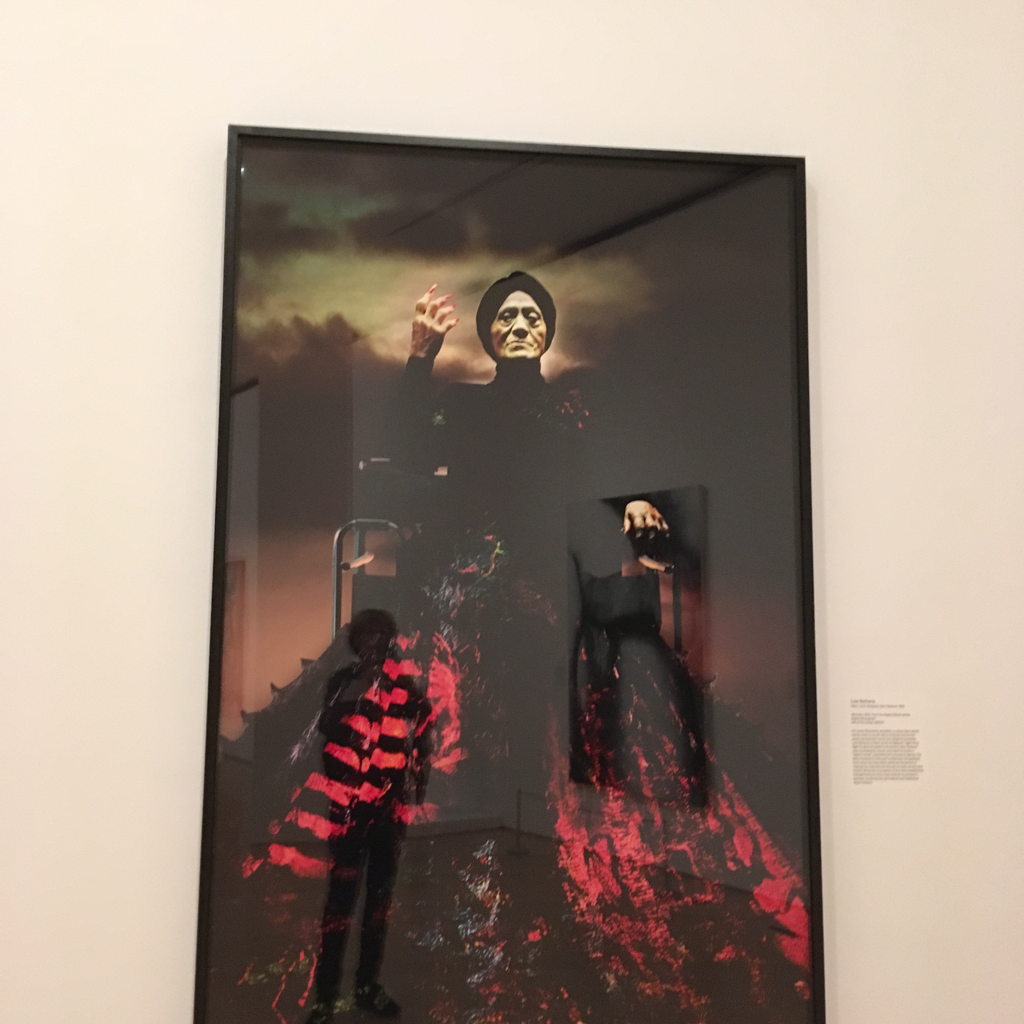 This photograph is the first in a series created by Lisa Reihana that depicts modernized interpretations of Maori deities. The deity here, Mahuika, is portrayed by Reihana's aunt.
Mahuika is a fire goddess who is said to sit on a stool in the underworld. Reihana has replaced her stool with a chair designed by Marcel Breuer which she feels is ubiquitous especially in the art world. The red nail polish represents the fire that Mahuika keeps in her fingernails.
Tell me more.
The AWC was an alliance of artists who shared an opposition to American military involvement in Vietnam. This poster was created in response to the 1968 My Lai massacre in South Vietnam.
I noticed this was created in 1989. Do you know the statistic for today?
The Guerrilla Girls do actually go to the Met and recount and recollect this statistic regularly. 
The most recent version of this poster that they produced is from 2012. At that time, it read "Less than 4% of the artists in the Modern Art sections are women, but 76% of the nudes are female."
They have also created versions of this poster for other museums, most recently the Museu de Arte de São Paulo, in 2017.
What does the writing on this poster allude to?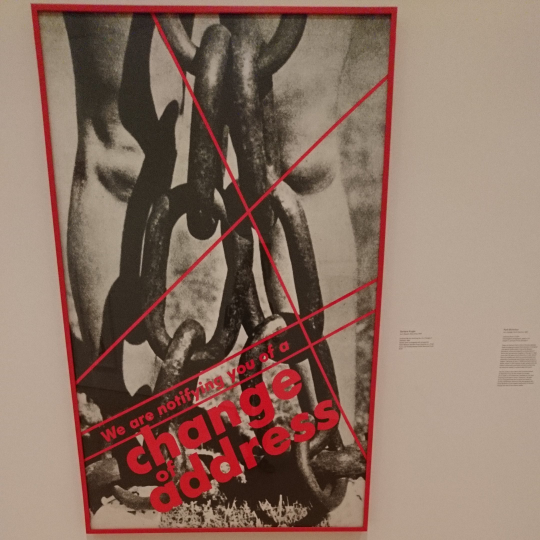 The artist herself hasn't spoken extensively about it but in the context of Kruger's other feminist work we believe it may be a reference to marriage as a kind of imprisonment for women, given the chains.
In this context the text likely refers to a woman, recently married and moving in with her spouse, filing change of address forms.
Another theory is that the shackles and text are an allusion to the forced removal of African peoples from their countries to be used as slaves in the U.S.A.
Thank you for those great explanations!
What's going on here?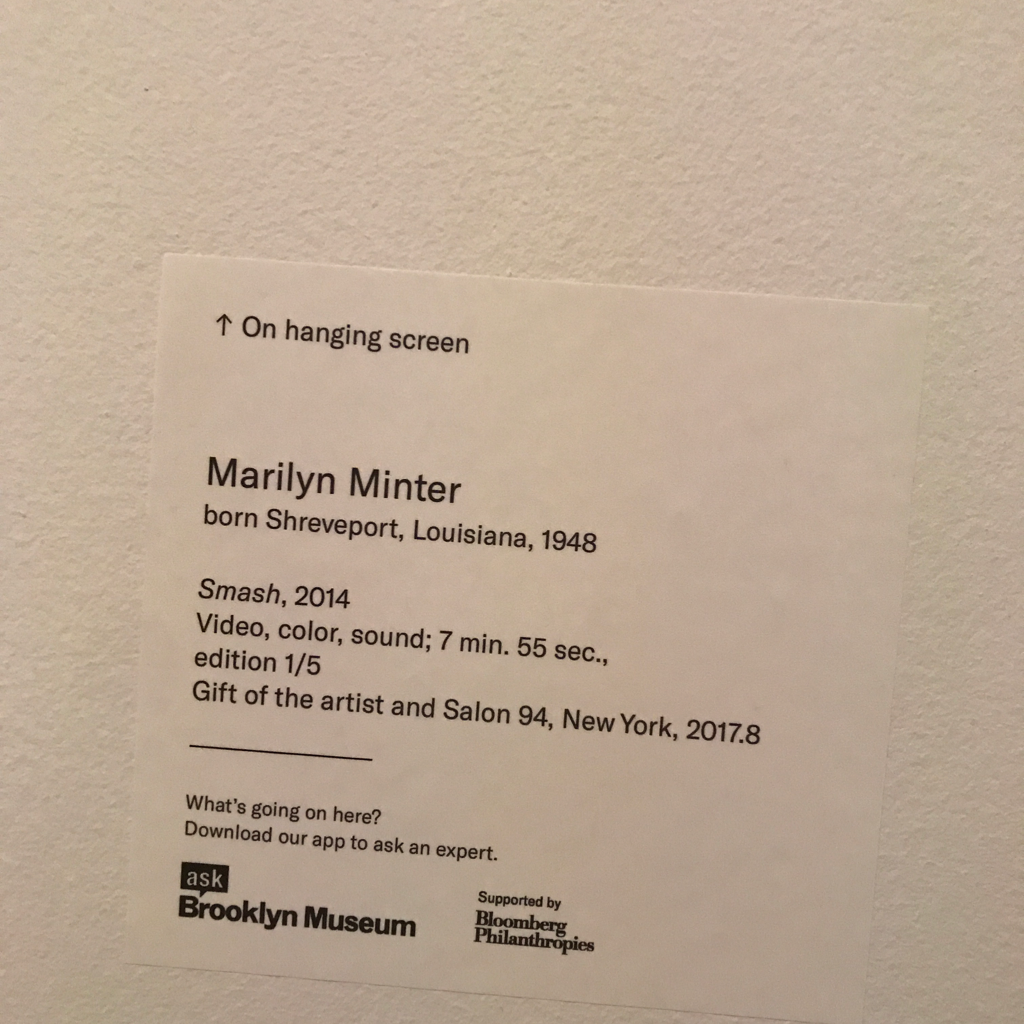 Inspired in part by the accoutrements of her fashion commissions, Minter created this video for the Brooklyn Museum's "Killer Heels: The Art of the High-Heeled Shoe" exhibition in 2014. Rather than highlight the glitz and glamour of the designer shoe, Minter's video is more foreboding. The model's feet are uncomfortably squeezed into the heels, which slowly and ominously destroy the glass pane separating the subject from the viewer.
Minter actually purchased the shoes the dancer is wearing from a two-for-$50 sale rack and embellished them herself.
Her feet move among and across a surface of what looks like water but is actually silver paint, adding drama and visual interest to the work.
The dancer is Akira Armstrong. She is based in the Bronx and she is the founder of Pretty Big Movement, a "full-figured dance company" that specializes in Hip Hop, Jazz and Ethnic dance. They are currently touring with the band Salt-N-Pepa!
Some of the objects displayed in the Feminist Center for Art are made by men and also do not seem to address feminist concerns. Why is that?
It's a good question. While some do address feminist concerns or even self-identify as feminists, another aspect of their inclusion to consider is a feminist look at their work in terms of curatorial practice rather than solely presentation of feminist art.
Is that true for Dread Scott? I see nothing feminist in this photograph.
My argument for the Dread Scott piece would be that any work which critiques or attempts to dismantle white supremacy in some way intersects with feminism, especially as it concerns black women.
That's a good argument. Can I steal it? I wouldn't have thought that carefully!
With the Warhol piece, a photograph of a race riot, the same argument could apply.
Does the abstraction provide more dimension to her commentary?
Changing the color of the bodies (and the bedspread and background) gives the scene an alien air which parallels nicely with the somewhat alien idea of a woman artist painting her own nude body from her own perspective.
It's also a way to distance the viewer from the more obvious sexual connotations of the scene to explore more deeply other aspects of the work, like its formal qualities and/or deeper meanings.
Why did Ghada Amer intentionally use pornographic/erotic women in this work?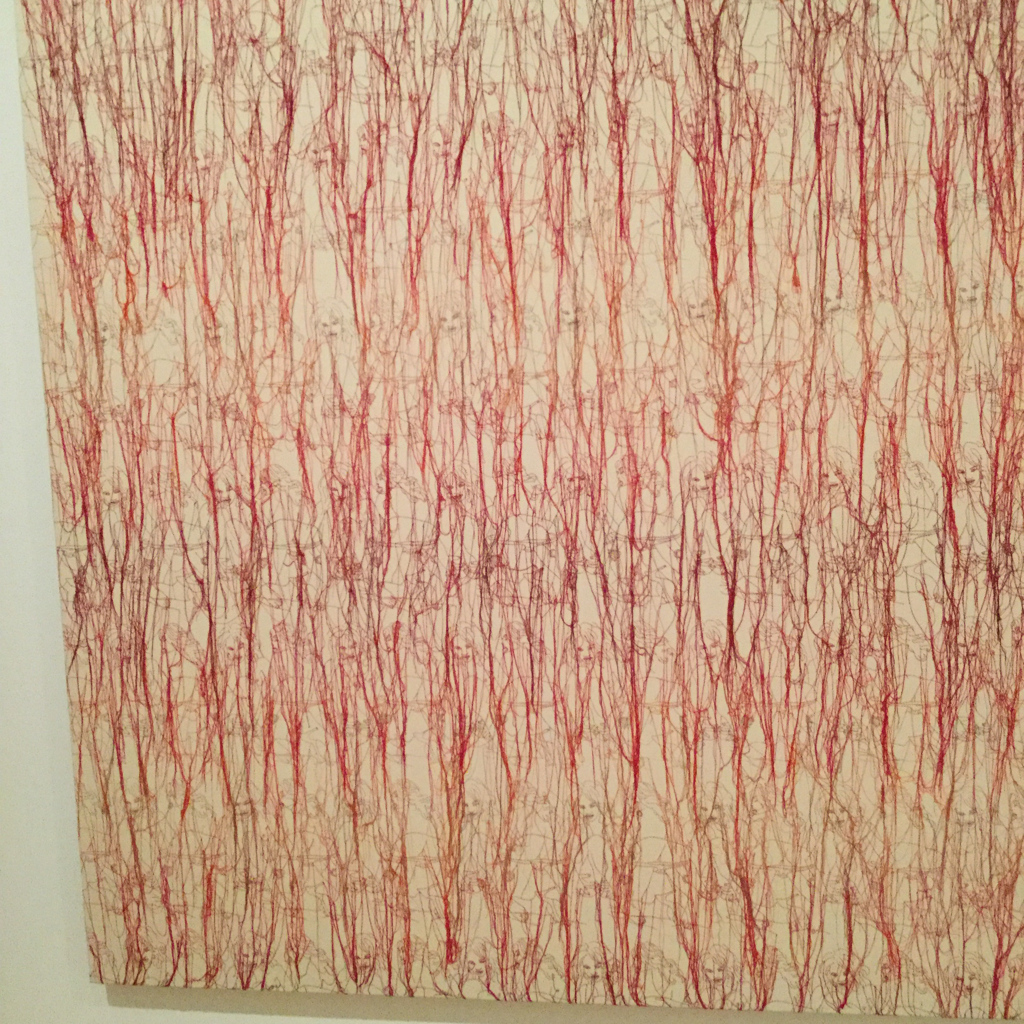 By using erotic images of women, Amer is questioning the rules imposed on women concerning their bodies and sexuality.
She is both critiquing female objectification while also celebrating female pleasure.
Tell me more.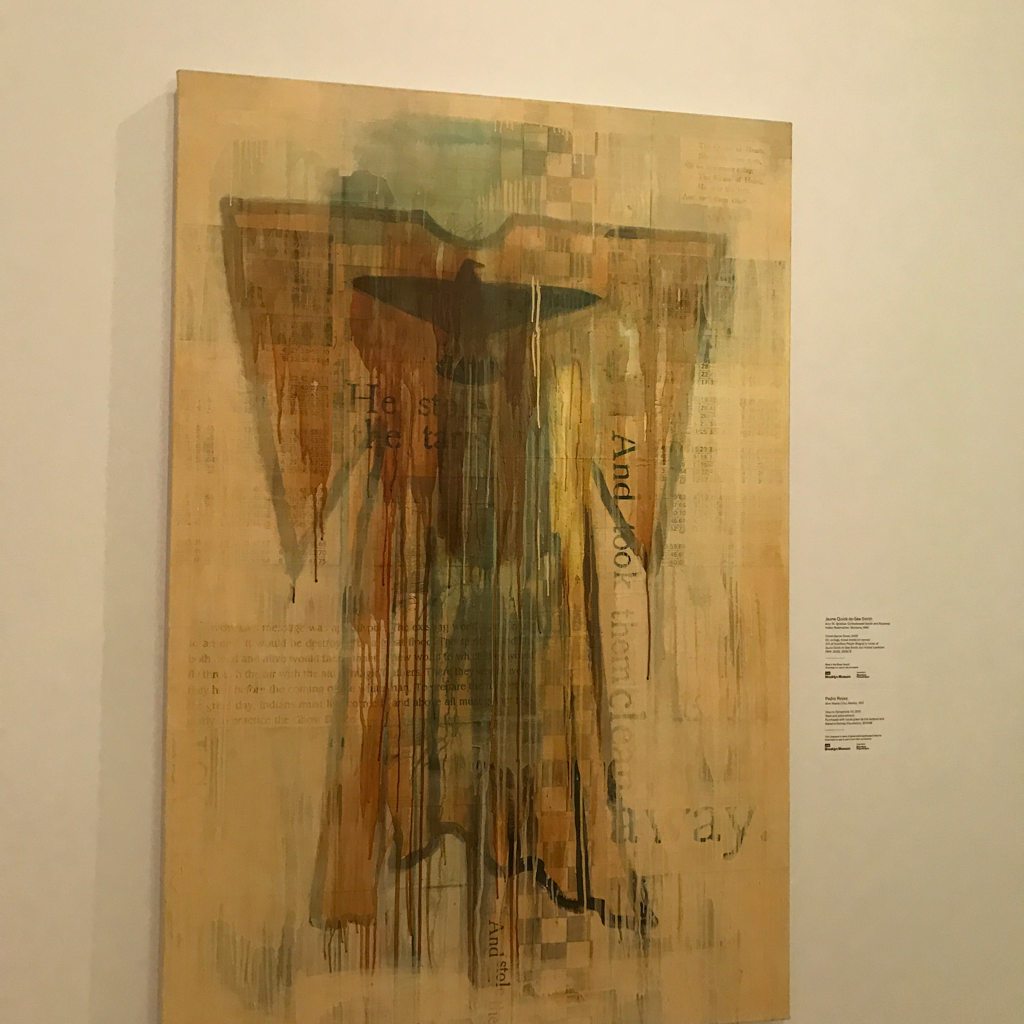 This painting depicts the dress worn by Native American women who were members of the Ghost Dance religion.
The Ghost Dance religion is an intertribal Native American movement that emerged in the late 19th century. Performing the dance was said to reanimate the spirits of dead Indians, who would join together with the living to force out white settlers and reassert native peoples' way of life.
The artist's work explores her own Native American heritage and the ways her heritage intersects with white settler society both past and present.
Tell me more!
Ghada Amer is best known for her erotic embroideries meant to question the rules imposed on women as well as questioning the line between "art" and "craft."
The figures she chooses to reproduce in thread are the ones she finds the most sexy and powerful. She typically sources them from magazines.
?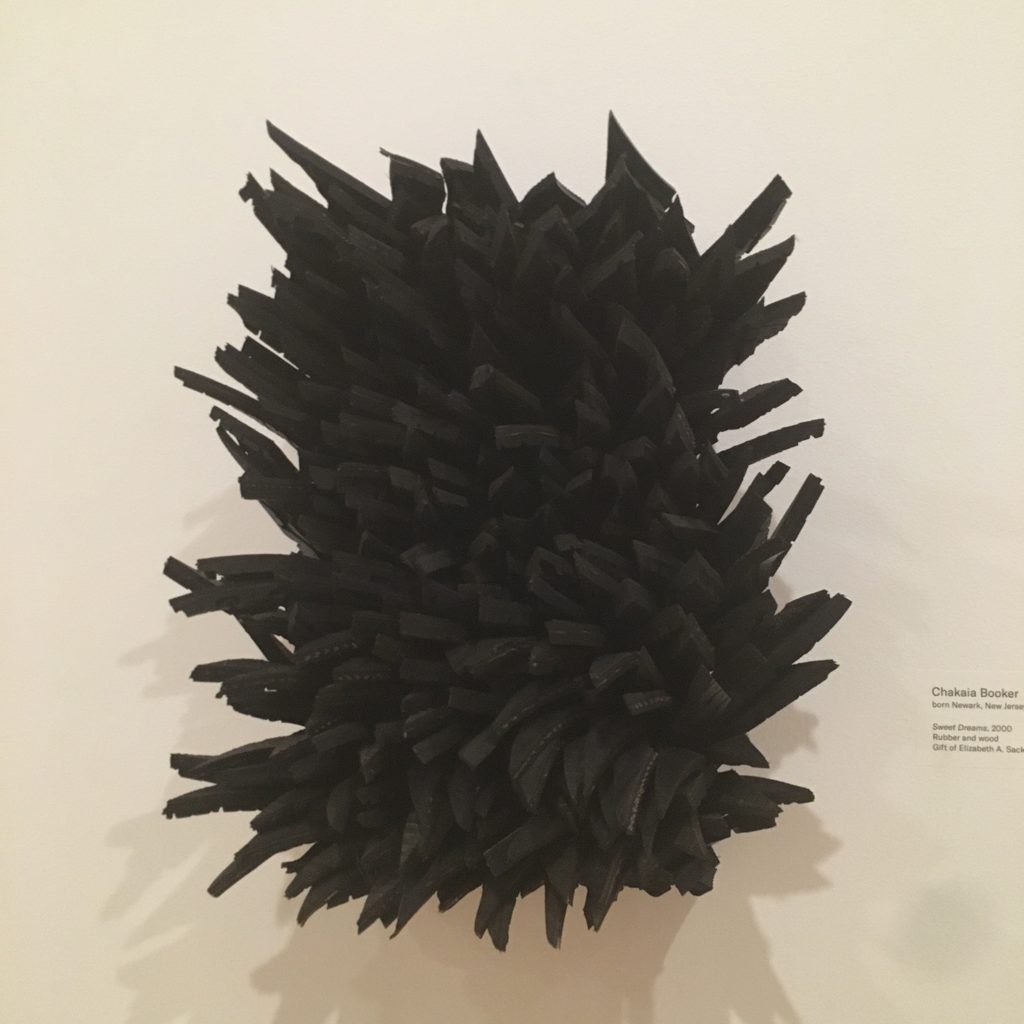 Chakaia Booker is known for sculptures made from repurposed tires as well as her elaborate wearable art. Her work especially addresses issues of class, race, and labor, which she refers to a "universal problems."
She has said: "As a conceptual analogy, I usually start with the rubber tire itself. It's about mobility, growth. They've used it on the moon. In a large way, it's our method of communication."
She continues, "For example, a wall or relief using old tires suggests archaeological finds and the deciphering of patterns and textures into new languages or new symbols. The tire-making industry says that the patterns in the tires function to "wick away water" in wet weather. But where did the idea come from? Where does information begin? These same patterns may have been a means of communication some time in the past; they may translate into a way of writing, a language or physical tool that actually performs."
Booker concludes, "Something of an analogy for this can be seen in the translation of pictographs into jewelry. My intention is to translate materials into imagery that will stimulate people to consider themselves as a part of their environment—one piece of it. Whether I use an architectural format or something to look at, I believe art should dialogue with viewers."
Hi, can you tell me more about this?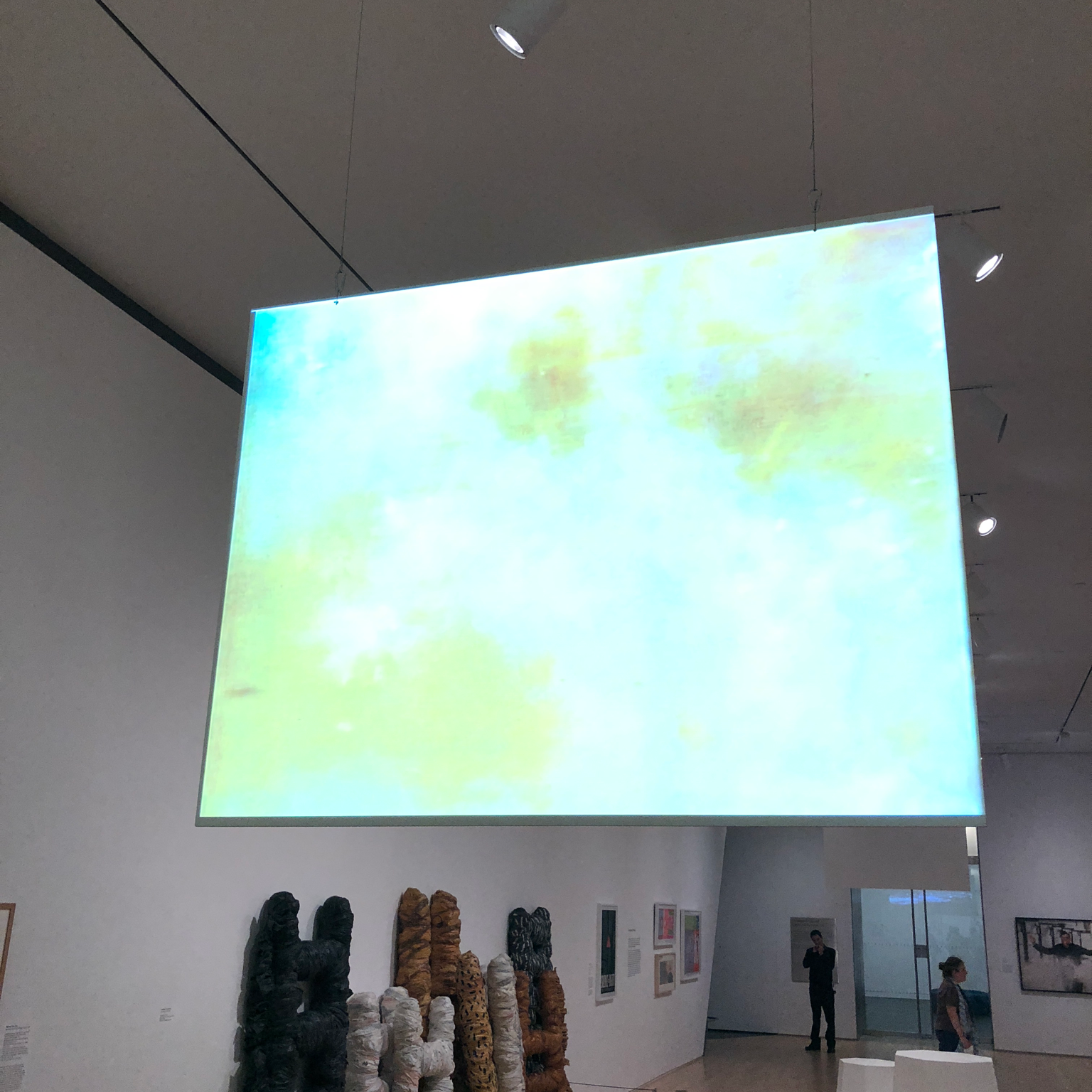 This work of video art explores unrealistic expectations of women portrayed in the media under the guise of feminism.
The artist, Birnbaum, bristled at the idea of Wonder Woman as a feminist icon. In her opinion this hyper-powerful and sexualized character represented an unattainable ideal.
In the work, she focuses on Wonder Woman's moments of transformation, cutting them together to create these "extended moments," forcing the viewer to really consider the change that is taking place.
She said "How dare you confront me with this supposedly super-powered image of a woman who is stronger than I am and can also save mankind? I can't do that, and I won't—and there's no middle ground in between. The middle ground is what we need to work from."
I get it and I like the work. But couldn't one argue that's true of all hero archetypes, that they transcend human capabilities and that's their cultural value? If no one is saying they're confronted with the unattainable superpowers of Luke Skywalker, Harry Potter or Black Panther, what was it about Wonder Woman for Birnbaum that's essentially confrontational?
Well, firstly I think it has something to do with the lack of diversity of female representation on television at the time and the overarching sexist/misogynist paradigm of placing unrealistic expectations on women that men often don't have to contend with. Another differentiating aspect where Wonder Woman is concerned is the very deliberate sexualization of her character which caters to the male gaze.
Beyond that, Birnbaum is using Wonder Woman as a symbol for media representations of women in television in general; she's not necessarily critiquing the hero archetype.
When talking about the middle ground, you could expand that beyond Wonder Woman to the idea that the only women she saw portrayed in TV existed at two wildly different ends of the spectrum—the housewife and the superhero—with no representation or connection with the myriad women who find themselves in between.
Tell me more.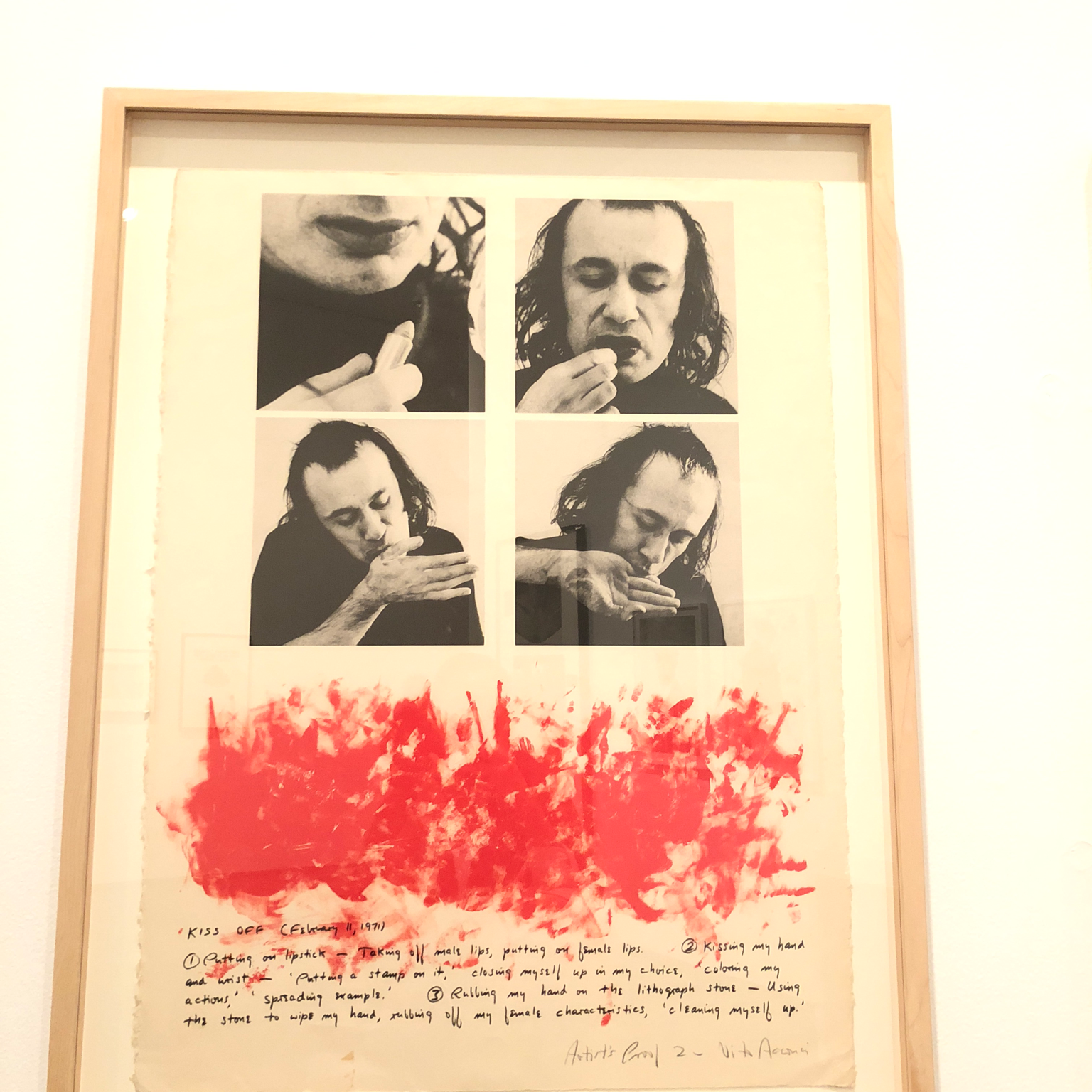 Vito Acconci's artworks of the 1960s and 1970s explore the often unspoken physical, gendered, sexual, and emotional relationships between artist and viewer. This work addresses gender presentation.
Acconci put lipstick on and then kissed his own hand, slowly removing the lipstick in the process of transference.This lithograph is a direct documentation of Acconci's performance.
Acconci has said of his performances at this time: "The early work applied stress to the body that then had to adapt, change, open up, because of that stress. Remember, this was just after the late sixties, the time—the starting time of gender other than male, race other than white, culture other than Western; I wanted to get rid of myself so there could be room for other selves."
Wanna have a laugh? I just walked by Fuck Painting #6 and my grandmother asked what it was. I told her it was a tree... was it really created with an airbrush? It looks like it was printed.
It is indeed airbrush! The closer you get to it though, the more that crisp perfection starts to break down.
What's the meaning of this?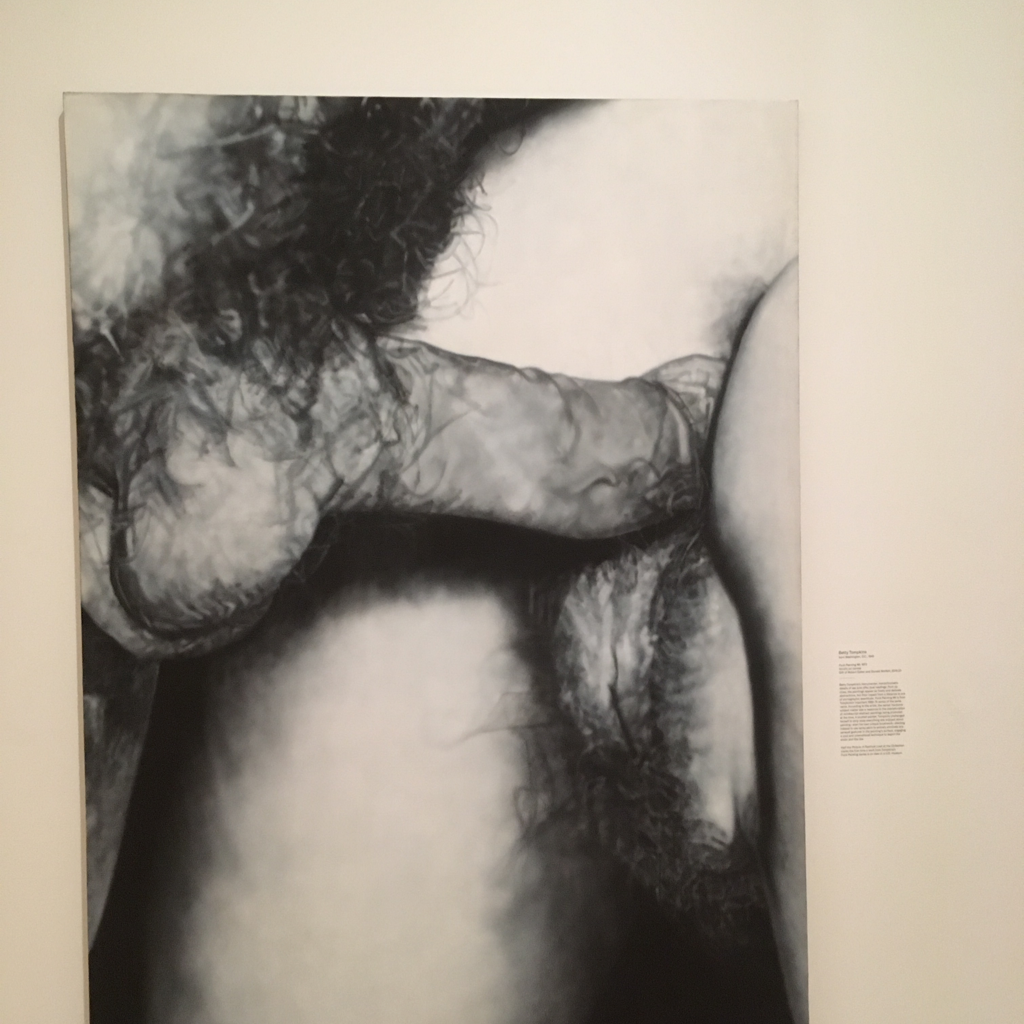 The artist, Betty Tompkins, painted a series of these "Fuck Paintings" in the 1970s based on images from her husband's pornography collection. As a woman recreating these images she meant to reclaim sexualized imagery from the patriarchy. She's also making a joke with the title, saying "fuck painting" by using airbrush painting rather than gestural paintbrush work, and pornographic sources rather than vaunted subjects!
Her sentiments, however, were not popular at the time. She saw these paintings as a way for a woman to reclaim ownership of her own body, but many feminists saw it as a betrayal and as playing into the existing power structures.
Hi, in Joan Semmel's Intimacy Autonomy, why are their bodies blue?
Semmel was reacting against the girlie-magazine culture and pervasive "sexploitation" that she felt was prevalent in New York, so she opted to reframe sexuality from a woman's perspective.
She captured the human form in a very naturalistic way, but she made the colors less "real" to get us to look at the subject in a new way.
This takes it even further away from pornography, in addition to the unusual vantage point.
What do the ladders mean ?
This work suggests the idea of community through the way ladders can't stand alone but need to be supported; in this case, by each other.
These ladder like structures have been wrapped with fabric, old rags and cloths, from her own friends. The way they lean together evokes the huddling, or "hunkering" as the title suggests, of a community of individuals. Using her friends' fabrics made it even more personal. She said "It meant that I was literally putting all these women in the work."
My teenager wants to know what's up with the Wonder Woman video.
The artist is using actual footage from the Wonder Woman television show that was popular in the 1970s. She cuts together various scenes of Wonder Woman's transformation, meant to make the viewer consider the change more closely.
The artist felt that the way Wonder Woman was depicted, and considered by some to be a feminist icon, was unfair. She believed that Wonder Woman was in fact a woman denied any way to live "in between," going from plain jane to unrelatable superhero and back again.
Here's a great quote from the artist: "How dare you confront me with this supposedly super-powered image of a woman who is stronger than I am and can also save mankind? I can't do that, and I won't—and there's no middle ground in between. The middle ground is what we need to work from."
Can you tell me more about "Fuck Painting #6"?
Sure, this painting is a doozy, isn't it? It is one of the first batch of such paintings Tompkins created. An unflinching examination of sex and porn, she moved away from this series because no one at the time was interested in showing it, much less buying it.
If you get close to the painting, you will notice that there are no brushstrokes whatsoever. This is because the piece was created using an airbrush technique.
Tompkins was adamant that no brushstroke be visible. This was her revolt against the visible, gestural brushstrokes associated with Abstract Expressionism.
I love the photograph by Renee Cox. Any thoughts on that one?
Cox's work often addresses social issues, especially related to race and gender.
As part of Cox's larger "Yo Mama" series in which she reinterprets traditional Catholic imagery, this image can be read as a Madonna and Child. Cox herself portrays the Madonna and her own son represents Christ.
I don't see Madonna and Child.... but I do see how her body intersecting with her son makes a cross.
It's true that historically the Madonna and Child are shown in a very different context, often seated or "enthroned" and never nude (at least, Mary is never nude). But Cox does refer to other traditional elements in her interpretation, such as the Madonna's outward stare and the power of motherhood.
Are there others from the collection in other museums?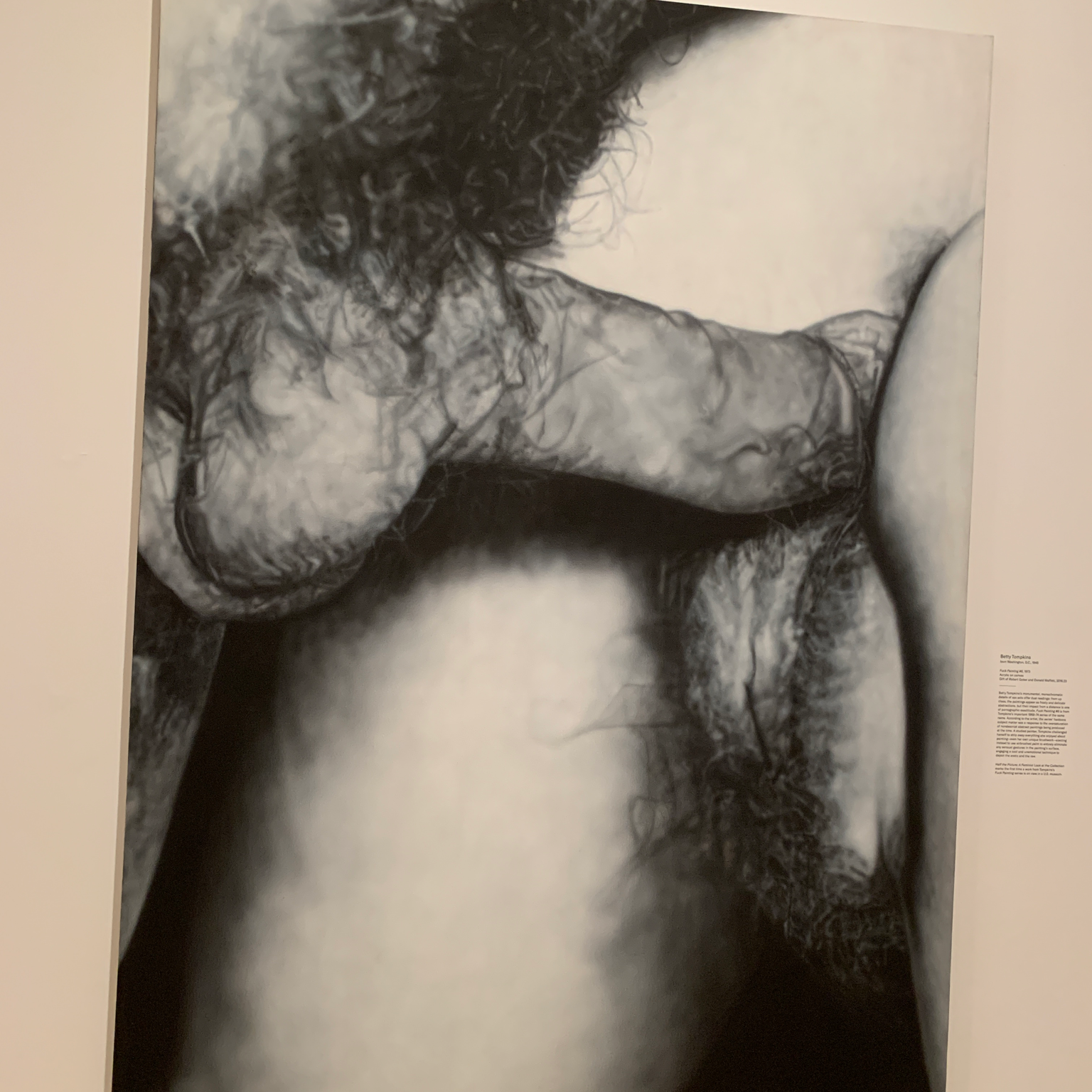 I am not certain if there are any in other collections, but I do know that this presentation is the first time that one of the Fuck Paintings is on view in an American museum.
What is the definition of an intersectional feminist?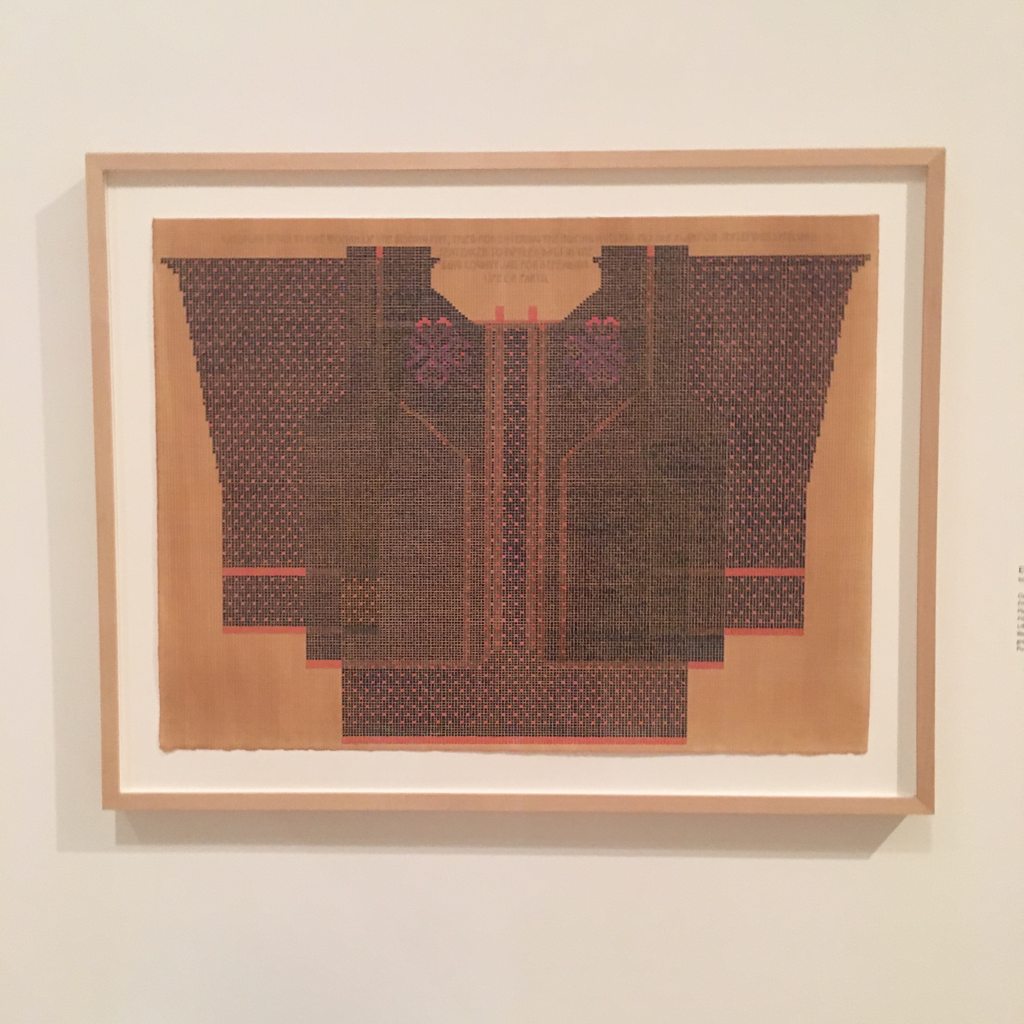 Intersectionality refers to the interplay between different kinds of discrimination. The term was originally coined by then law student Kimberleé Crenshaw in 1989 to describe the double discrimination she faced as both a woman and a black person.
Today the term also incorporates the "intersections" of gender with age, class, socio-economic status, physical or mental ability, sexual identity, religion, etc.
The purpose of intersectional feminism is to acknowledge these compounding forms of discrimination and listen to different kinds of feminists to ensure that all women benefit from women's rights movements, which hasn't always been the case historically.
Tell me more.
I love Zanele Muholi. Her work is so political. She considers herself a visual activist who has dedicated her career to promoting awareness of her native South Africa's lesbian, gay, bisexual, transgender, and intersex communities.
These two photographs are from her ongoing portrait series Faces and Phases that she began in 2006.
She focuses on the region's black lesbian community, presenting her subjects frontally, their penetrating gazes stoic yet vulnerable.
Wow she must have faced a lot of backlash.
Tell me more.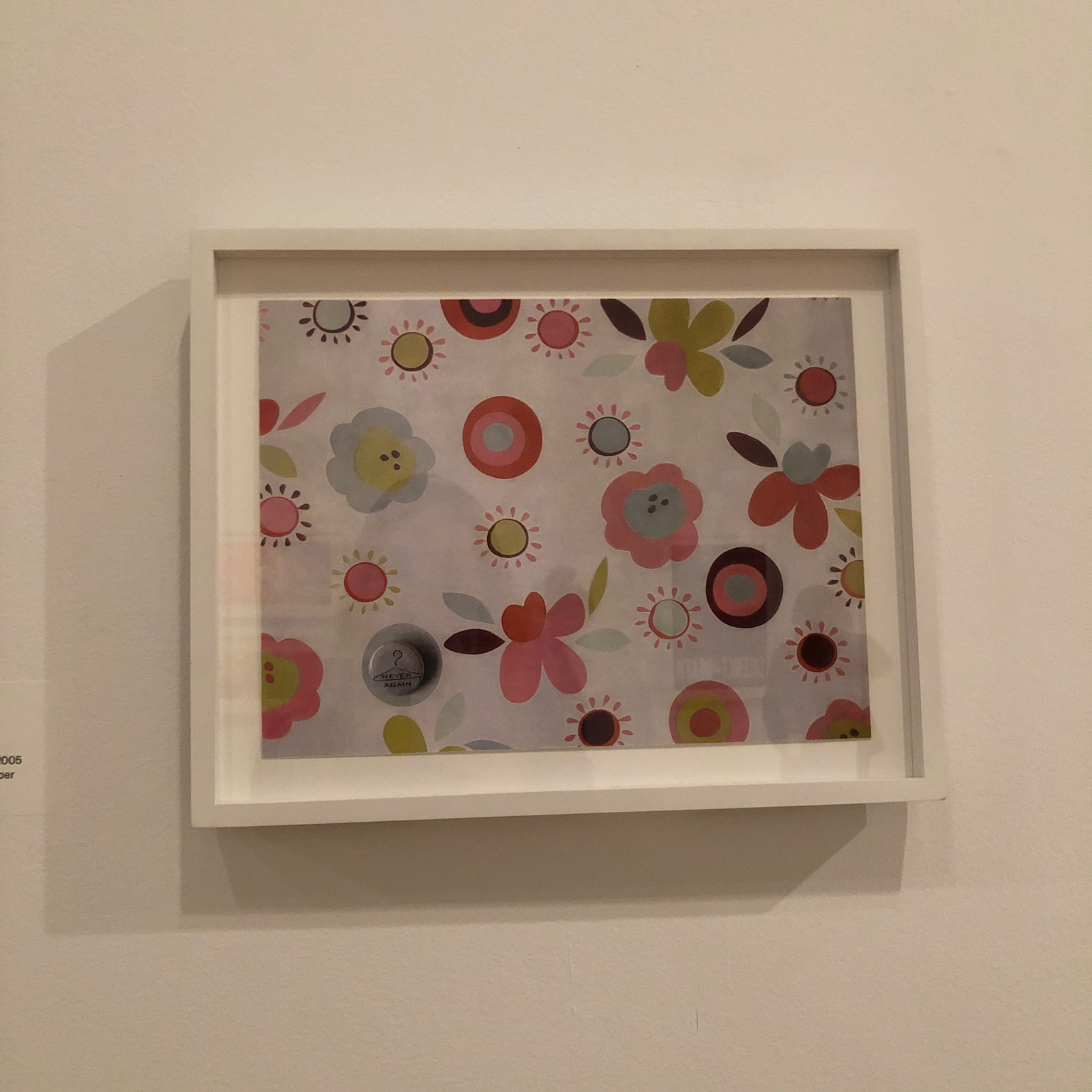 This pin, with its wire hanger illustration and its slogan "NEVER AGAIN," is a statement against the dangerous home abortions that women have often resorted to due to the illegality of abortion procedures and criminalization of abortion providers.
Bowers wants to acknowledge and honor the activism of the women of the 1960s pro-choice movement, before Roe v. Wade was passed in 1973. And she does it through this beautifully decorated pencil drawing.
I'd love to know more about this piece's context!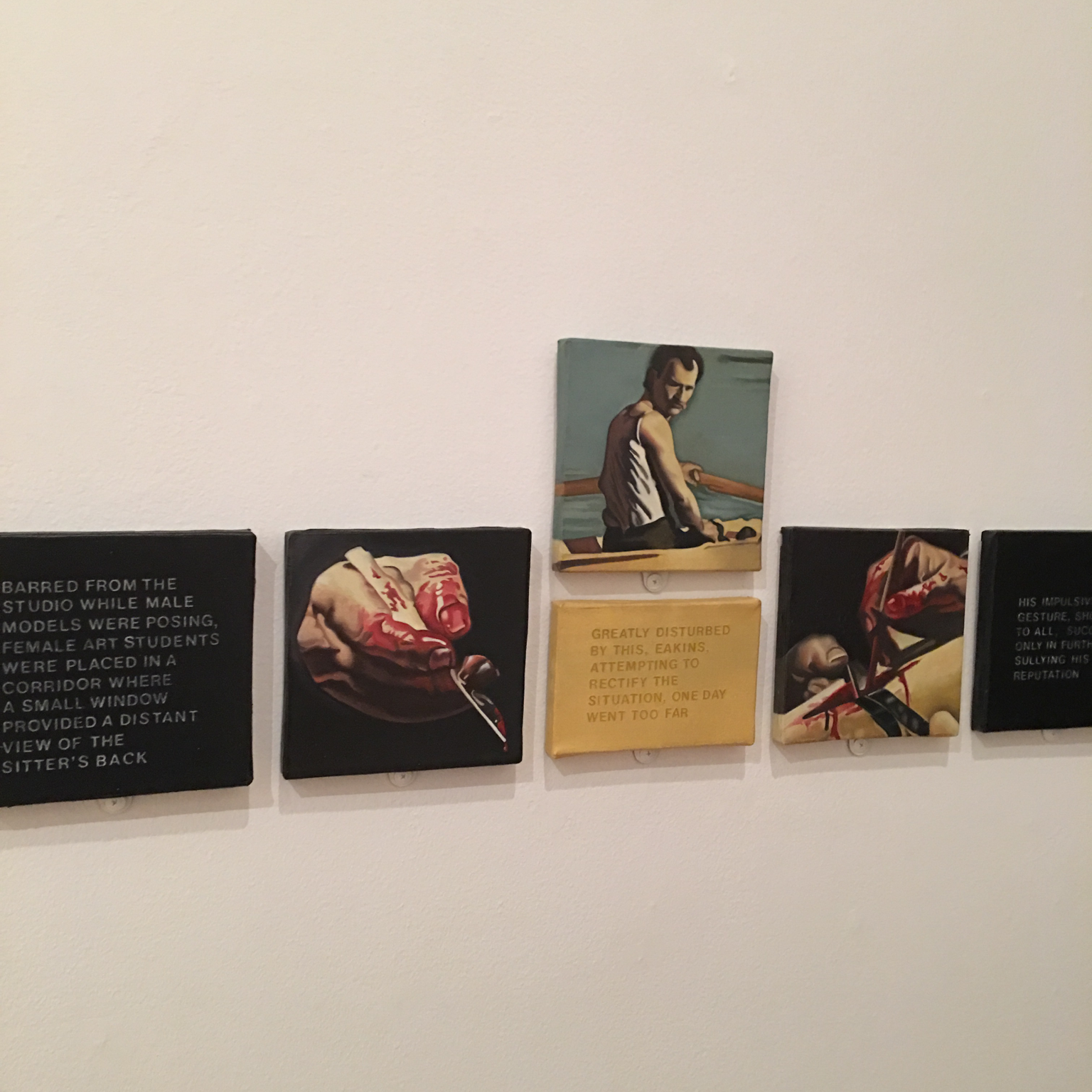 his is an interesting one! This work appropriates details from two paintings  by 19th-century American painter Thomas Eakins, and the text addresses a controversial event during his career.
Eakins had risen to the position of director of the prestigious Pennsylvania Academy of the Fine Arts. In 1886, women were enrolled in the Academy, but were not allowed in the studio with nude, male models (thus the title, "Barred from the Studio"). Eakins, a firm believer in the study of anatomy in art, invited the female students in, but was subsequently asked to resign.
Dottie Attie is bringing attention the struggles that women artists have faced and championing Eakins's decision despite its consequences.
What is the liquid she is dancing in?
It's actually silver pigment mixed with vodka! Minter found this strange combination while experimenting to create a silvery liquid that was messier than regular silver paint.
Can you tell me more about this?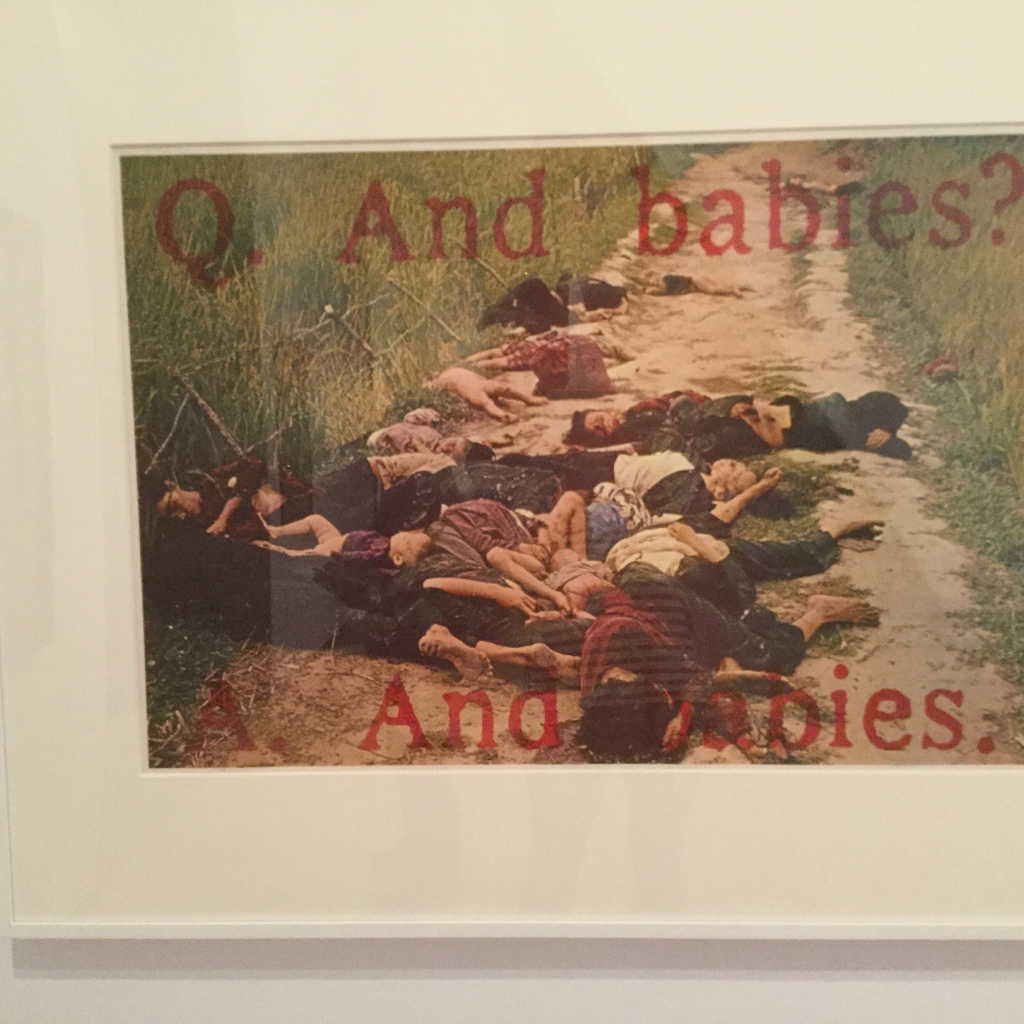 For me, this is such a powerful piece. The poster was produced in an edition of 50,000 copies by the Art Workers Coalition.
The AWC was an alliance of artists who shared an opposition to American military involvement in Vietnam
This is interesting because at the same time it combines aggressiveness with an elegant piece of clothing.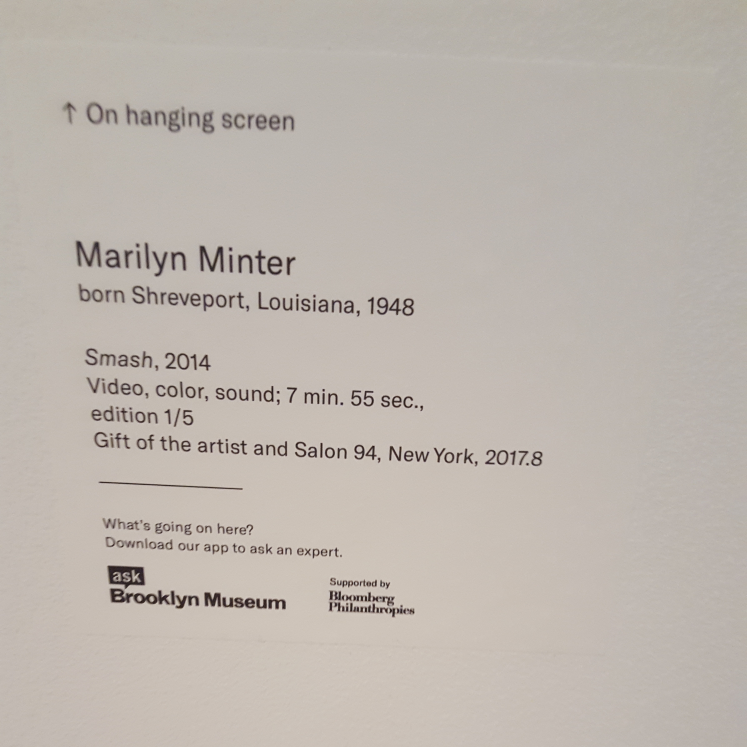 Absolutely! And the desire to break down barriers or illusions about what beauty means. I agree that it can also be read as empowering. Like the best art, it is open to many interpretations.
I don't get the two on the left.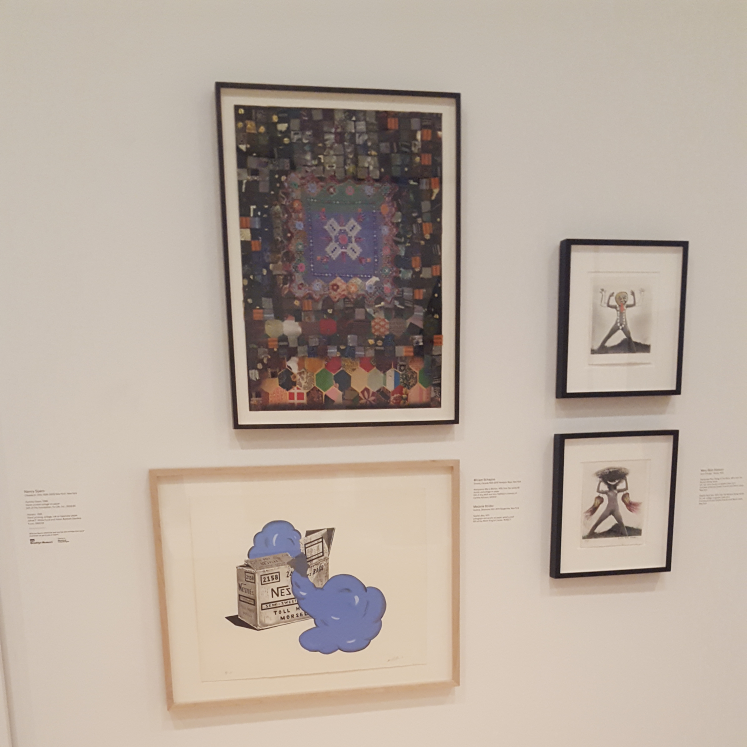 The one on the top is by Miriam Schapiro, who was known as a leader of the Pattern & Decoration Movement, which advocated for the use of craft materials and techniques often devalued as "women's work" such as quilting, knitting, sewing, etc. She worked in the opposite direction from the concurrent conceptual and minimalist art movements, using color and pattern to break down the division between art and craft. Hence, the quilt-like imagery of this painting.
Though using a very different style, Marjorie Strider was also interested in breaking down barriers between high and low, culture and domesticity. She puts her own spin on the pop art movement of Andy Warhol and Roy Lichtenstein. Her commercialized packaging is ruptured, oozing, unable to contain its contents, which can be read as the actual product or perhaps a reference to the spread of consumerism?
Both works also play with our concept of painting as flat, or as a kind of "non-material" -- Schapiro transforms the materiality of her work through references to craft and fabric. Strider moves between a more realistic depiction of the packaging and the cartoon-like blue ooze. Both work against viewer expectations.
What is the relationship between Thomas and the models?
Thomas typically works with friends and family members as models for her paintings and photographs. Madame Mama Bush is Thomas's own mother, Sandra Bush. Bush herself worked as a fashion model in the 1970s.
Thomas has said: "I believe that the sitter has the power (or more power than I have) over what's being presented. I'm not overly choreographing the women I work with; I'm really trying to capture a quality within them. They are presenting to me, through their lens, how they want to be represented."
What are Spero's specific references and how has she rewritten their story?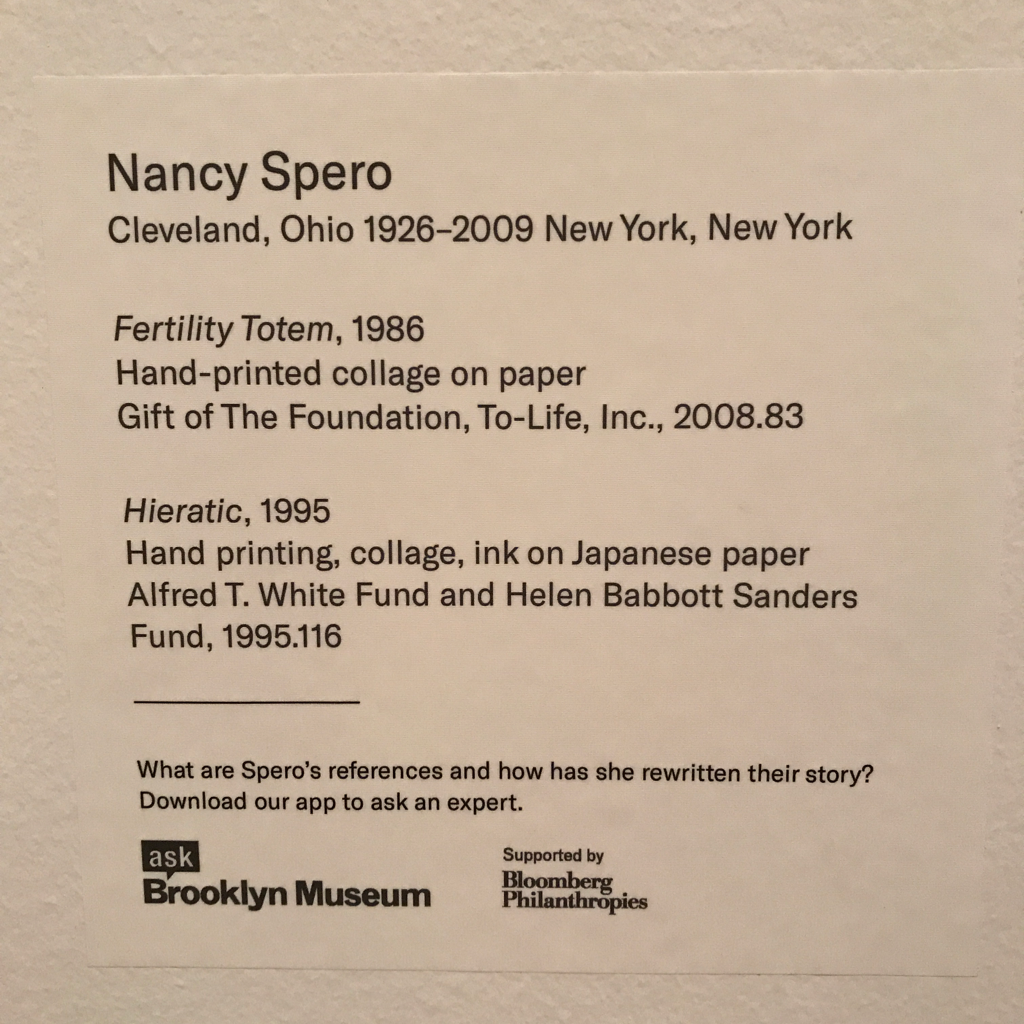 Spero means to "construct a simultaneity of women through time." She said: "The history of women I envision is neither linear nor sequential. I try...to show that it all has reverberations for us today. And then it makes sense." In "Fertility Totem," she reproduces image from Prehistoric, Ancient Greek, and Australian Aboriginal traditions including a woman masturbating with dildos as an act of bodily autonomy based on a kylix in the collection of the Hermitage Museum in St. Petersburg. "Hieratic" includes images of Egyptian goddesses including Nut, one of Spero's favorites. She often used this stamp of Nut with additional breasts, a nod to the she-wolf that raised Romulus and Remus, to emphasize her maternal and powerful role.
I was wondering if you could provide some more background information in this piece. I'm not familiar with the incident in the description.
Of course! Five Puget Sound Women's Peace Camp protesters were arrested inside Kent Boeing Aerospace Center's cruise missile facility in September of 1983.
They were part of a peace group that had been camped outside the facility since June and eventually they entered, unchallenged, using homemade Boeing identification badges.
Lesperance, the artist, seeks out women involved in campaigns wearing sweaters in archival footage and then recreates their garments.
Tell me more.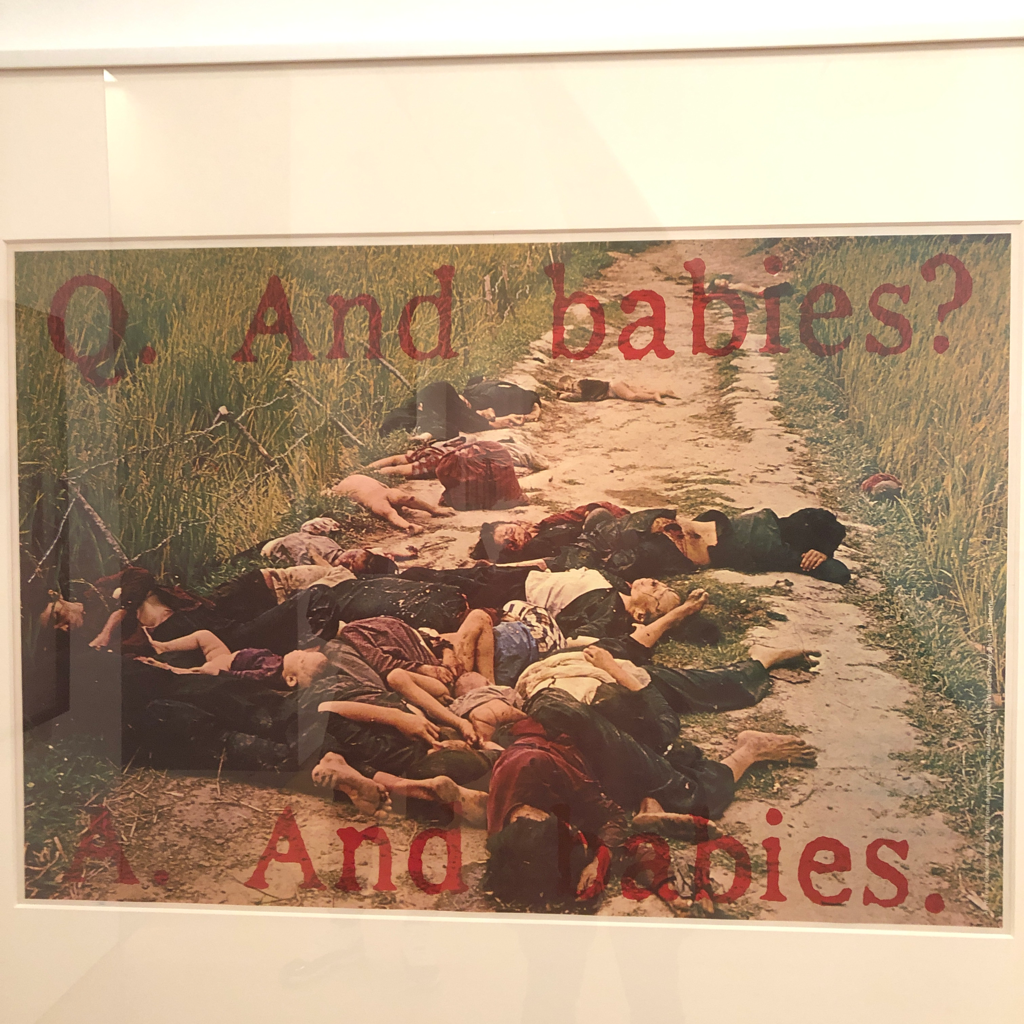 This print was created by the Artists' Poster Committee, an arm of the Art Workers Coalition, an activist group that, for one, opposed American military involvement in Vietnam.
This poster was originally conceived as a joint project between AWC and the Museum of Modern Art's Executive Staff Committee, but MoMA withdrew support when the president of the board deemed it too political and not directly relevant to the museum.
Who is the model in Mickalene Thomas' "Madame Mama Bush" portrait?
The model is actually Thomas' mother, who was a fashion model in the 1970s.
She's so regal! It feels like a great piece to put in conversation with a European Venus painting.
Great observation. And that is exactly what Thomas' work is all about. She purposefully utilized the composition and tropes of European paintings but inverts it by making the woman African American. "Madame Mama Bush" is indeed a modern day Venus harkening all the way back to the Renaissance.
Can you tell me about Fuck Painting #6?
This is one of the first batch of such paintings Betty Tompkins created. She abandoned the series because no one was interested in showing it, much less buying it. Tompkins has created more Fuck Paintings in recent years.
She stated this about the painting: "I was using my husband's pornography. There was a two-fold objection, one was that I was embracing the pleasure principle above everything else and the second thing was that the models were paid, and there are people who think that if you did porn, then or now, that you were being exploited. I've never used material where my sense of the people involved was exploitation - my sense is, they're getting paid, they're working, but also, they're having a really good time, and that was one of my first takes on porn. When I first saw it when I was 21 years old I thought, 'They look like they're having fun. Let's all have fun!'"
Tell me more.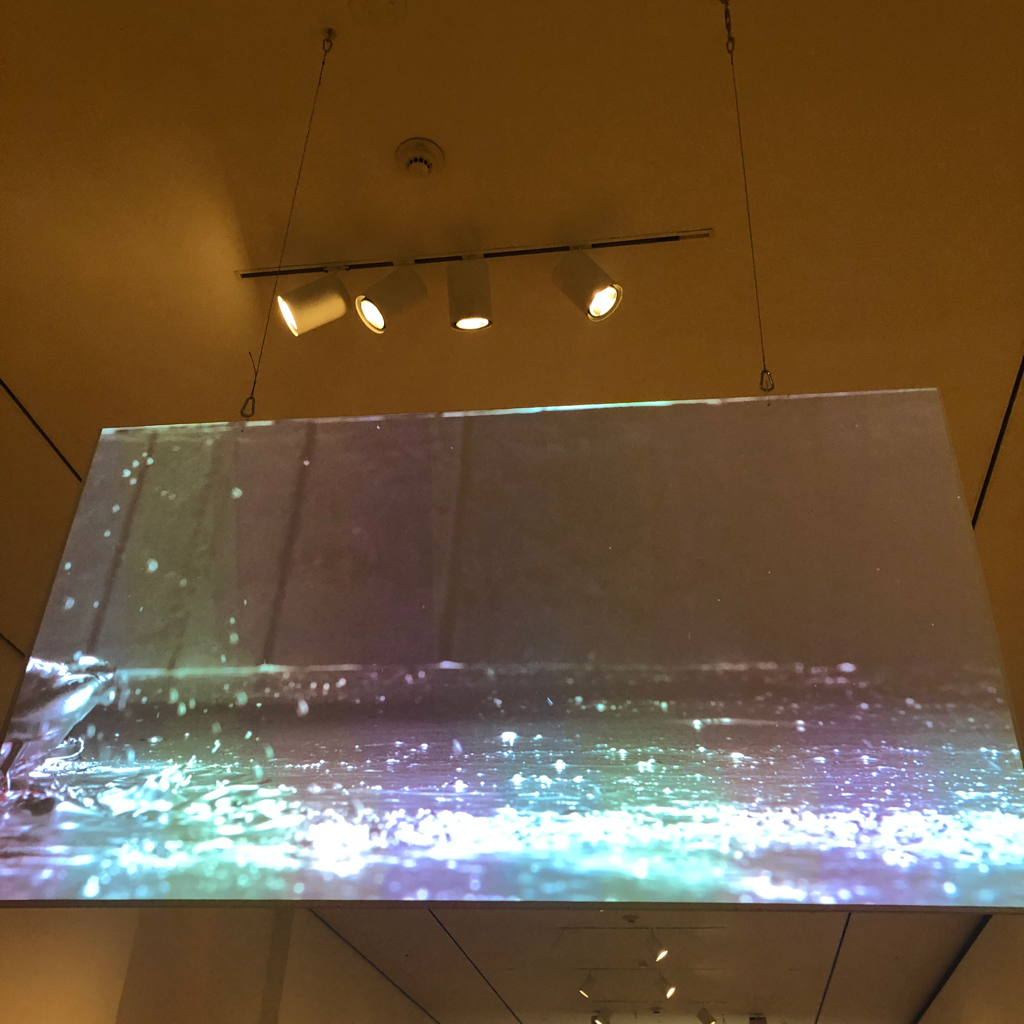 Marilyn Minter's Smash was originally created for the Killer Heels exhibition which was here at the Brooklyn Museum in 2014. The elaborate heels in the video were actually from a clearance rack and the artist embellished them herself.
Tell me more.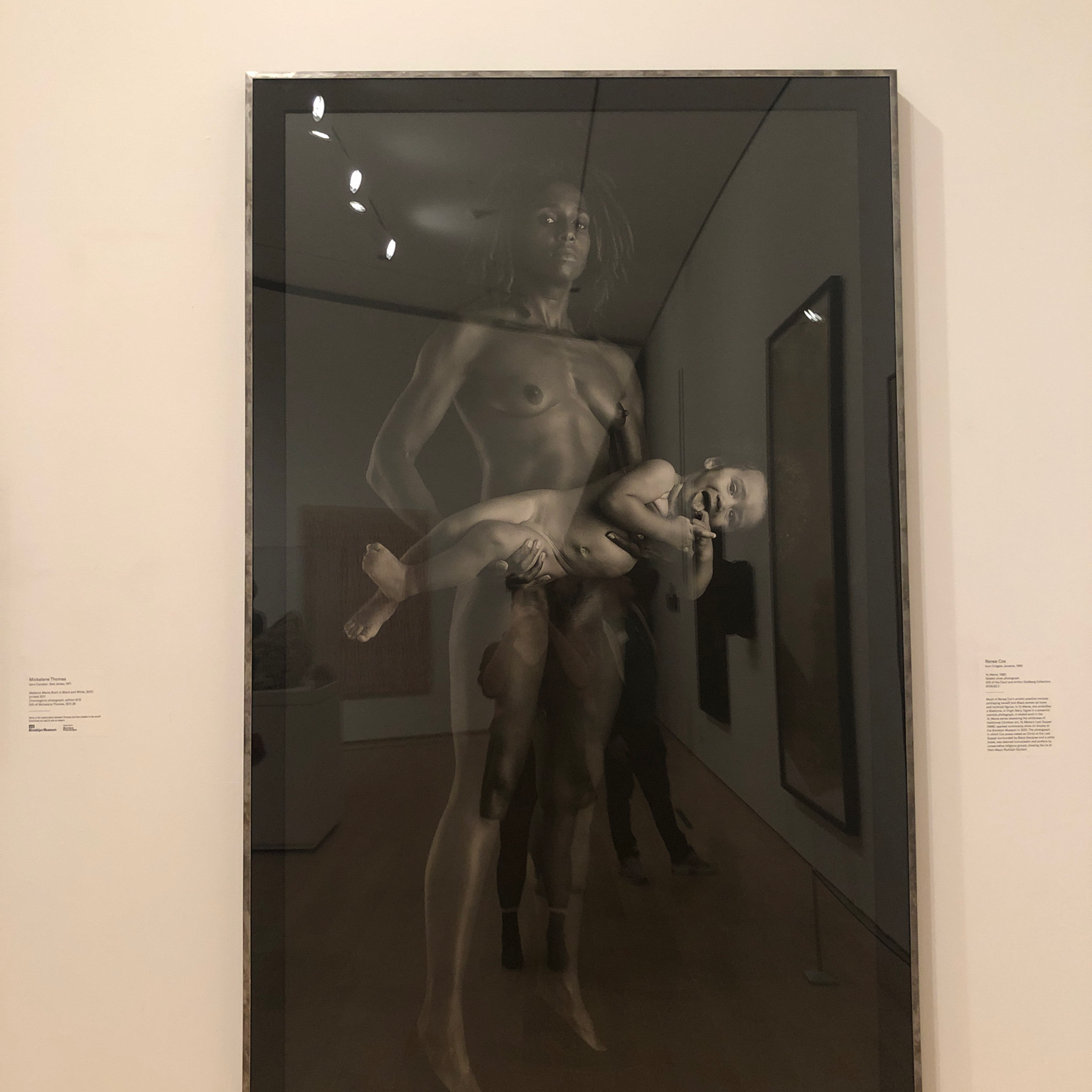 Cox's work has been viewed as controversial for the way she reinterprets Catholic imagery, to which she says: "I have a right to interpret the Last Supper just as Leonardo da Vinci created the Last Supper with people who look like him." In this photo, Cox portrays herself and her son in a manner that references the Madonna and Child.
Is this banarasi fabric? Does this work have to do with the Indian transgender Hijra community?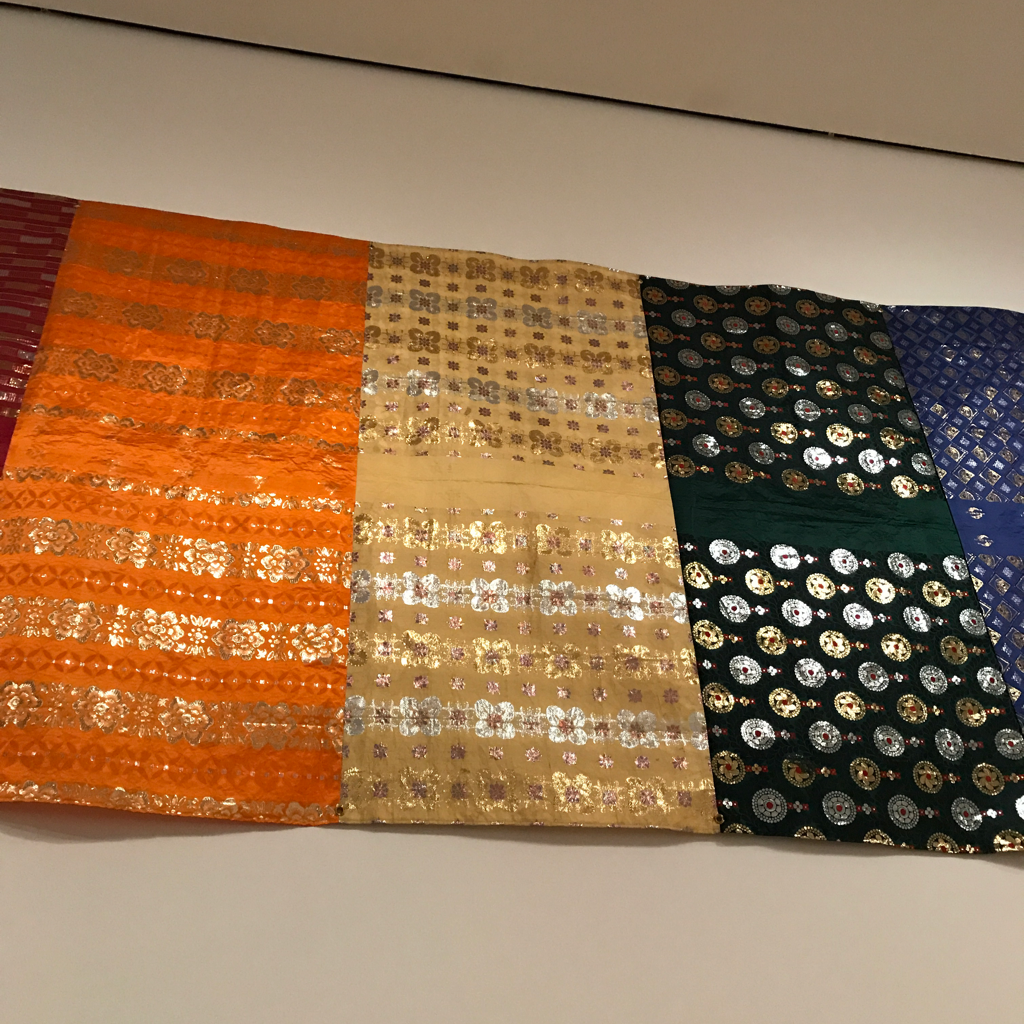 Interesting thought! This flag is actually sewn from six gele. A gele is a head scarf worn by Nigerian women for important events.
Tugbiyele identifies as a queer woman of Nigerian descent. By bringing together six Nigerian textiles associated with womanhood, and putting them together in a spectrum like the "rainbow" of the gay pride flag, she is combining and affirming two aspects of her identity.
Wow! I thought it was banarasi sari fabric! Thanks for informing me!
Could you please tell me more about this work?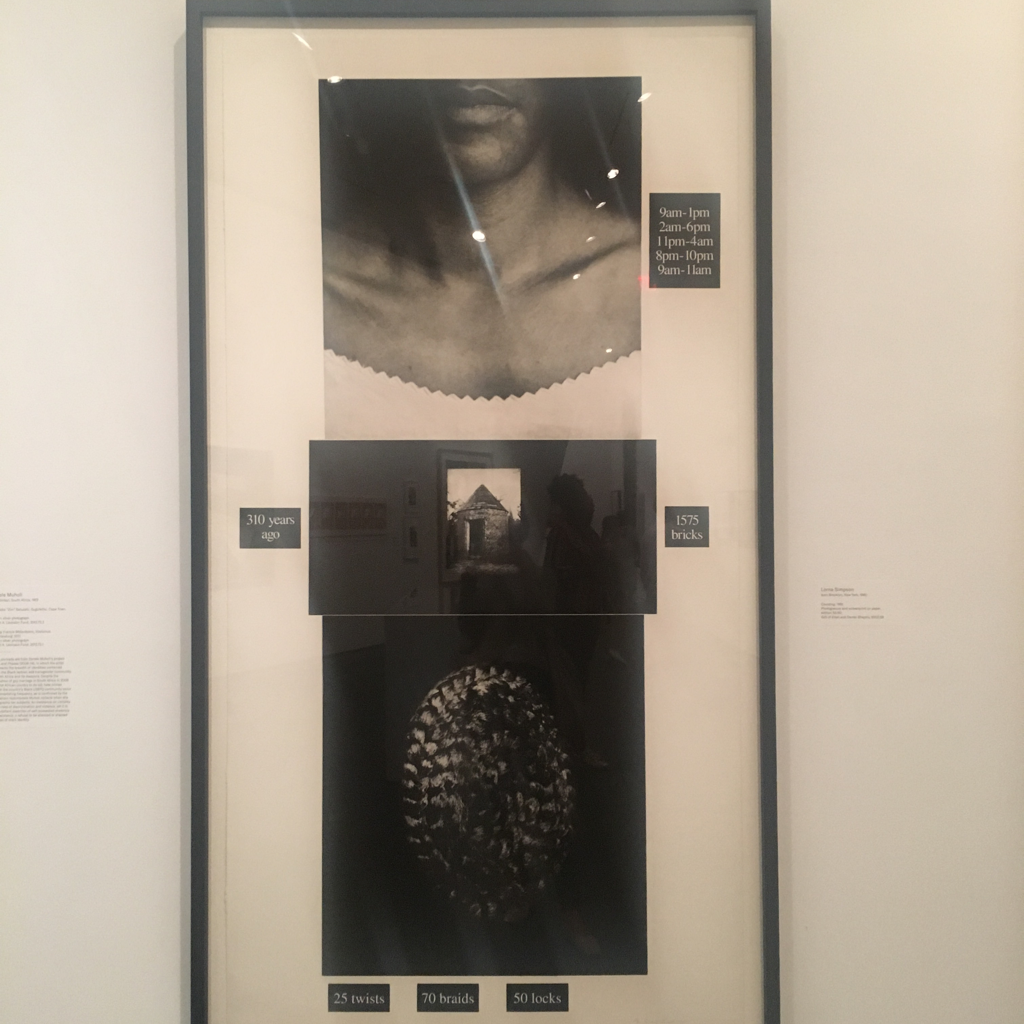 Simpson is known for juxtaposing text with her photographs to address cultural and historical conceptions of gender and race.
In this work, she presents us with images of an African American woman, a brick hut, and braids, each of which is underscored by counting.The meaning is deliberately open ended, forcing the viewer to puzzle out it's possible meanings.
Yeah the piece really makes you want to decipher it. Like the time ranges too. It's tough to take myself away from it. I just want to figure it out. It definitely leaves an impression and makes you think!
Exactly. The work is likely making a reference to women's labor and slavery. The time slots could imply workshifts. The texts on either side of the house allude to the beginning of slavery when the smokehouse was once used as a slave hut. Finally, the bottom register makes a direct reference to black hair.
Why does Laurie Simmons use dolls?
The choice to photograph dolls stemmed from an interest in the ability to create her own environments and get away from reality. They are also an exploration of nostalgia and the archetypes that Simmons grew up around, like the 1950s housewife. The dolls are surrogates for her own experience that can go anywhere and do anything.
Can you possibly tell me where this has been displayed before?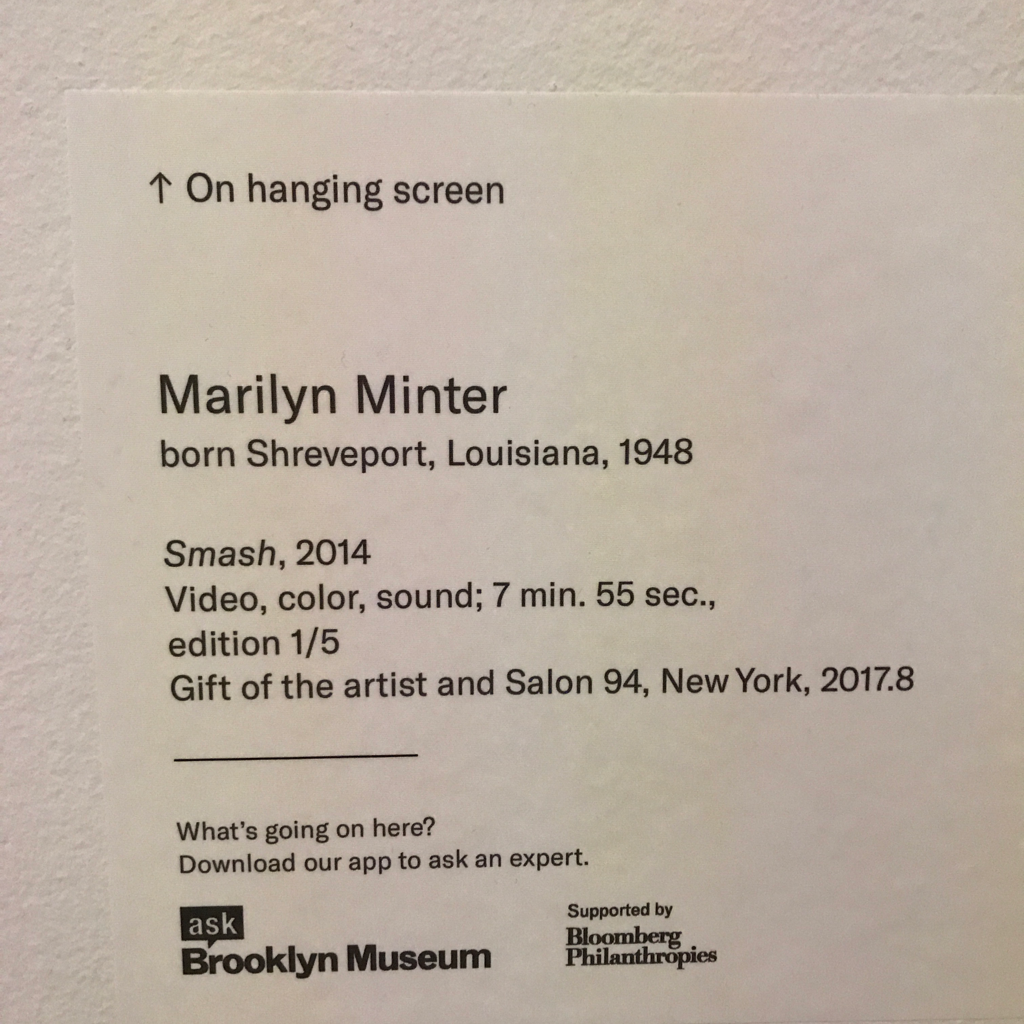 It has been displayed twice before here at the Brooklyn Museum. It was originally commissioned for our 2014 exhibition "Killer Heels: The Art of the High-Heeled Shoe." Then it was shown again in our Marilyn Minter retrospective in 2017.
Tell me more.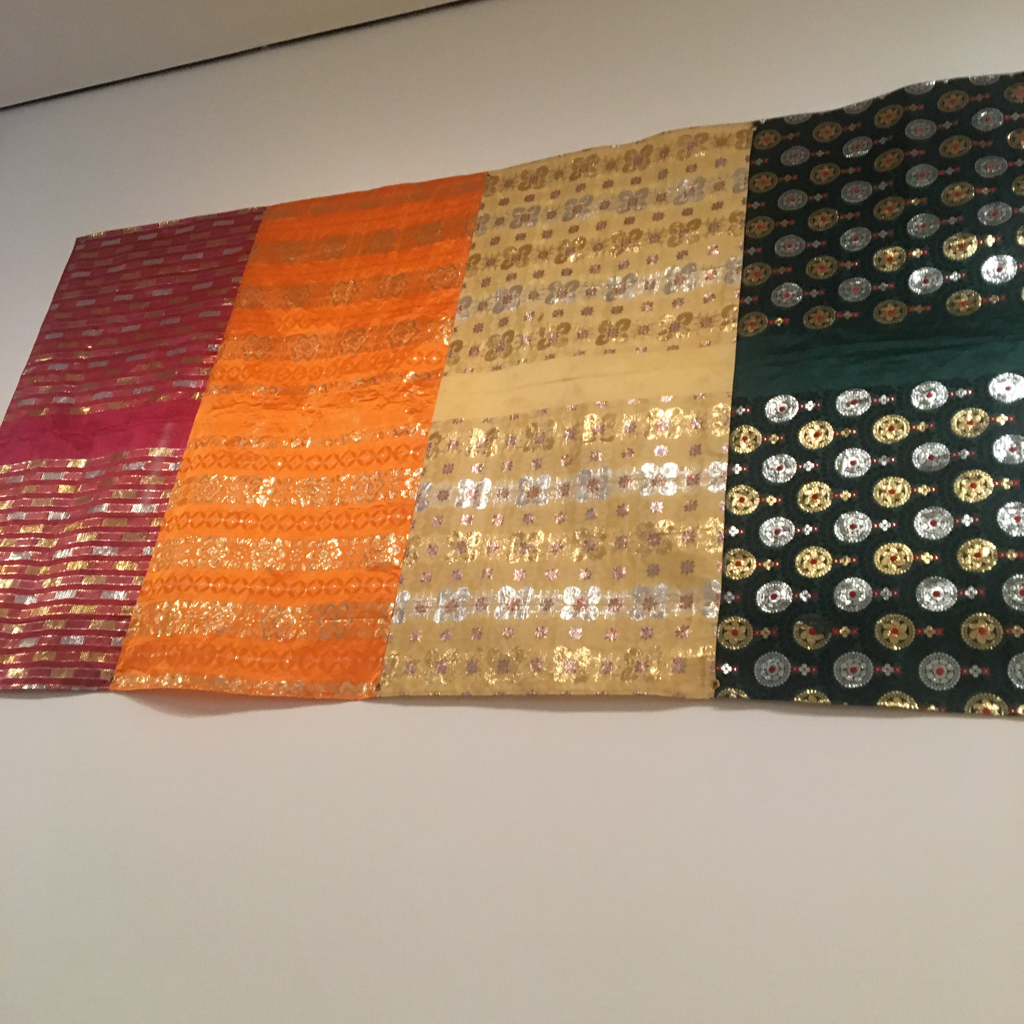 The artist assembled this work by sewing together six gele, headscarves worn by Nigerian women for important events.
The artist herself is of Nigerian descent and identifies as queer. By bringing together Nigerian textiles associated with womanhood and the colors of the gay pride flag, she is combining and affirming two aspects of her identity.
Tell me more.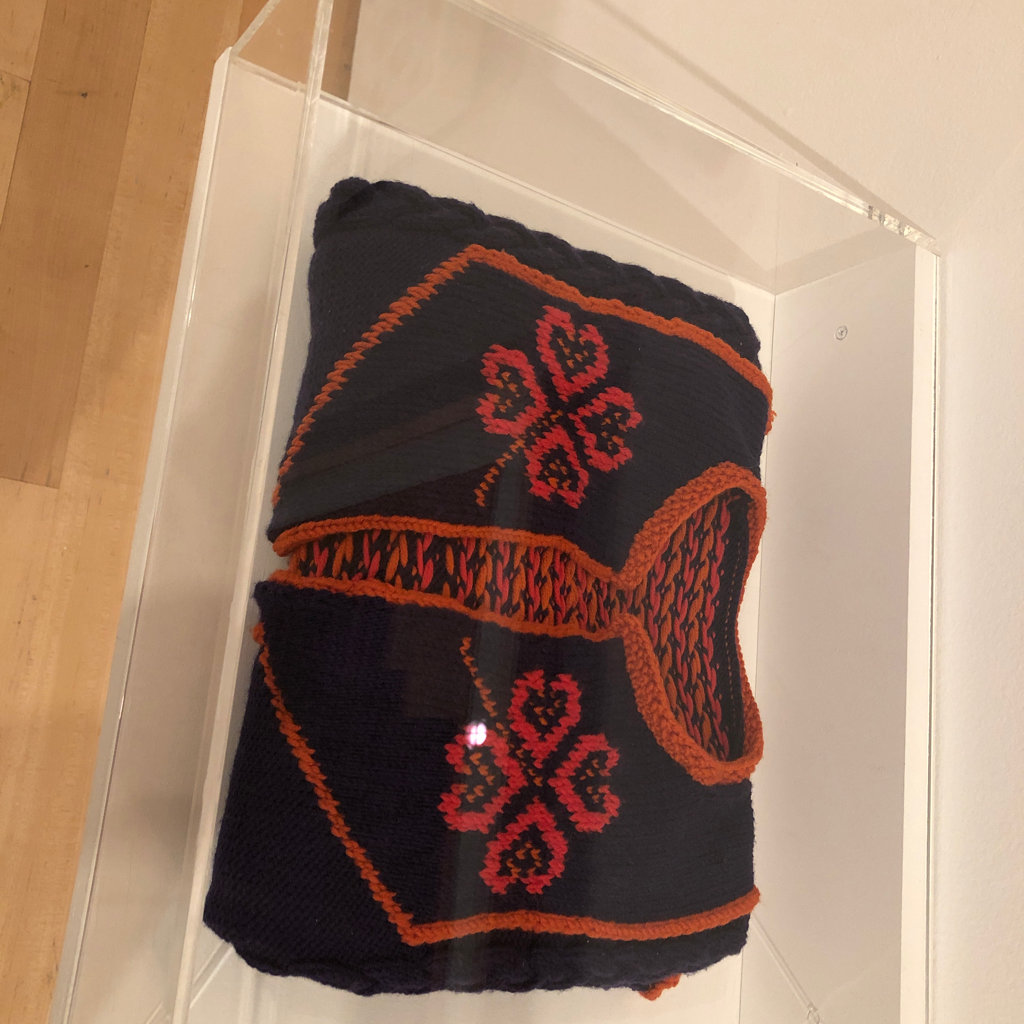 Ellen Lesperance creates knitting patterns based on examples of sweaters she finds in archival photographs of female activists, and then uses these pattern paintings as guides for her hand-knit "historic" sweaters.
The LaToya Ruby Frazier photo portrait "Momme Portrait Series (Shadow)" seems to portray the mother figure as oppressive (the artist literally in her shadow), what is the understanding of their relationship?
I can definitely see what you mean, but the artist describes her intention here as presenting the two of them as one, unified in sickness and a struggle to survive. LaToya Ruby Frazier has lupus and her mother, cancer.
Frazier said of this image: "The light cast a shadow that for me foreshadowed a departure." It was taken six months before the loss of her grandmother to the same cancer her mother had been diagnosed with. In Frazier's hometown of Braddock, PA, an  overwhelming amount of industrial pollution has caused high rates of cancer and other illnesses among its residents.
Thank you—that is a very different relationship than I would have thought.
Is that water?
 At first, it might look like water. But it is actually silver pigment mixed with vodka, which makes a bit more of a mess as well as accentuating the dancer's gestures. 
You mean to tell me this is also rhoplex, like Hammond's work?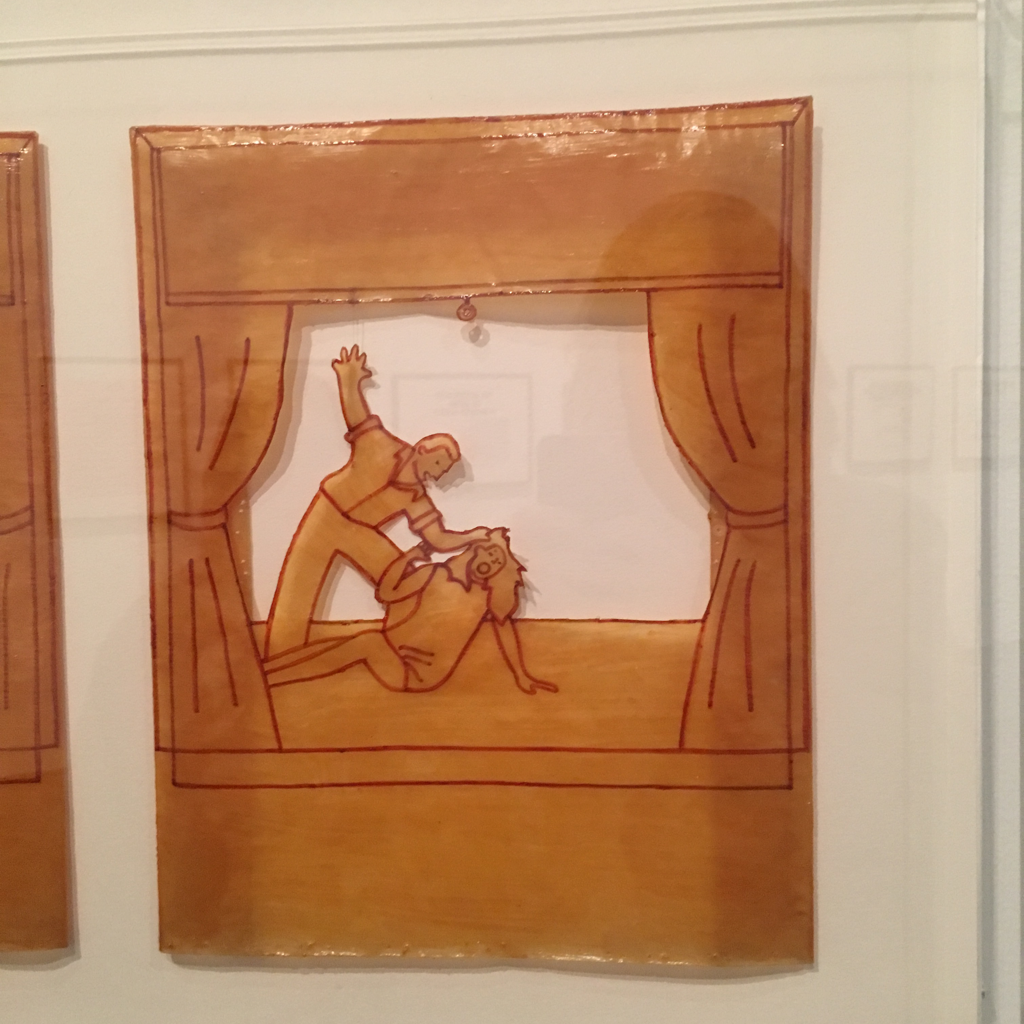 Yes, it's a very versatile material. In these two cases it has been applied to different materials. Here, it's being used to coat the vellum paper.
What is happening in the scene? It looks aggressive, as if something is happening to her.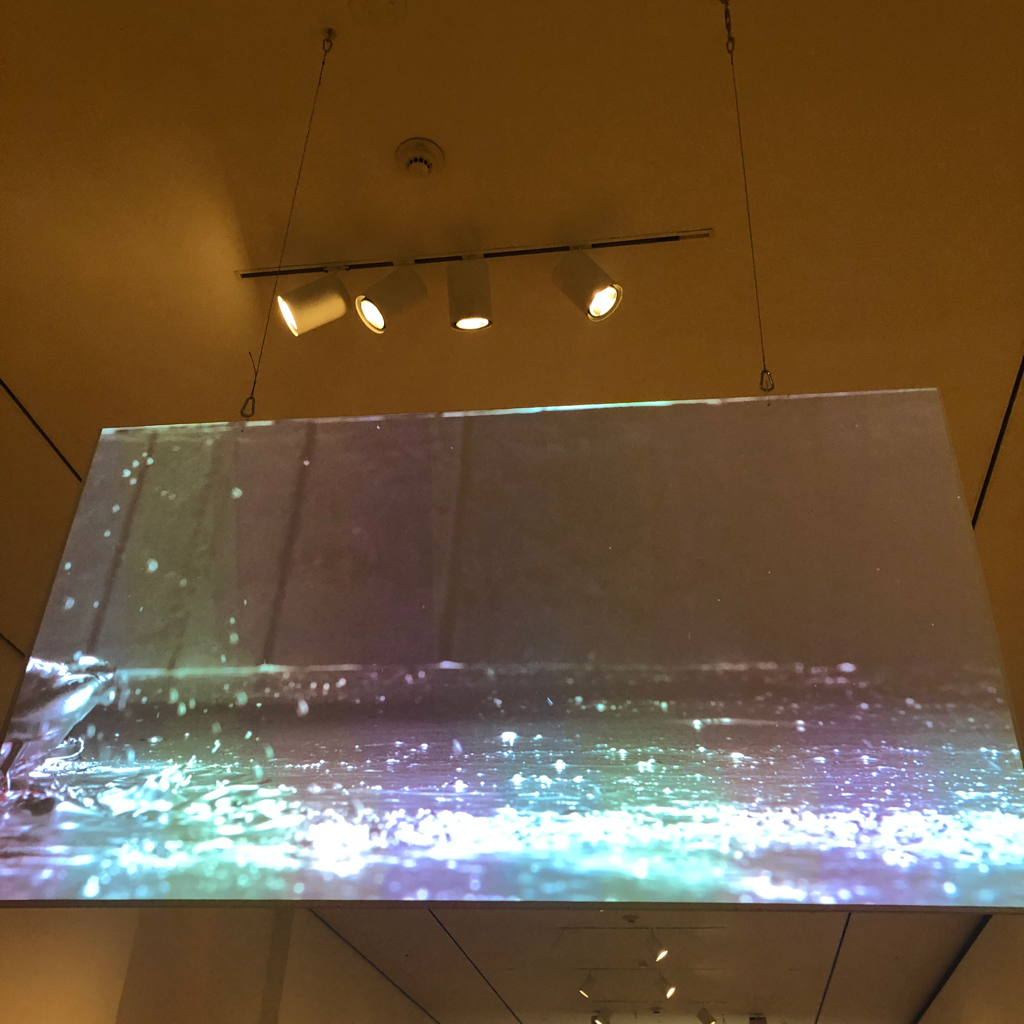 The woman being filmed is a dancer named Akira Armstrong. She is the founder of the Pretty Big Movement dance company which specializes in Hip Hop, Jazz, and Ethnic dance.
Her movements are certainly aggressive. And the way it is filmed amplifies this mood and also creates an ominous atmosphere.
Yes! Her feet are crammed into those high heeled be-jeweled shoes and splashing through silver paint while she kicks through a pane of glass in front of the camera.
Can you tell me more about the title of this?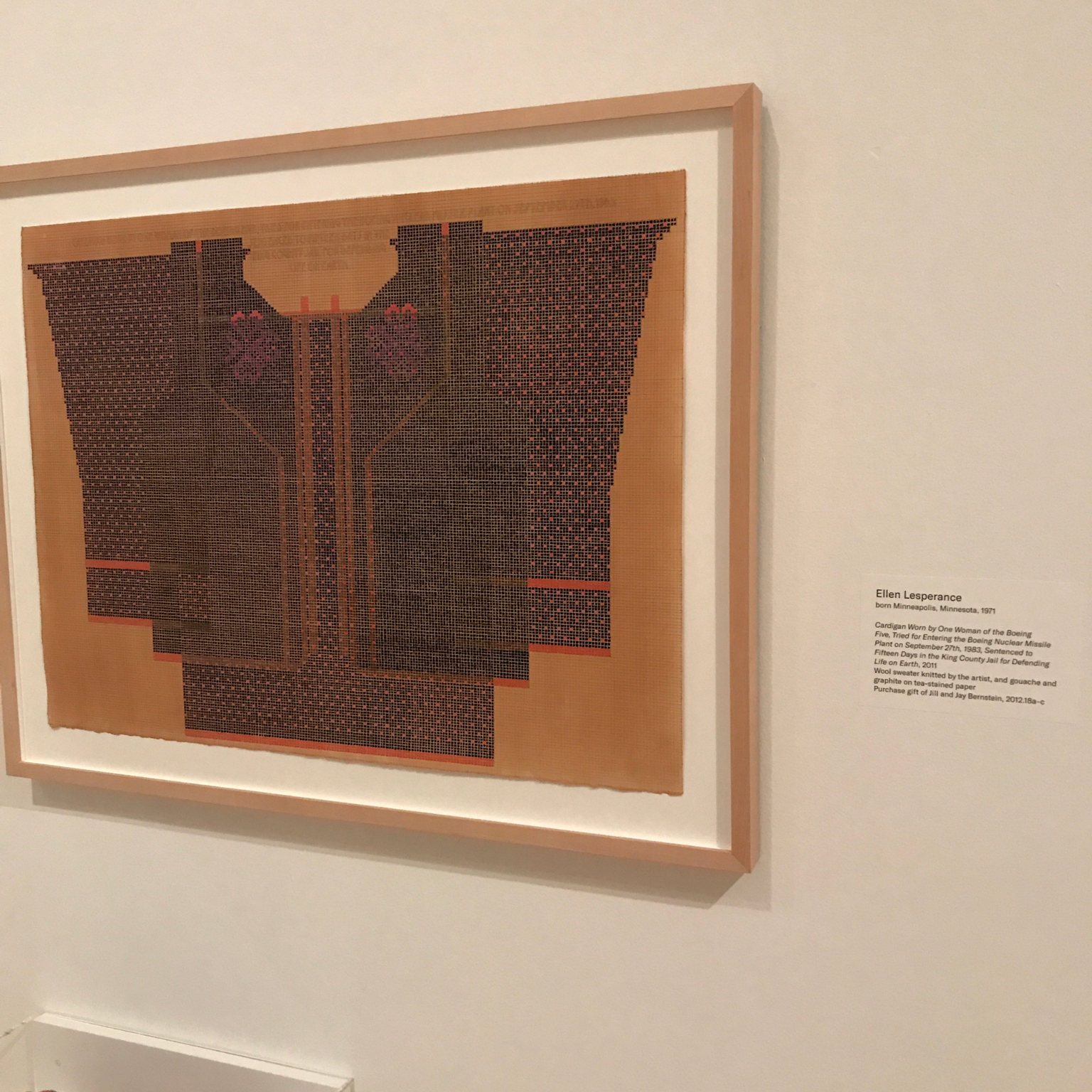 The Boeing Five were a group of five women from the Puget Sound Women's Peace Camp who took their protest inside of the Kent Boeing Aerospace Center where cruise missiles were being developed.
They were protesting the creation and use of nuclear warheads, which they felt threatened life on earth as a whole. They were arrested for criminal trespassing.
What is the significance of blue mush in the Nestle box?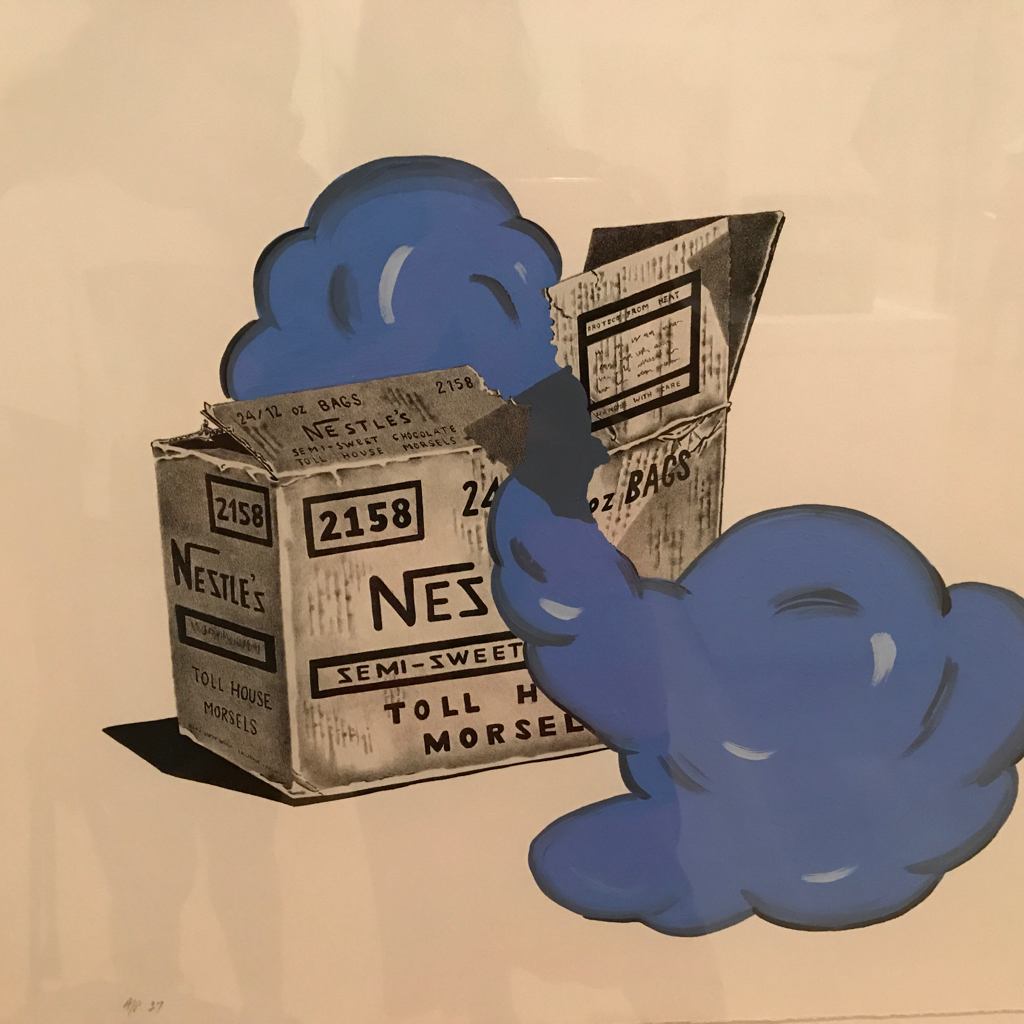 Pop artists like Strider frequently used commercialized packaging or other ubiquitous imagery in their work to question the nature of fine art. The blue mush (or any color mush, for that matter), here, is something specific to Strider's work. This two-dimensional work is based on three-dimensional works she created by allowing urethane foam to rupture and freely expand from packages. It sort of suggests she can't be contained by societal norms.
Aaaah! My daughter thought it was smoke!
I can see why! In reality, the foam would have poured out in a similar way!
Tell me more.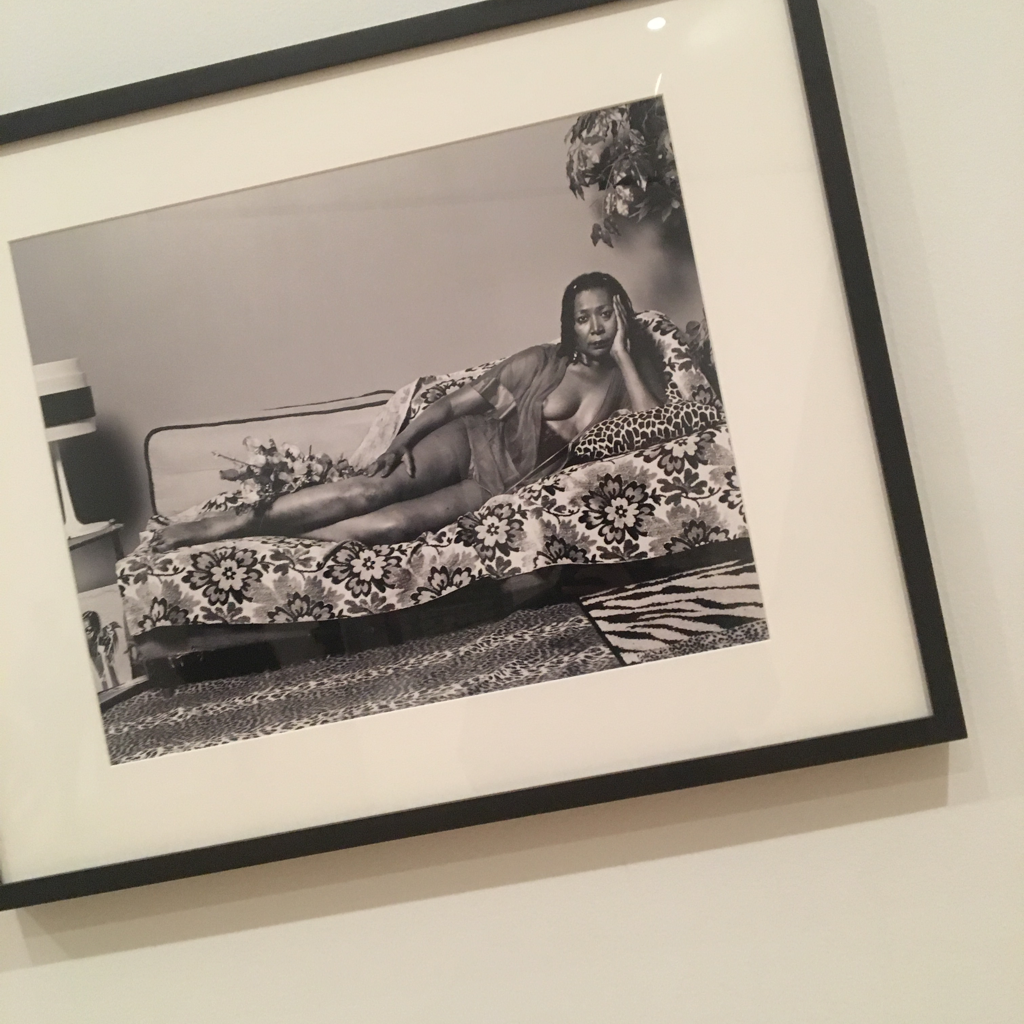 In this photograph, artist Mickalene Thomas has captured her mother. Her work often centers the black female body and it was this series of photos of her mother that inspired her in the first place.
She says: "By selecting women of color, I am quite literally raising their visibility and inserting their presence into the conversation… By portraying real women with their own unique history, beauty and background, I'm working to diversify the representations of black women in art."
Hi! I'm wondering what's considered a "guerrilla girls original". Since they make a lot of posters and paper material, what is considered "Museum material"?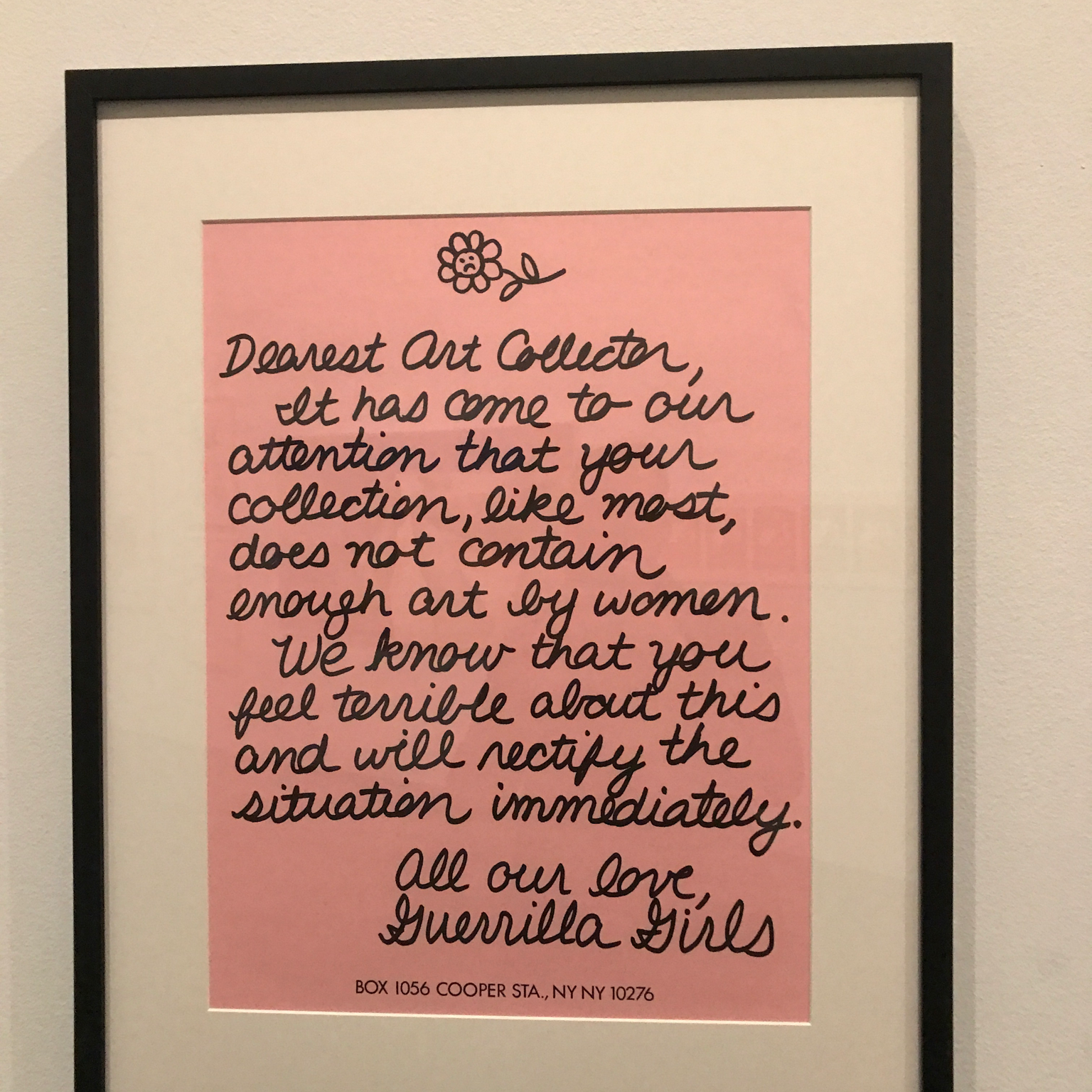 Basically, any lithograph in the series can be considered "museum quality". We keep a copy and preserve it.
And do they sign it and/or number it?
Most of their works include the name of the group on the actual print, a kind of signature or at the very least an attribution to the group.
I like this a lot. Tell me about it
Spero is known for reinterpreting ancient imagery, especially ancient images of women, to tell a story of empowerment. She studied ancient Egyptian art at museums in Chicago.
One of her favorite figures from Egyptian mythology is the goddess Nut who you see printed repeatedly at the top of this banner. The form you see also incorporates the multi-breasted element from the Capitoline wolf, the wolf who raised Romulus and Remus in the Roman foundational myth.
Spero viewed each of these figures as maternal, nurturing, and deeply archaic. One of her goals as an artist was to create what she called a "simultaneity of women."
Tell me more.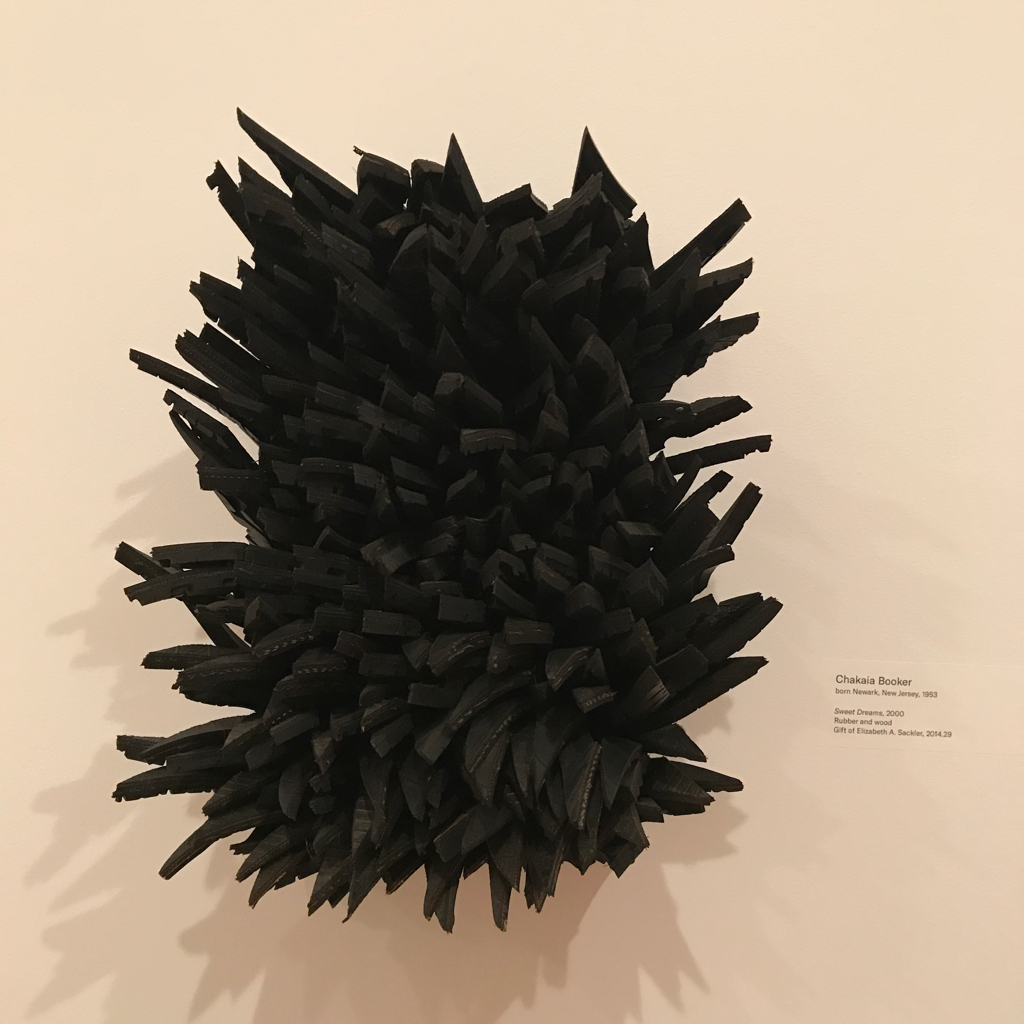 This artist, Chakaia Booker, is known for sculptures made from repurposed tires. Her use of tires is a reference to industrialization, consumerism, and environmental impacts. She likens the tires' surface to human skin in the way that they age, wear, and bear scars.
This piece tries to be radical but fails a bit because it shows very traditionally beautiful bodies, right ?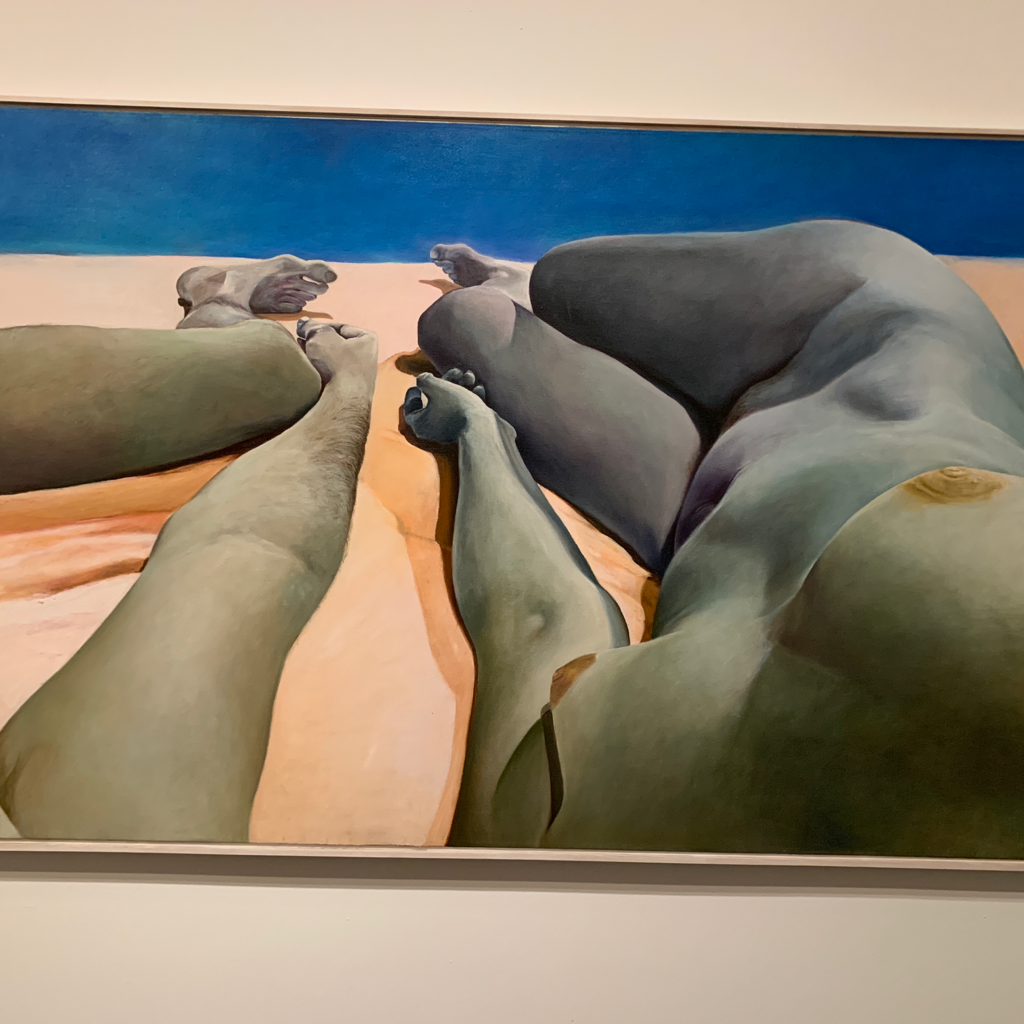 I guess that the bodies are blue so that they don't have a "race" ....
Wow, I really love your interpretation. The two bodies depicted are actually the artist and her lover at the time. It is a kind of self-portrait. I'm sure the artist would LOVE the fact that you considered her body beautiful.
As for the blue bodies, your interpretation that they are blue so they don't have "race" is brilliant. I have never considered this painting in that light.
I do know that the artist, Joan Semmel, loved abstract art. She painted the bodies blue because it was a way to paint a realistic painting, but also abstract it, if that makes sense.
Did he put on the lipstick to make himself appear feminine?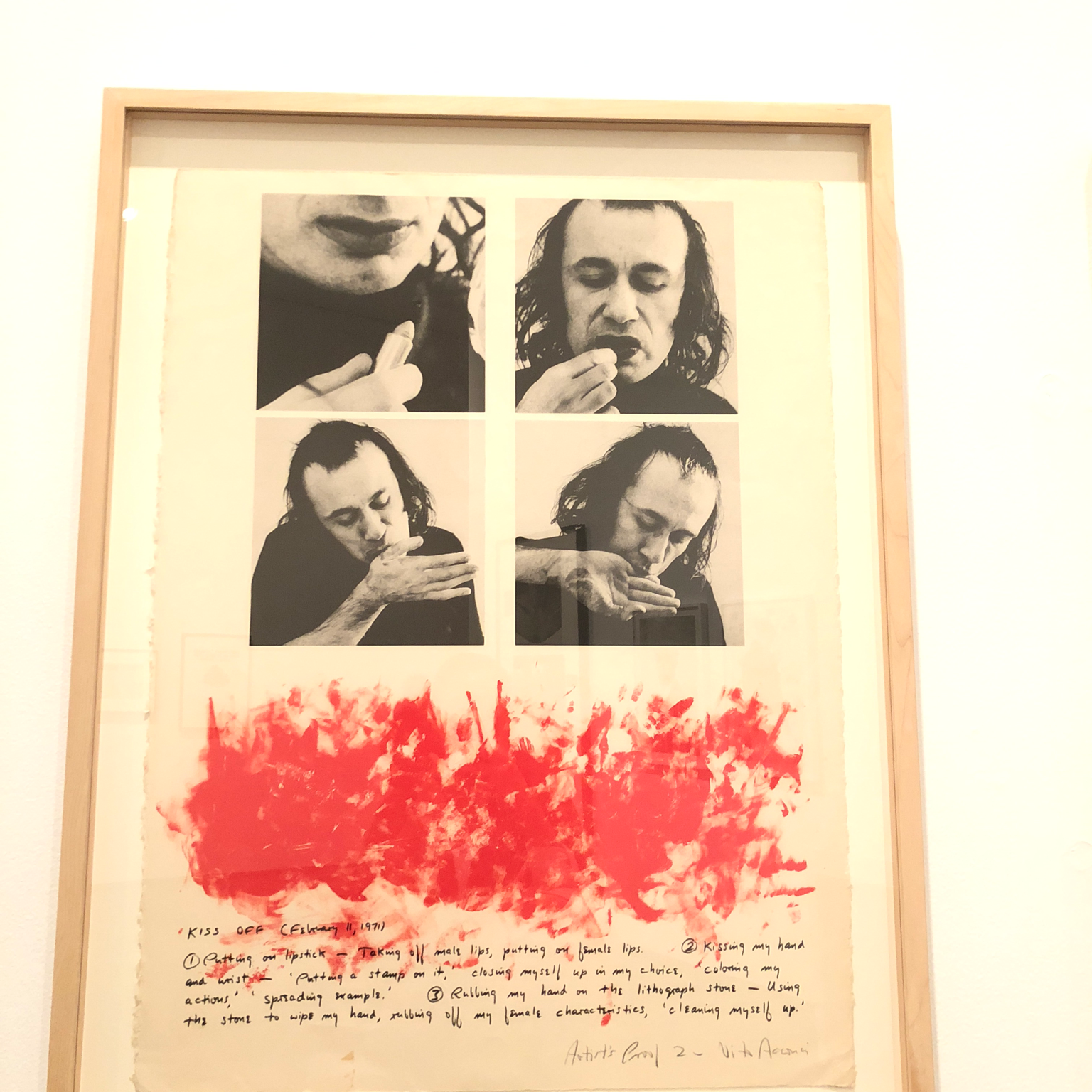 That's a big part of it. He was challenging stereotypes of what it meant to be "feminine" and what it meant to be "masculine." Not much earlier, in the the 1960s, many social conventions were called into question.
Why are the bodies blue?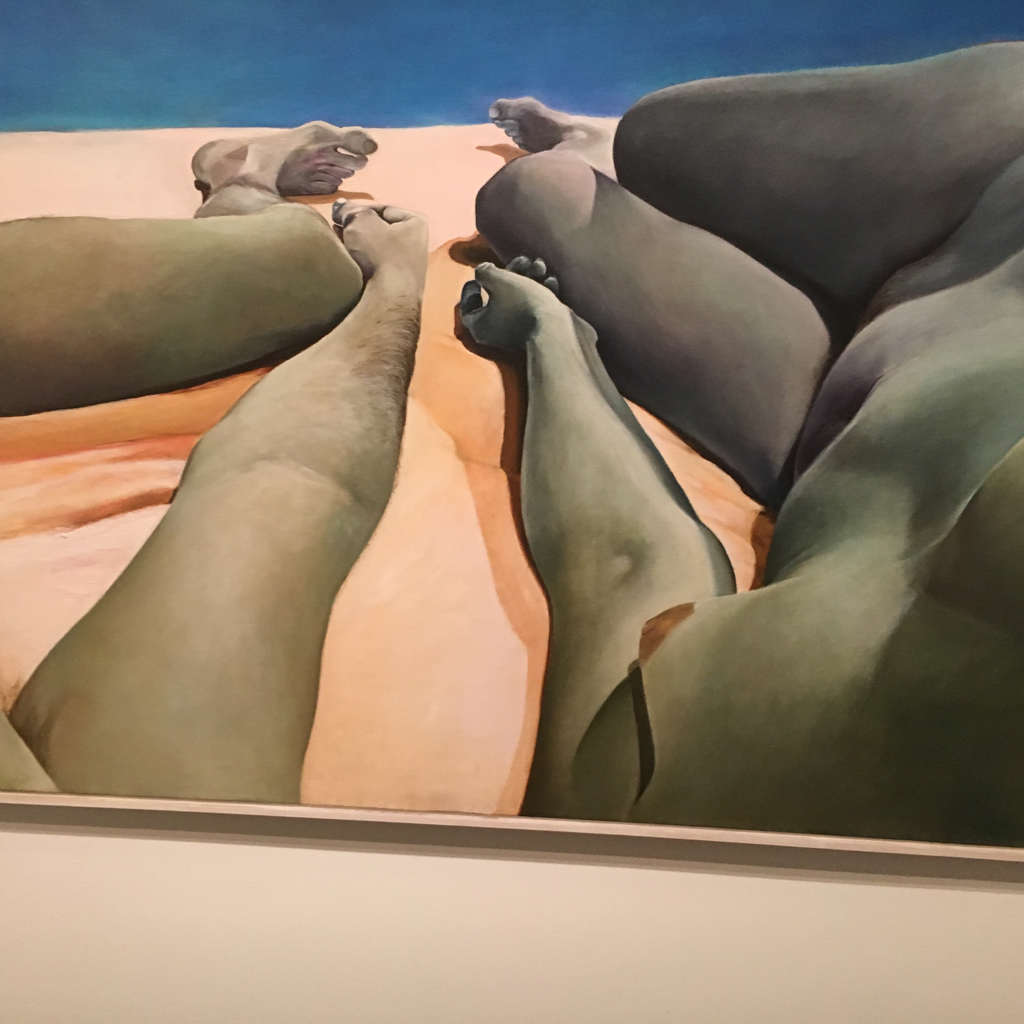 Though this painting is done in a realistic style, the blue-green colors of the skin give the whole scene an "otherwordly" aura, which is especially interesting given that the artist was presenting an alien concept for the time: the nude from a woman's own perspective.
The painting actually recreates a photograph that the artist, Joan Semmel, took of her and her partner in bed, looking down at their bodies.
She's subverting the objectifying male gaze typical throughout Western art history by painting her own body from her perspective. The blue color also serves to desexualize the nude in a way, allowing viewers to consider other visual elements more deeply.
What does Gélé mean?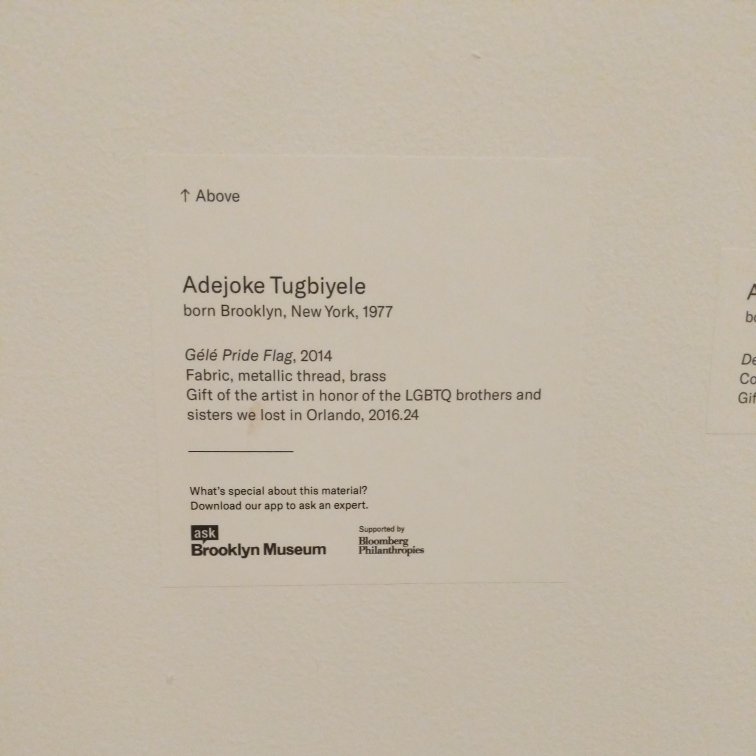 A "gele" is a head scarf worn by Nigerian women for important events. In this piece, Adejoke Tugbiyele sewed together 6 geles to make her flag.
Yes indeed. Tugbiyele identifies as a queer woman of Nigerian descent.
By bringing together these Nigerian textiles associated with womanhood, and putting them together in a spectrum like the "rainbow" of the gay pride flag, she is combining and affirming two aspects of her identity.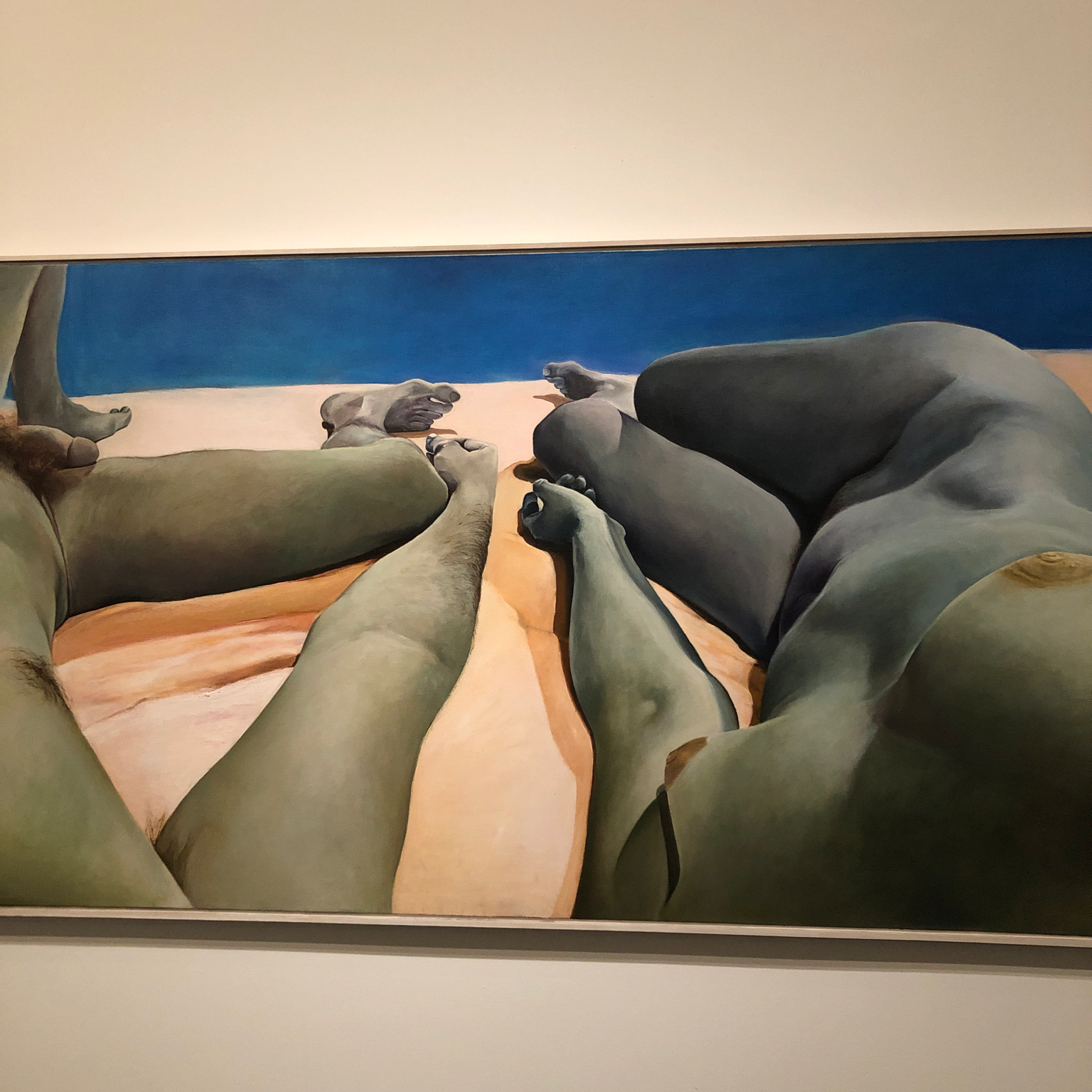 It's unclear why she chose blue specifically but changing the color of the bodies serves to make the painting a bit more abstract. It desexualizes the scene and prompts viewers to consider the work and its implications more thoughtfully.
What was Eakins's "impulsive gesture"?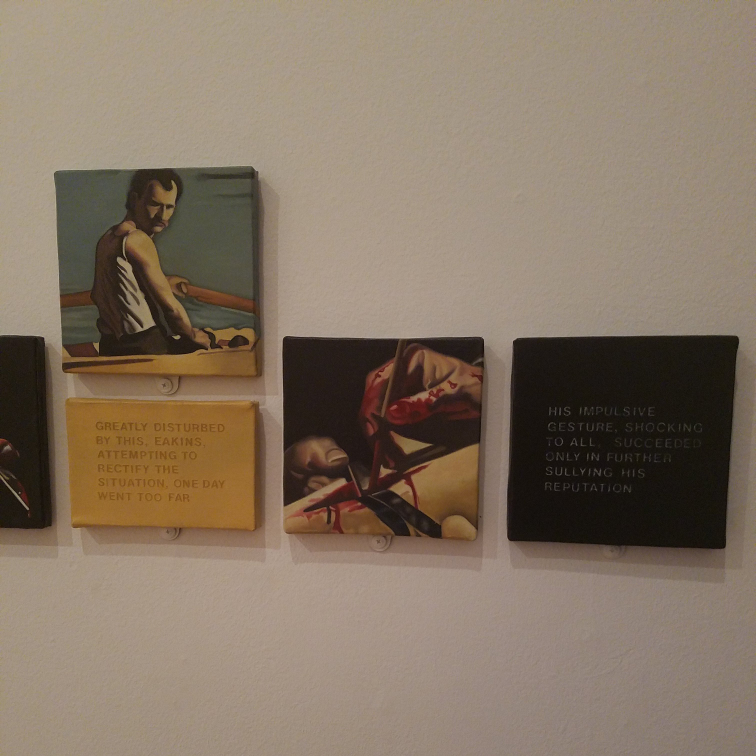 The text in this work refers to a controversial event in Eakins' professional career when he allowed female students to sketch from a live, nude male model. He consequently lost his teaching position.
So the scalpel and blood are not related?
hey are related, but don't necessarily represent the incident in question. These images of surgical procedures are drawn from one of Eakins's paintings of an anatomy lesson and thus relate directly to his championing of the study of anatomy in art. Attie is encouraging the viewer to contemplate the hypocrisy in American society when it comes to easy acceptance of images of violence and condemnation of nudity, as well as gender discrimination in the art world.
Tell me more.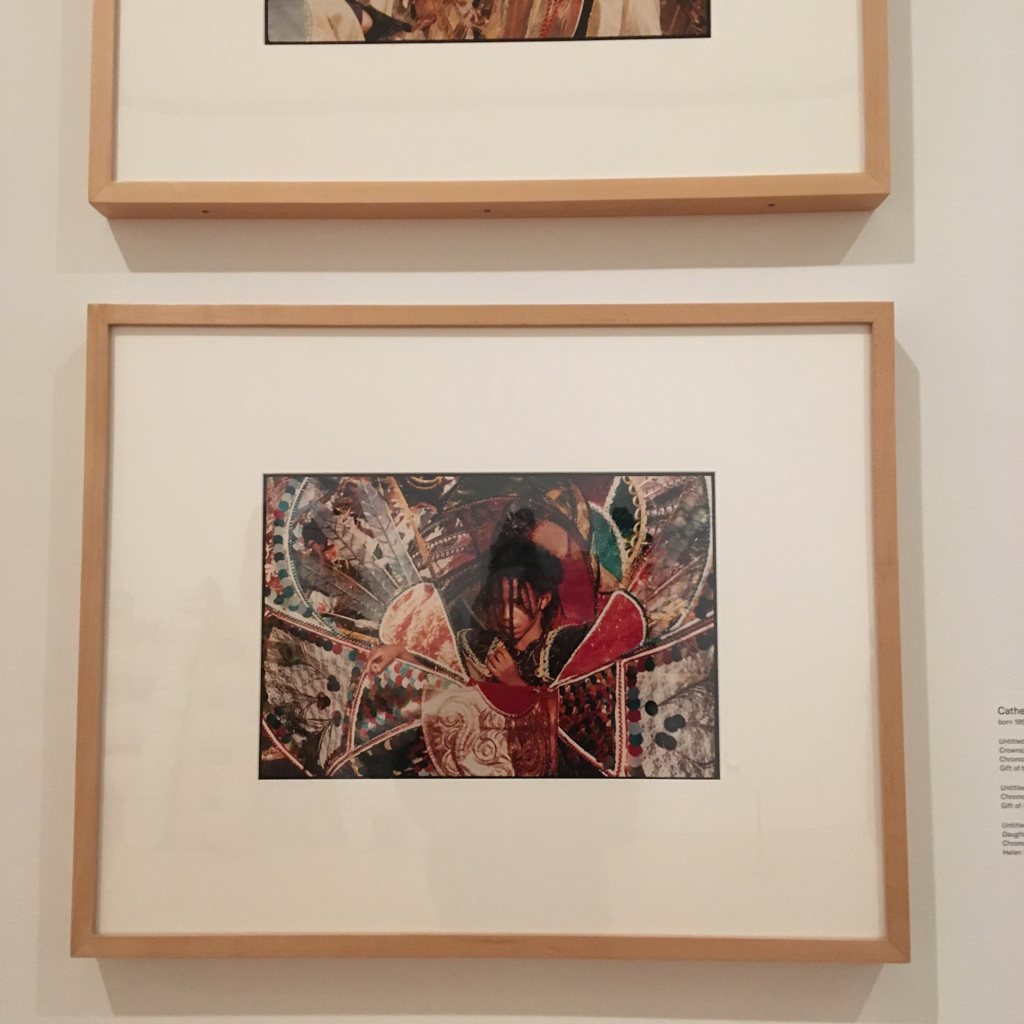 The West Indian American Day Carnival is a Brooklyn tradition that dates back to the 1930s.
This series of photos captures children in costume participating in that parades down Eastern Parkway, passing the Brooklyn Museum!
What does this mean? Is the collective still creating new work, but online?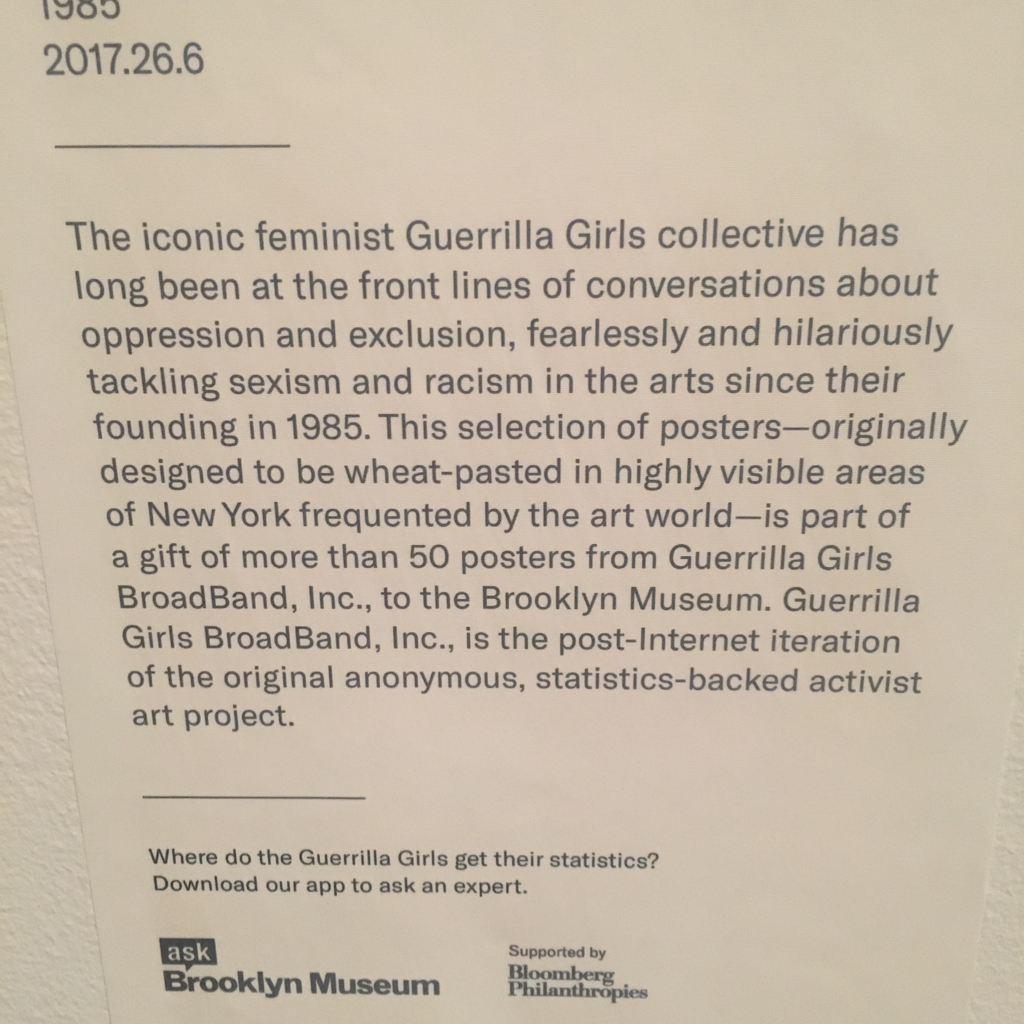 In 2001, the Guerrilla girls evolved into three separate wings to accommodate their broadening interests: Guerrilla Girls, Guerrilla Girls Broadband and Guerrilla Girls On Tour.
Guerrilla Girls BroadBand is one of those sister organizations who take advantage of web based technologies to convey their message.
Oh awesome! Thanks for the info!
Tell me more.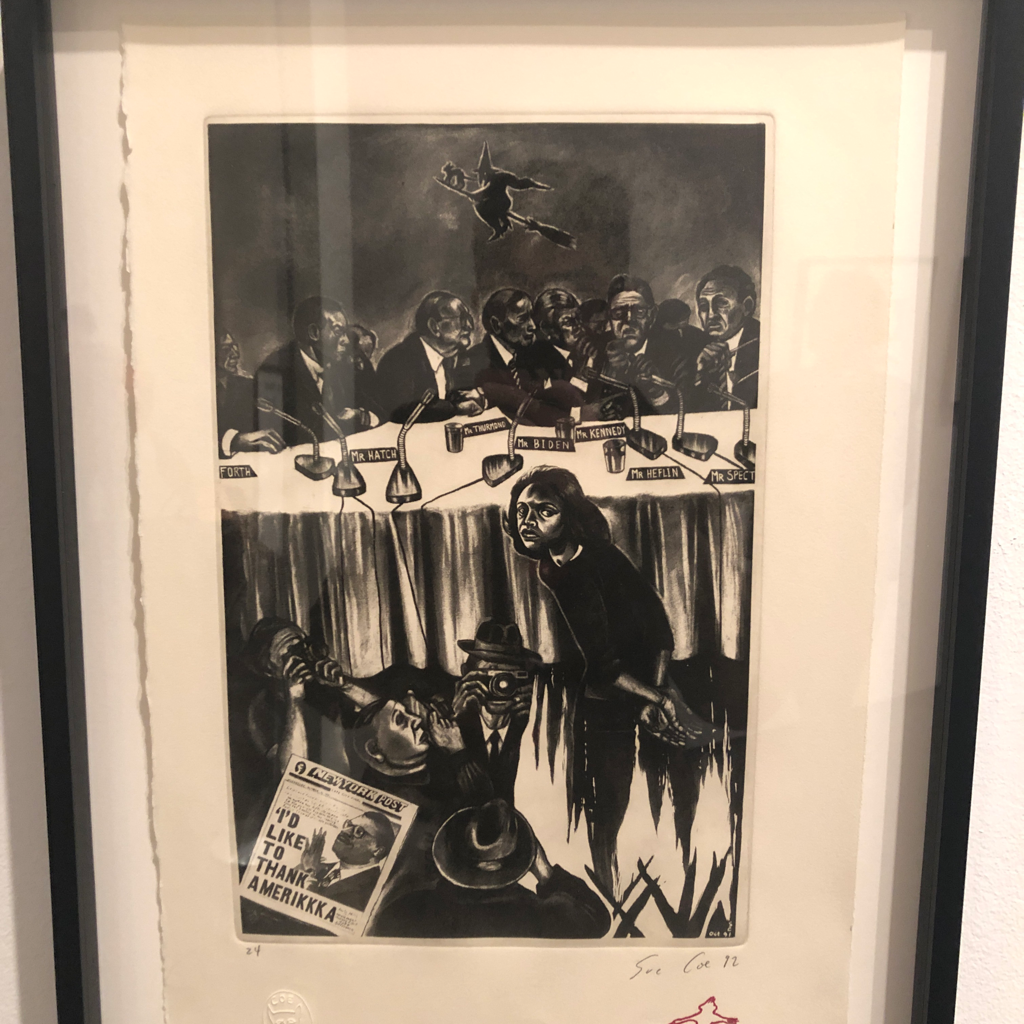 Addressing another highly controversial event in American history, Sue Coe uses the iconography of a witch hunt to portray the outcome of the trial following Anita Hill's accusations of Clarence Thomas's workplace sexual harassment.
Hill is shown burning at the stake, but a "real" witch, complete with pointed hat, broom, and black cat, flies free in the background.
Can you tell me about the context of this piece?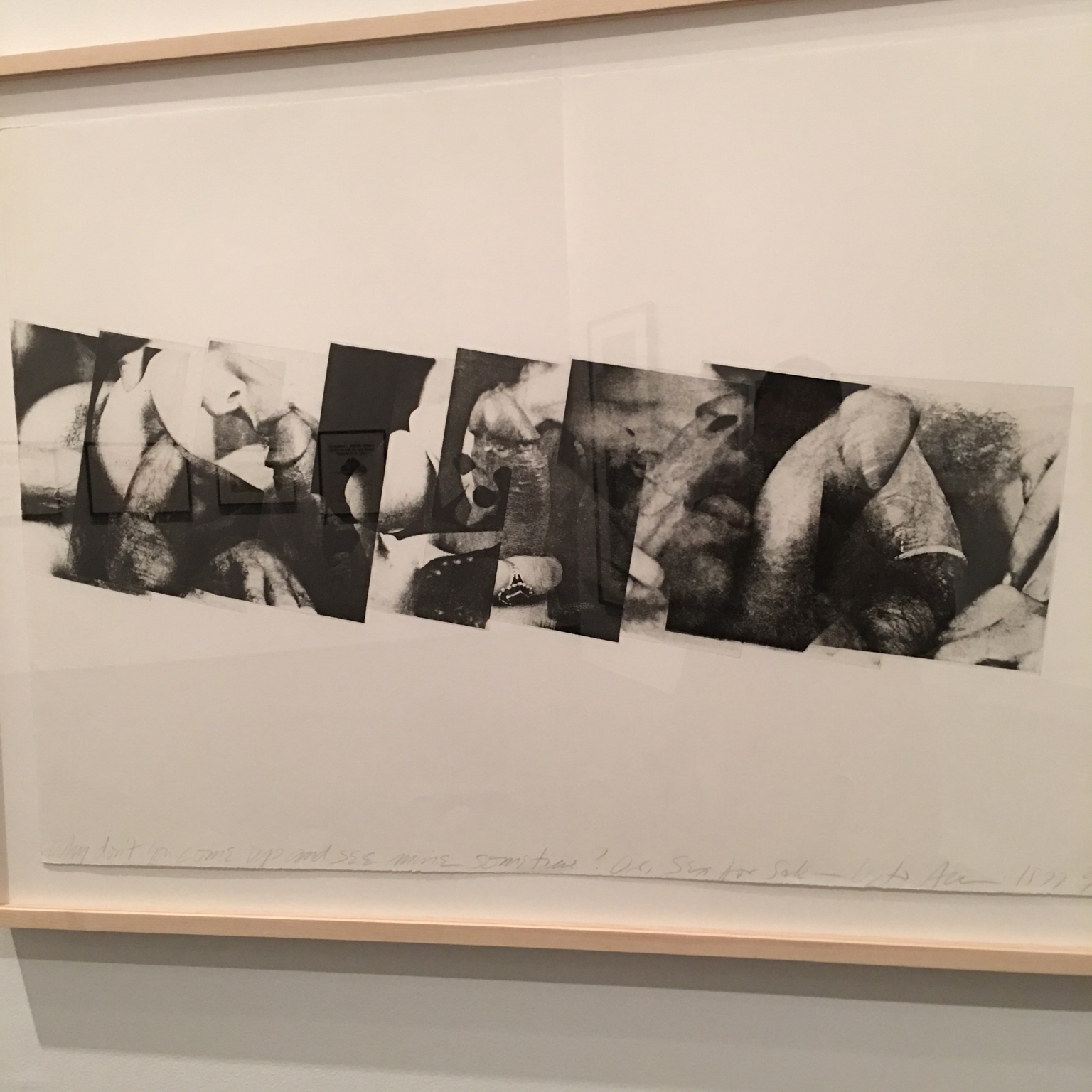 One of the most important things to consider when viewing Vito Acconci's work is his own feelings: he identified as a feminist, but struggled to rectify that with his own identity as a straight, white male.
In this series of photos, which depict oral sex, he directly confronts the explicit implications of the phrase "Why Don't You Come Up and See Mine Sometime?" by presenting it literally. You could also read the title as a question asked by one artist to another about coming up to their studio to see their work. If the power dynamic between the two parties are skewed, the piece intertwines sex and the expectation of sex with access and power.
He said in 1991: "My early work came out of a context of feminism, and depended on that context. Performance in the early seventies was inherently feminist art. I, as a male doing performance, was probably colonizing it."
These posters are incredible; it's amazing that the most recent one is from 1997 and they all remain so relevant. How did the curators make their decision and narrow it down from 50 posters?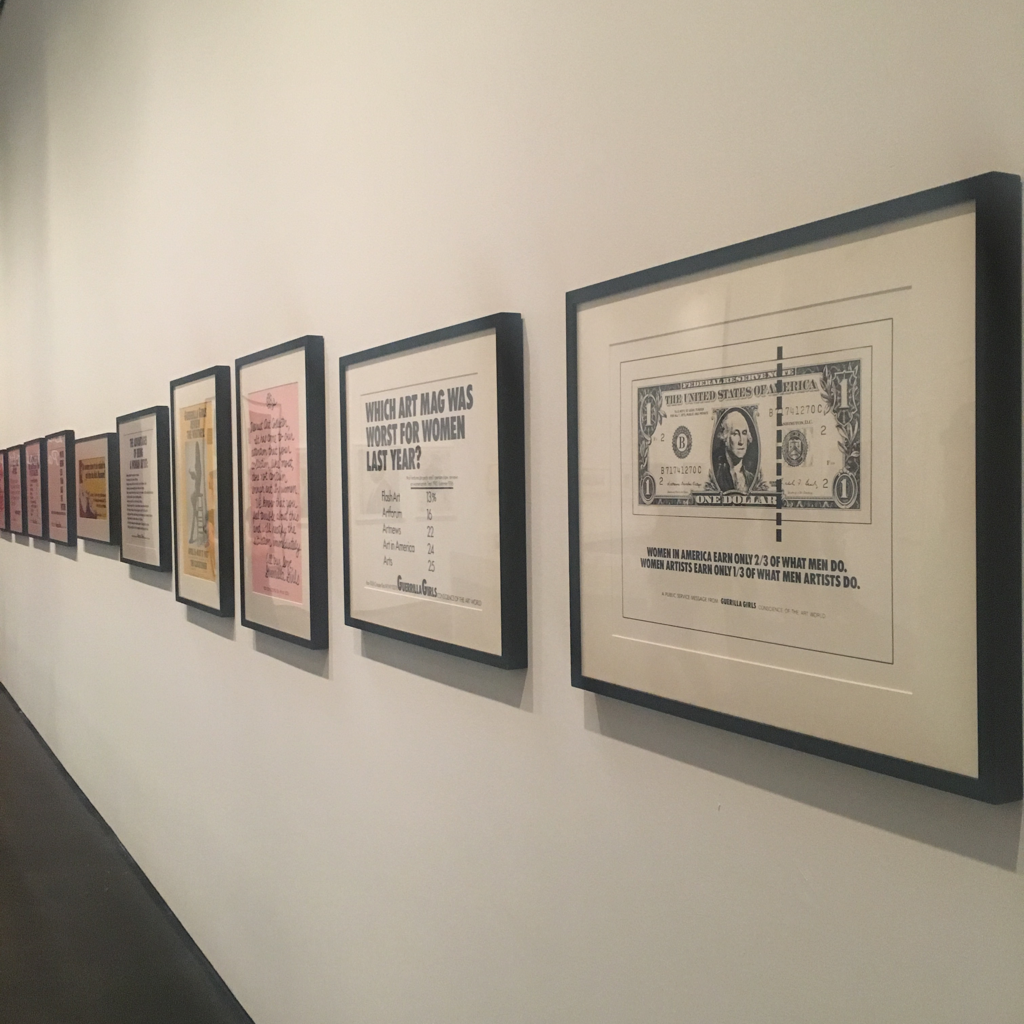 Aren't they?! The Guerrilla Girls were founded in in NY in 1985 in direct response to an exhibition at MoMa and to protest gender and racial discrimination in the art word. Many of their points remain relevant to institutions today, it's true.
As for how they narrowed it down, I believe the answer has to do with the ones which resonate even today, as you noticed. The current social and political climate was a major factor in the selection of all of the artworks for "Half the Picture." This exhibition was actually named for one of the posters, the one which reads "You're seeing less than half the picture without the vision of women artists and artists of color.
It's so simple but communicates its point graphically and effectively.
Is the man in this painting supposed to be an optical illusion?
This painting is based on photographs that the artist took, though, of course, with an entirely different color palette. The shapes and composition are based in reality, but certainly takes on some other connotations between the unusual point of view and the otherworldly colors.
The most common illusion that people see is that of a landscape with mountains, but that is typically applied to the woman's body. What is the illusion that you're seeing?
I feel like the male's penis is positioned to the side, while also having what resembles a female's pubic hair on the other side.
The fact that his penis has fallen to one side is simply a result of the way he is laying and the forces of gravity. From what I've read, I don't get the impression that Semmel was trying to make him appear more feminine, but that she painted what she saw. The work is really about her viewpoint.
Tell me more
Betty Tompkins' " Fuck Painting" was a response to the overproduction of abstract paintings during the 1970s. Mainstream feminists rejected her work and saw it as "pornographic" and "abusive"
Tompkins saw this piece as a way for her, as a woman, to  recapture sexual images for herself and reassert power.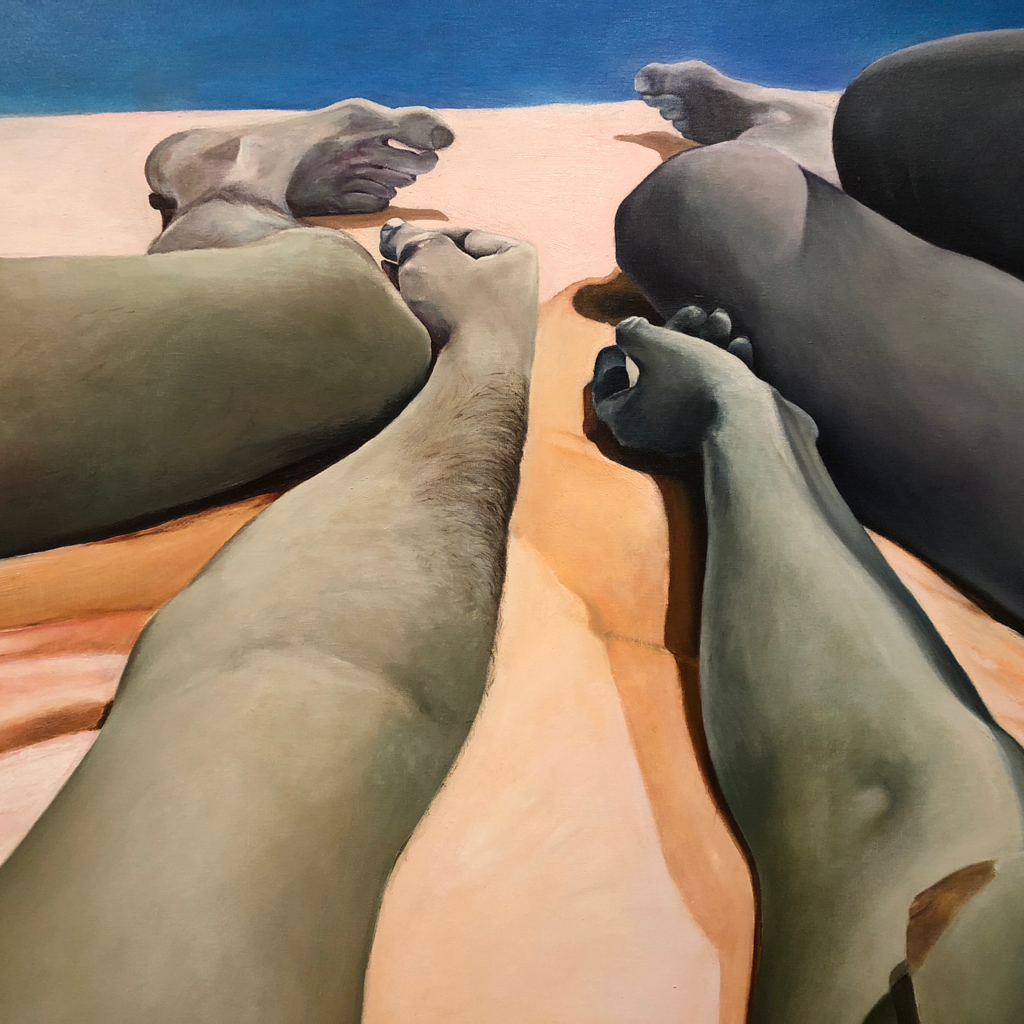 While the painting is realistic in style, the blue-green colors of the couples skin creates a sense of otherworldliness which ties in to the somewhat "alien" concept of the work: the nude from a woman's own perspective.
Semmel painted this from a photograph she took of her and her partner in bed.
The colors both demand the viewers attention in their uniqueness while also desexualizing the nude, encouraging you to consider other visual elements more closely.
Elements like the perspective of the female subject, which is unusual. Also, the way their bodies and their surroundings can be likened to a landscape, with mountains and valleys and a blue sky in the background.
Do you know anything about the title? Why was it called Intimacy-Autonomy?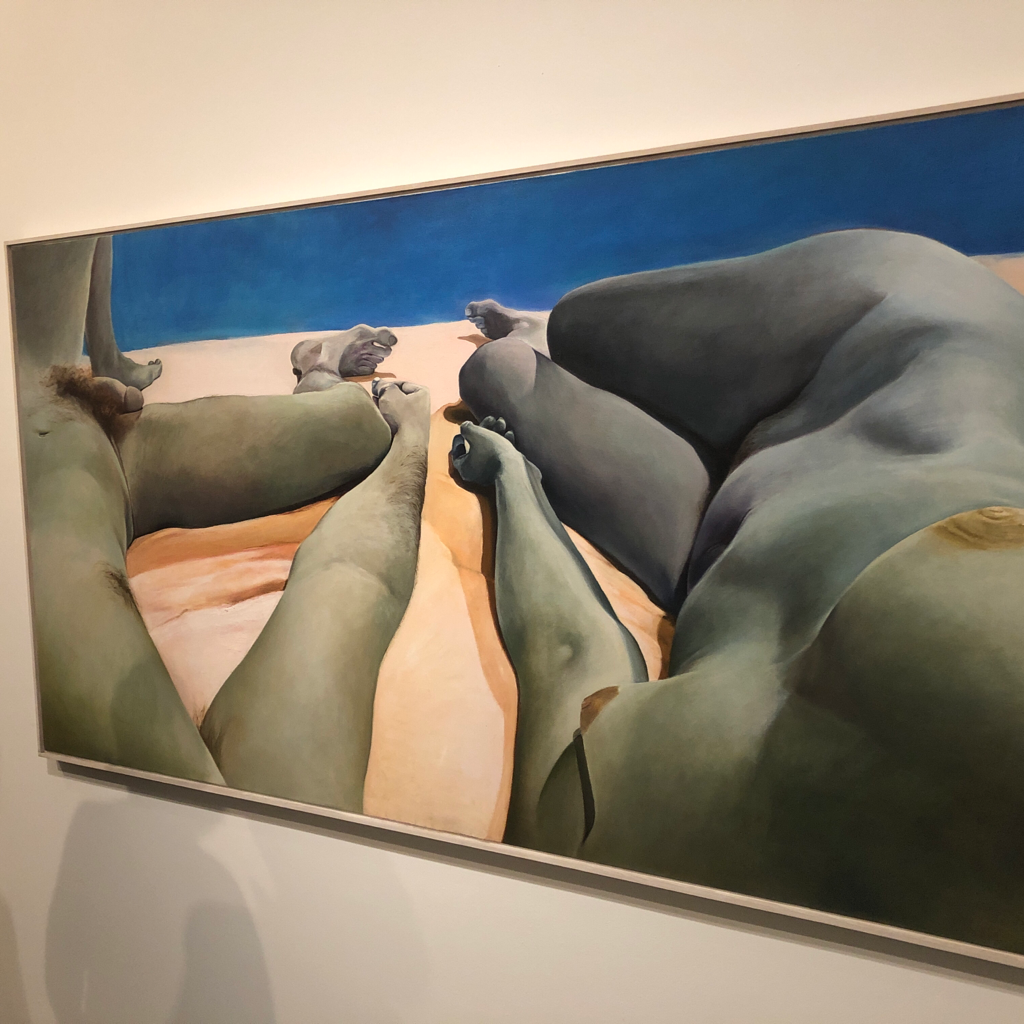 The intimacy aspect refers to the intimate relationship between the artist and her partner, but also to the ways in which she inverts that intimacy. The autonomy aspect refers to the ways in which Semmel works against the sexual objectification of the female body and challenges the "male gaze".
And so in this sense, by desexualizing the female body, Semmel returns a sense of autonomy, i.e. being in control of oneself, to the female subject.
The title also refers to the process behind the work. For this painting, Semmel pasted together two separate photographs, one of herself and one of her lover at the time. Thus, the partners are "intimate" since they are together in the painting but also "autonomous" since the painting was composed using separate, individual pictures of each.
Was the original photograph taken in color?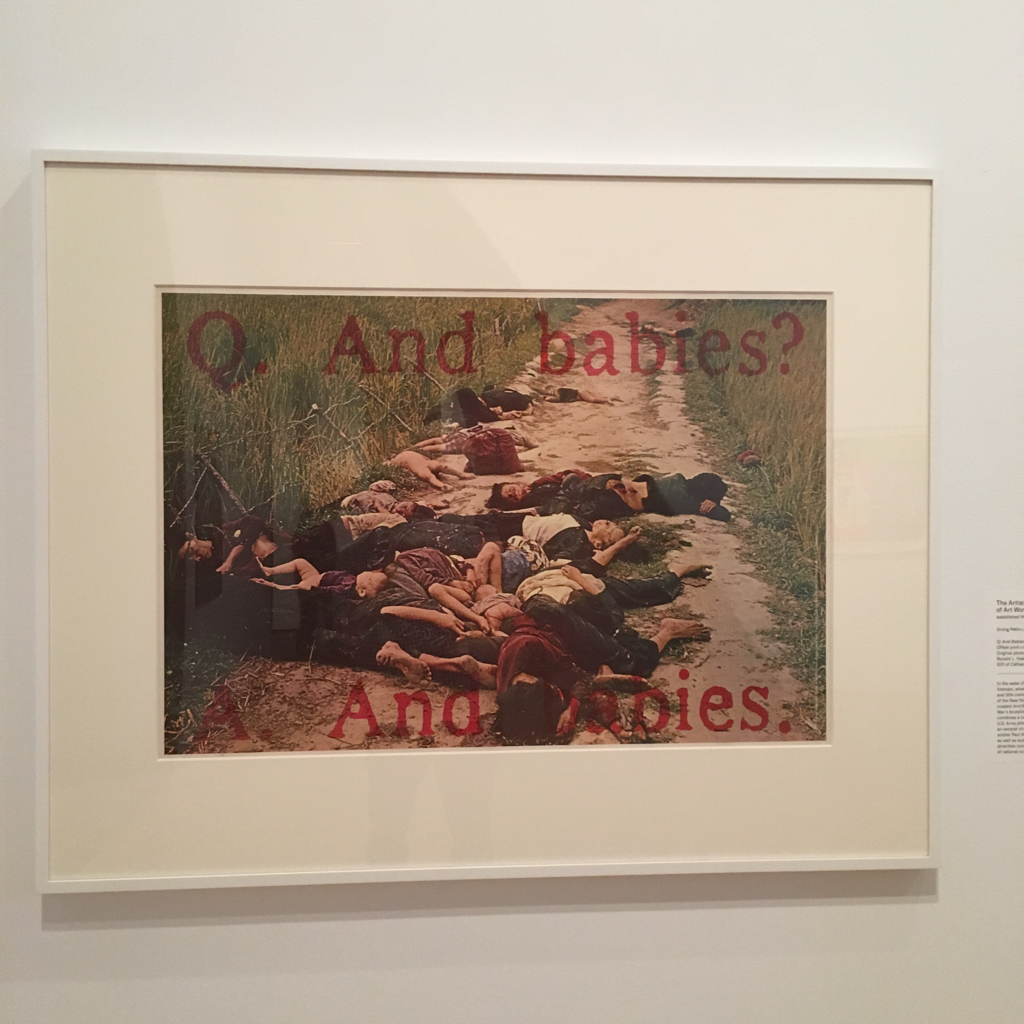 The original photograph was indeed taken on color film! The artists here have manipulated it in a way that makes is appear recolored, but all of Heberle's photos of the aftermath of the massacre were taken in color.
Very interesting, thank you.
What's the story behind this?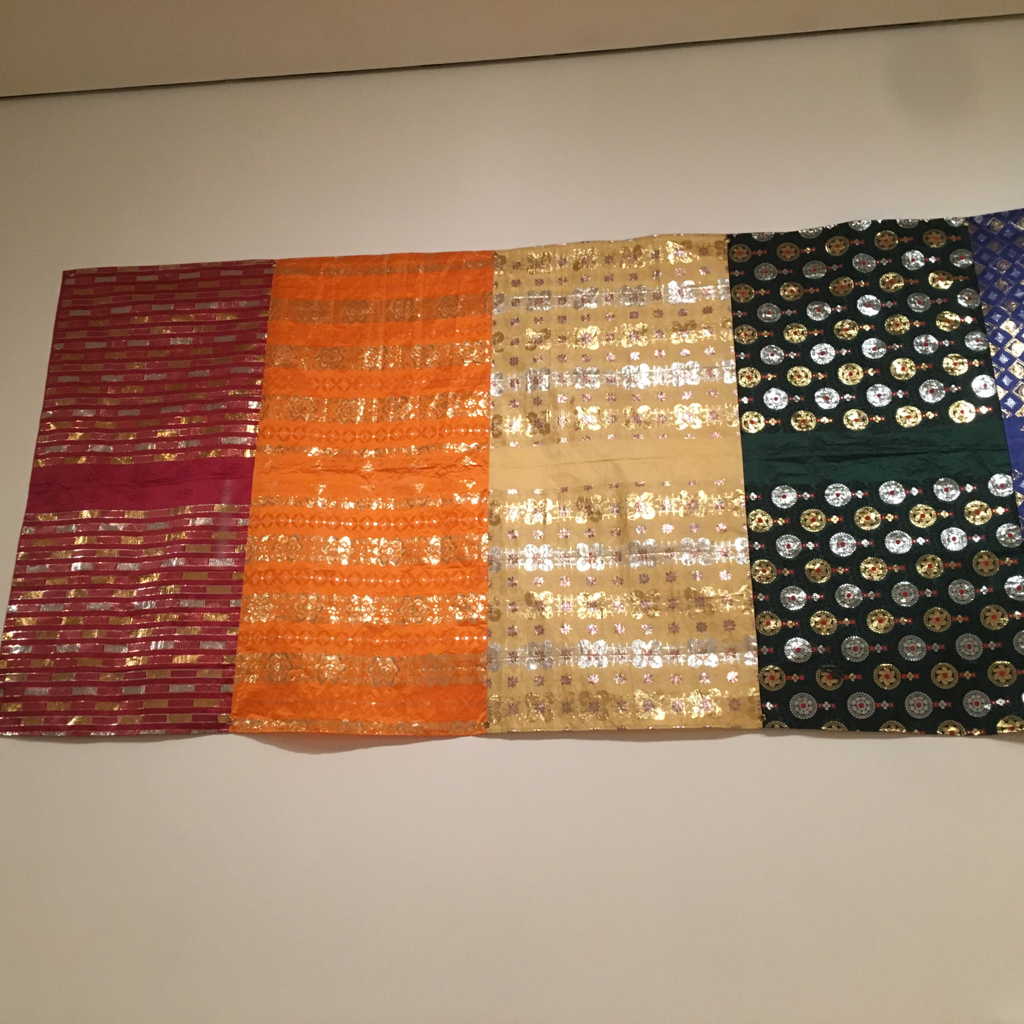 Here is the story: The artist assembled this work by sewing together six gele. A gele is a head scarf worn by Nigerian women for important events.
The artist, Adejoke Tugbiyele, identifies as a queer woman of Nigerian descent. By bringing together six Nigerian textiles associated with womanhood, and putting them together in a spectrum like the "rainbow" of the gay pride flag, she is combining and affirming two aspects of her identity.
Indeed, she has said: "Activism helps me stay in touch with the issues and ideas I respond to in my work. My work in turn educates and empowers others in the LGBT movement in Nigeria and beyond. Both depend on each other."
What about "Counting" by Lorna Simpson?
Lorna Simpson's photo works like these are intended to be somewhat ambiguous. The text provides a suggestion of how to look at it, but still doesn't quite tell you what it's about.
These text-photo juxtapositions are her signature style and force the viewer to puzzle over their meaning.
Tell me more.
In this large scale painting, the colors are unsettling in a way that demands your attention, presenting something familiar, but with a twist. By making you examine the work more closely, you are led to consider other visual elements like the perspective from the female artist's gaze.
Tell me more.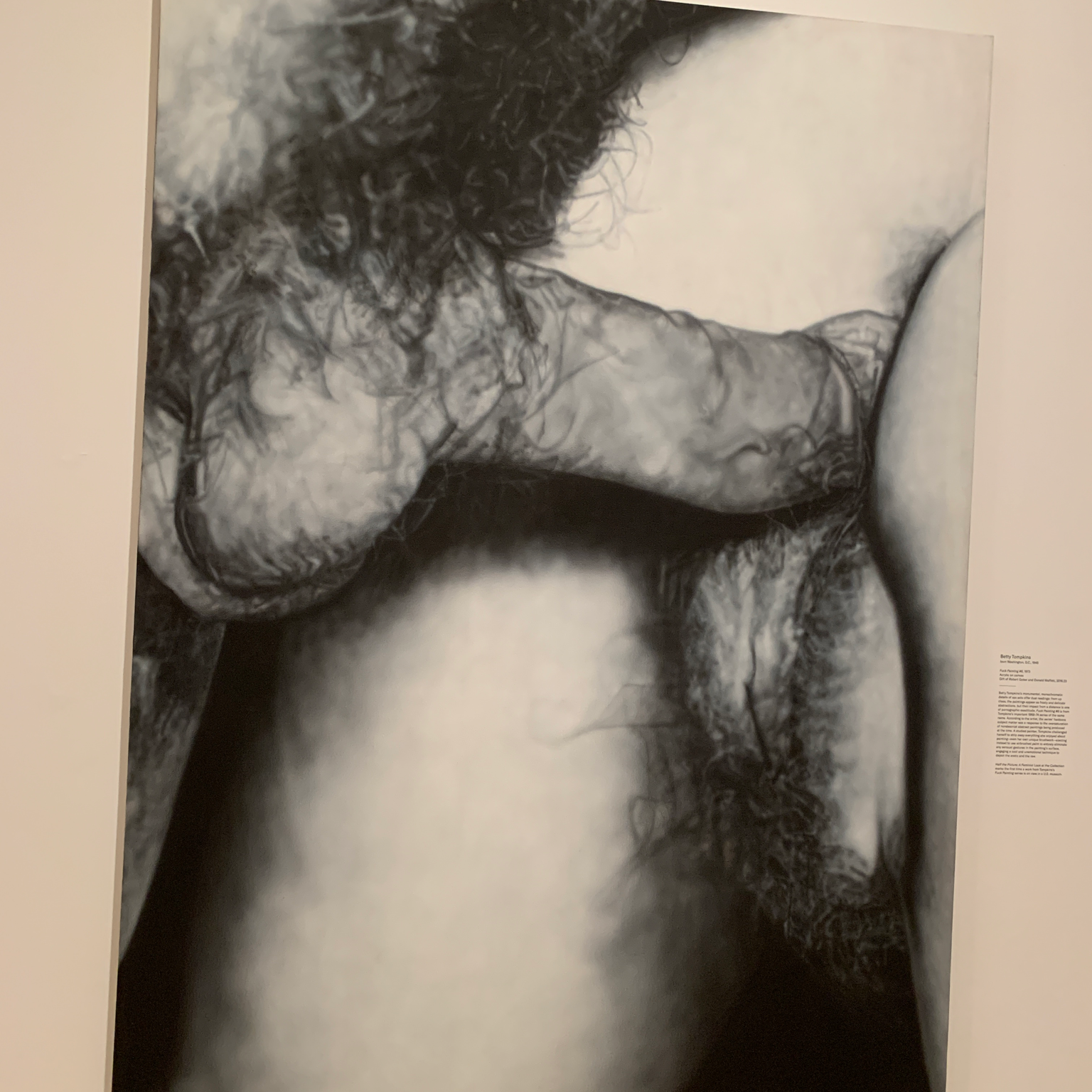 This is one of Betty Tompkins first series of "Fuck Paintings." She began creating them in the 1970s as a way to reclaim female sexuality.
These works were largely rejected at the time, however. Mainstream feminists felt betrayed because the work pulled directly from what they perceived as an abusive arena. The scenes Tompkins painted were recreations of pornography from her husband's collection.
What does it mean?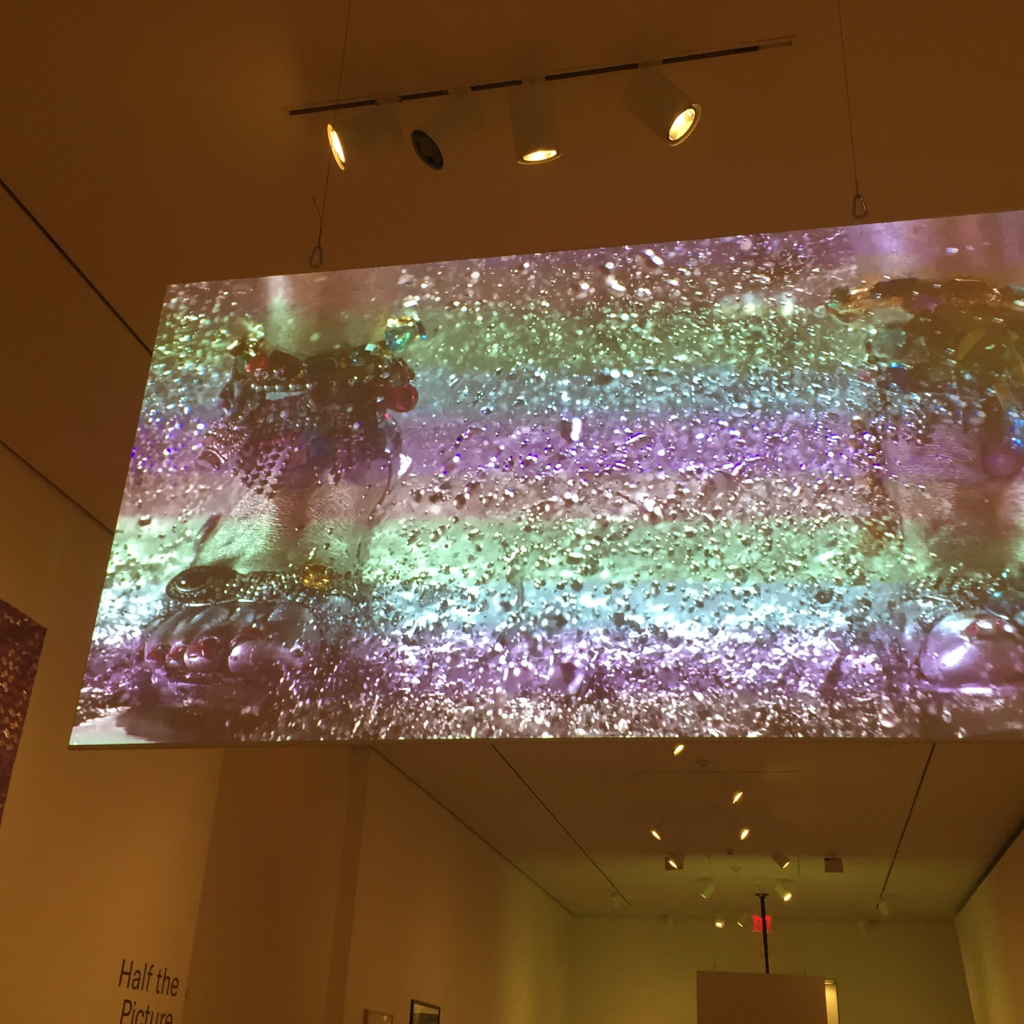 This work by Marilyn Minter features a model/dancer's feet, which have been tightly crammed into bejeweled heels.
The model slowly and ominously destroys a glass pane separating the subject from the viewer as silver rain falls from above.
Minter is known for critiquing the seeming perfection of the fashion industry. She gets almost uncomfortably close to her subjects, showing the point at which things start to break down---in this case, perhaps literally "shattering" an illusion. There are also more broad implications such as breaking glass ceilings and smashing the patriarchy!
What is special about the material in the "Gele Pride Flag"?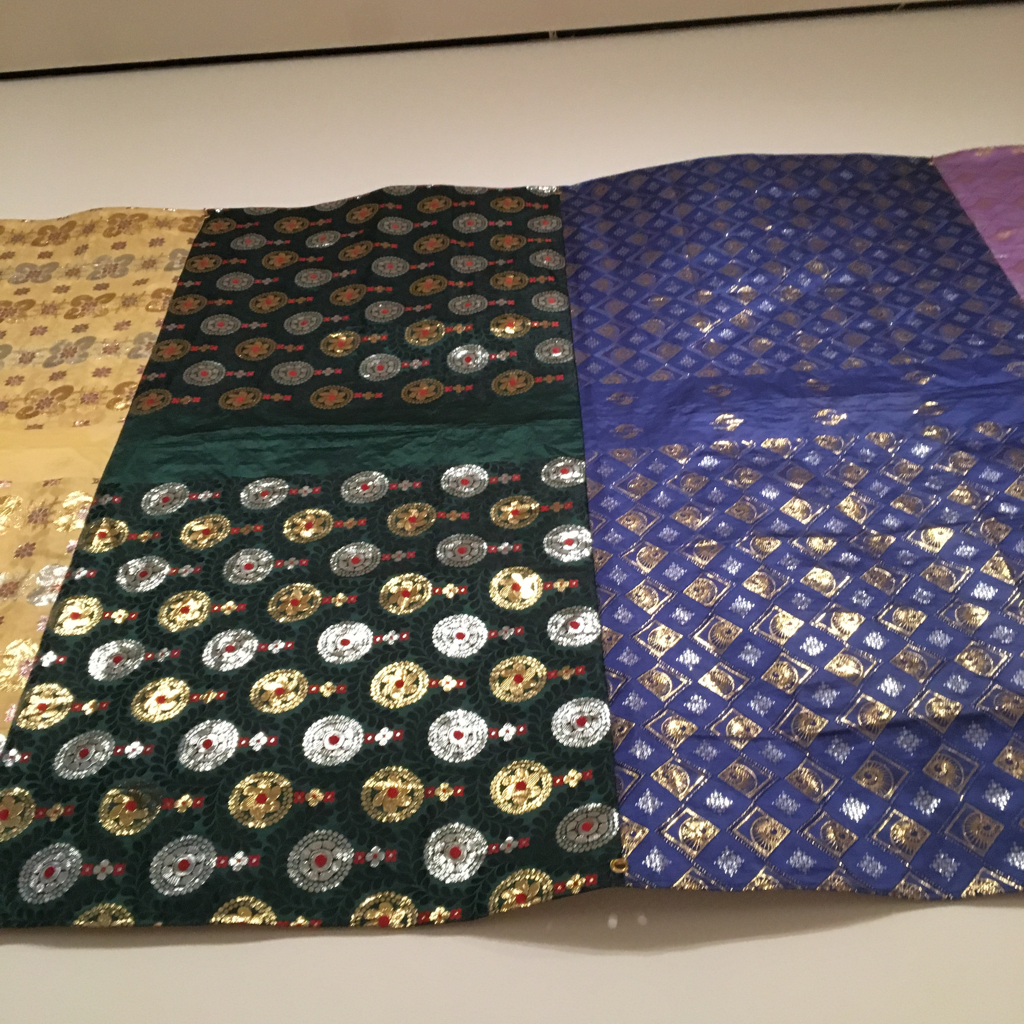 A gele is a headscarf worn by Nigerian women for important events. The artist has sewn together six different colors as a means of representing her identity as both a queer woman and as a person of Nigerian descent.
She has also carried this piece in protests and gay pride parades in the US and in Nigeria, making it also a kind of protest banner.