July 26–October 8, 2017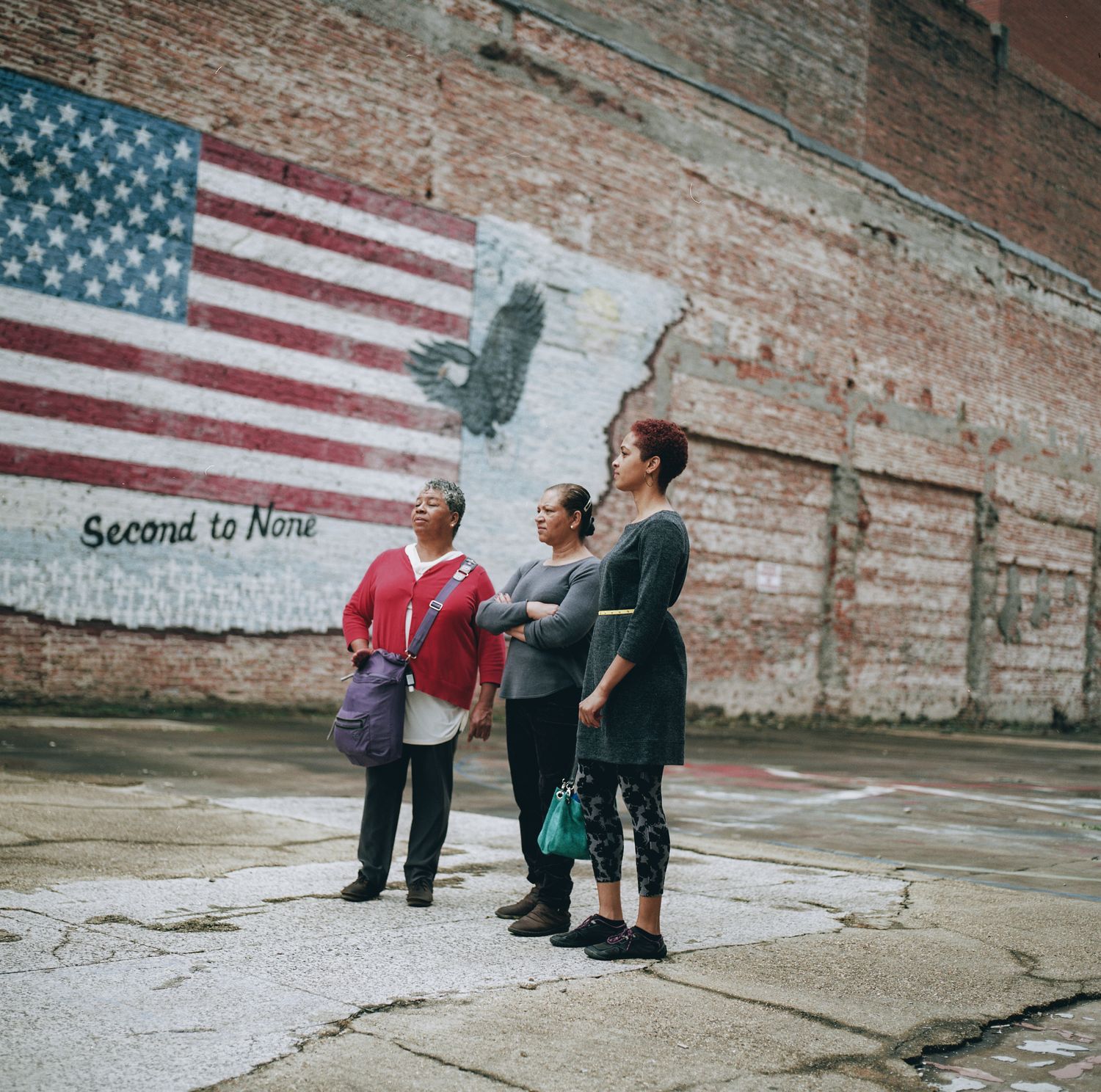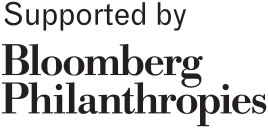 Why is this called a playset?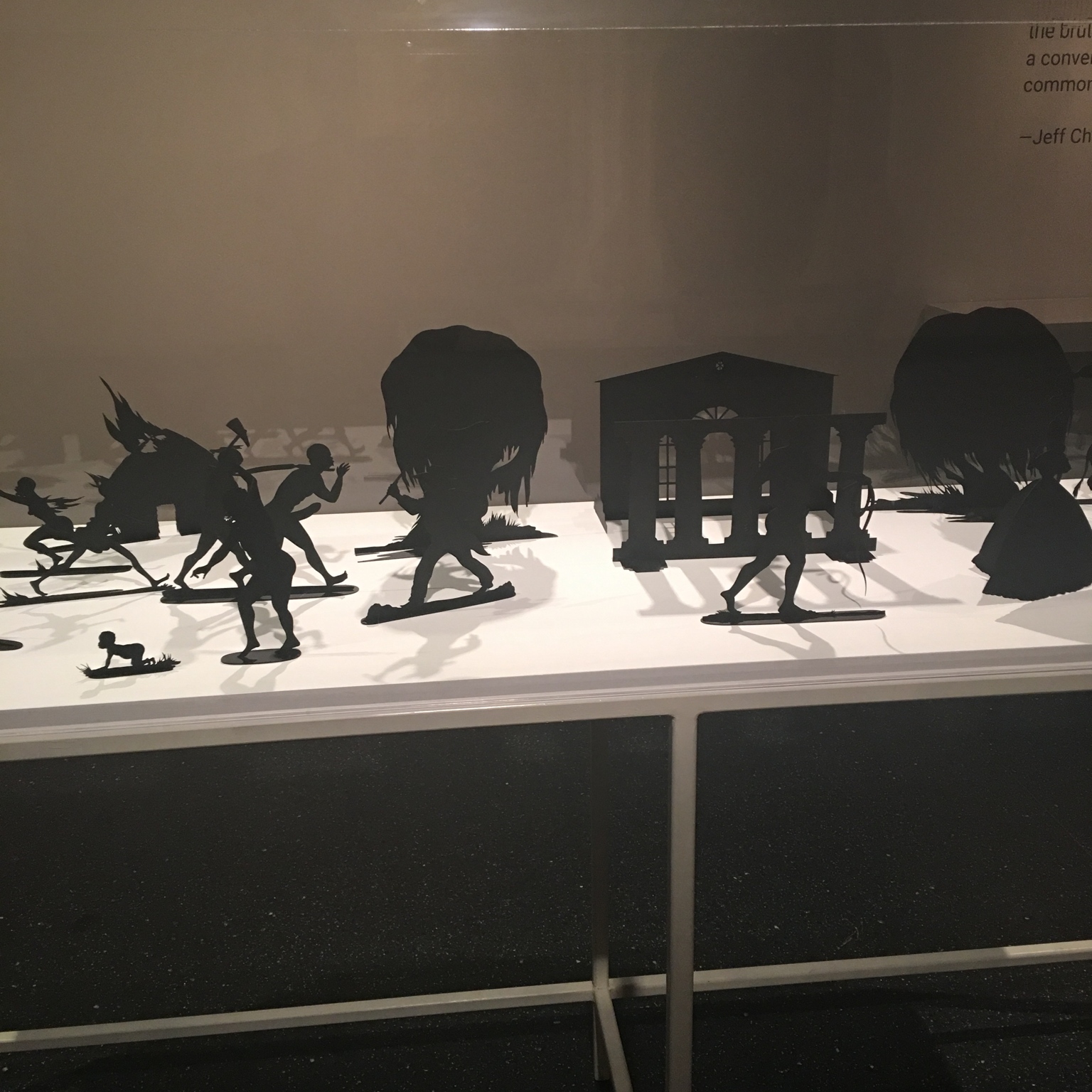 This work by Kara Walker shows us scenes associated with the Civil War-era South, and deals with gender, race, and sexual dynamics of the time.
The play set aspect is a focus, it creates a work that shows us the possibility of many different narratives. The work presents these possible stories while critiquing stereotypical and racist imagery, and the effect it can have from a very young age. The use of the term "play set" can also be seen as ironic. There are no happy endings to the many narratives that can be created from the set. They all end in tragedy.
Can you tell me more about Dread Scott?
He was born in Chicago in 1965 as Scott Tyler. He assumed the name Dread Scott in reference to the Dred Scott Decision, a court case known officially as Scott v. Sanford and widely known as the worst supreme court decision in US history, including that African Americans could never be citizens. All of its precedents have since been overturned.
Scott works in a wide range of media including performance and photography, like we see here, as well as video, installation, printmaking, and painting.
I've left the Legacy of Lynching exhibit, but I can't stop thinking about the Dread Scott images on display. Can you tell me more about that performance with the firehose?
As you probably know, the use of the firehoses in the performance are a direct reference to firehoses being turned on demonstrators during the Civil Rights Movement of the 1960s. Scott's use of them reminds viewers that minorities are still fighting for their rights decades later. He uses the imagery of a single event as a metaphor for the larger and ongoing struggle against racism in the United States.
The stream of water is such visceral image. Maybe it's so shocking because I'm used to seeing archival video—grainy, black and white—so the photos being at this scale and so contemporary is incredibly confrontational in a powerful way.
That's a really interesting and important point. The reenactment brings the event to our own time, makes it familiar and accessible. It also drives home how shocking it really is that firehoses would be used against human beings.
Tell me more.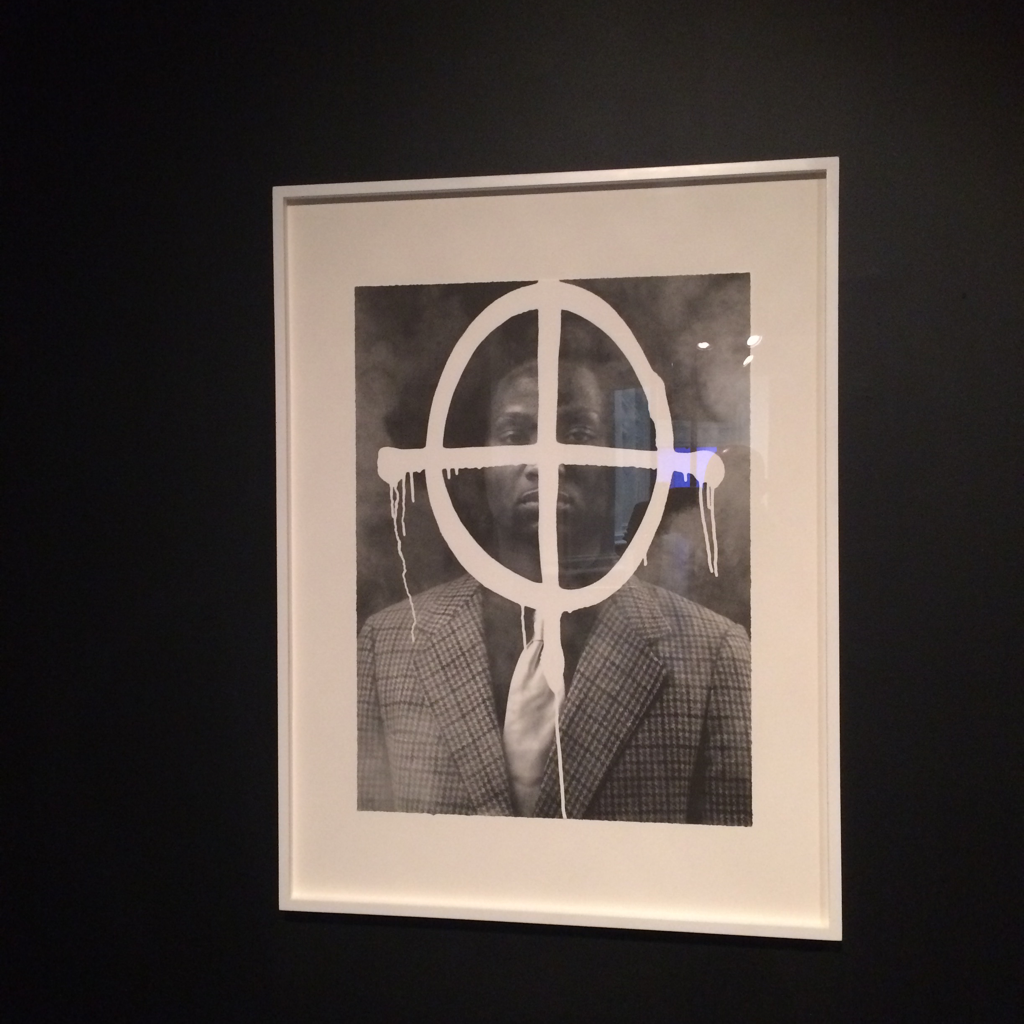 Johnson is a sculptor who works with a wide range of materials to create work that deals with issues of personal, cultural, and racial identity.
Tell me more.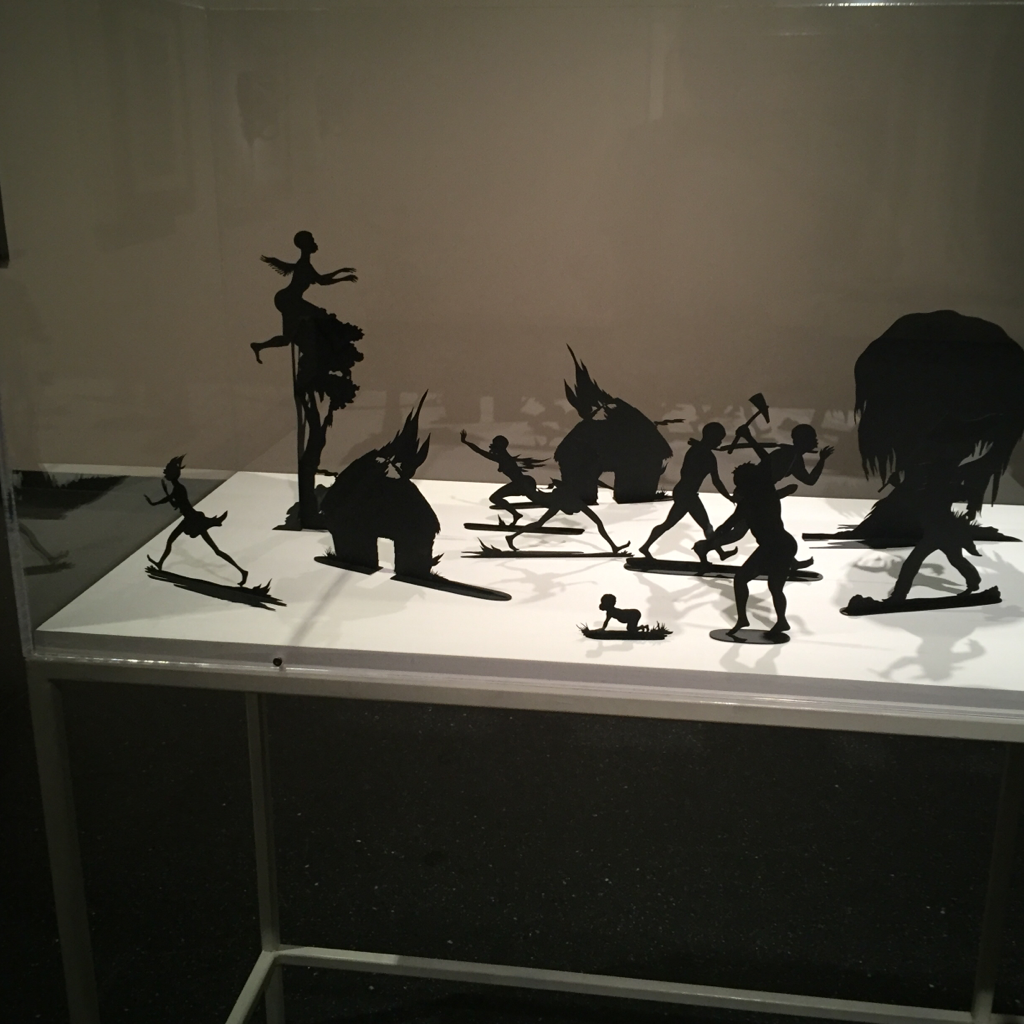 In this work by Kara Walker, she is subverting the original function of 19th century cut-paper silhouettes, which were originally used for genteel portraits of socially prominent individuals. She reinterprets them here to explore relationships based on power. She gathers stereotypical Civil War era imagery of the South – a plantation mansion, enslaved African Americans, confederate soldiers and southern belles. Despite the figures all being "black," you can easily understand the different races and racial stereotypes being displayed.
There are so many different themes being explored here. You have the presence of the stereotypical plantation characters and the presence of the black female sexuality and exploitation of black bodies by white slave owners. The whole thing is also framed as a play set, complicating the discussion by bringing to mind the idea that a child would play with this.
What's happening in this scene?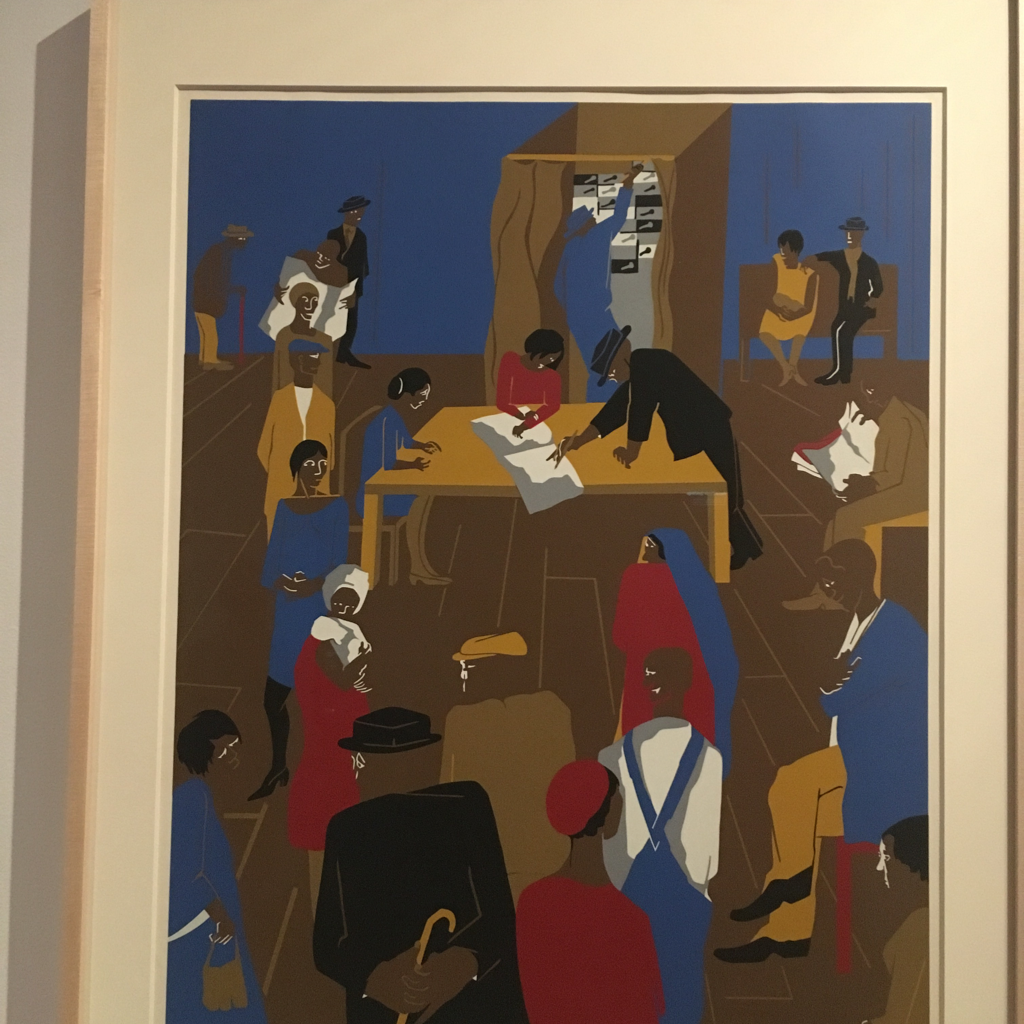 This is "The '20's... The Migrants Cast Their Ballots," by Jacob Lawrence. It shows people exercising their right to vote. This work, like his most famous series, "The Migration Series," to which it belongs, focuses on the everyday lives of people during the 20's and 30's, especially black Americans migrating to the North.
This print was also made after the prompt "what does independence mean to you?," a question posed to artists as part of the Kent Bicentennial Portfolio, made for the American Bicentennial in 1976.
I would like to know more about this artwork.
This work by Glenn Ligon features black coal crystals spelling out the phrase "What will happen to all that beauty?" in front of a photo from the Million Man March in DC in 1995. The innumerable individual coal crystals used in this work signify the massive crowd of people who attended the march. The words come from a James Baldwin essay written in 1962 and printed in 1963 in the volume "The Fire Next Time."
What is the thing on the woman's head supposed to represent? Is it some sort of fashion accessory?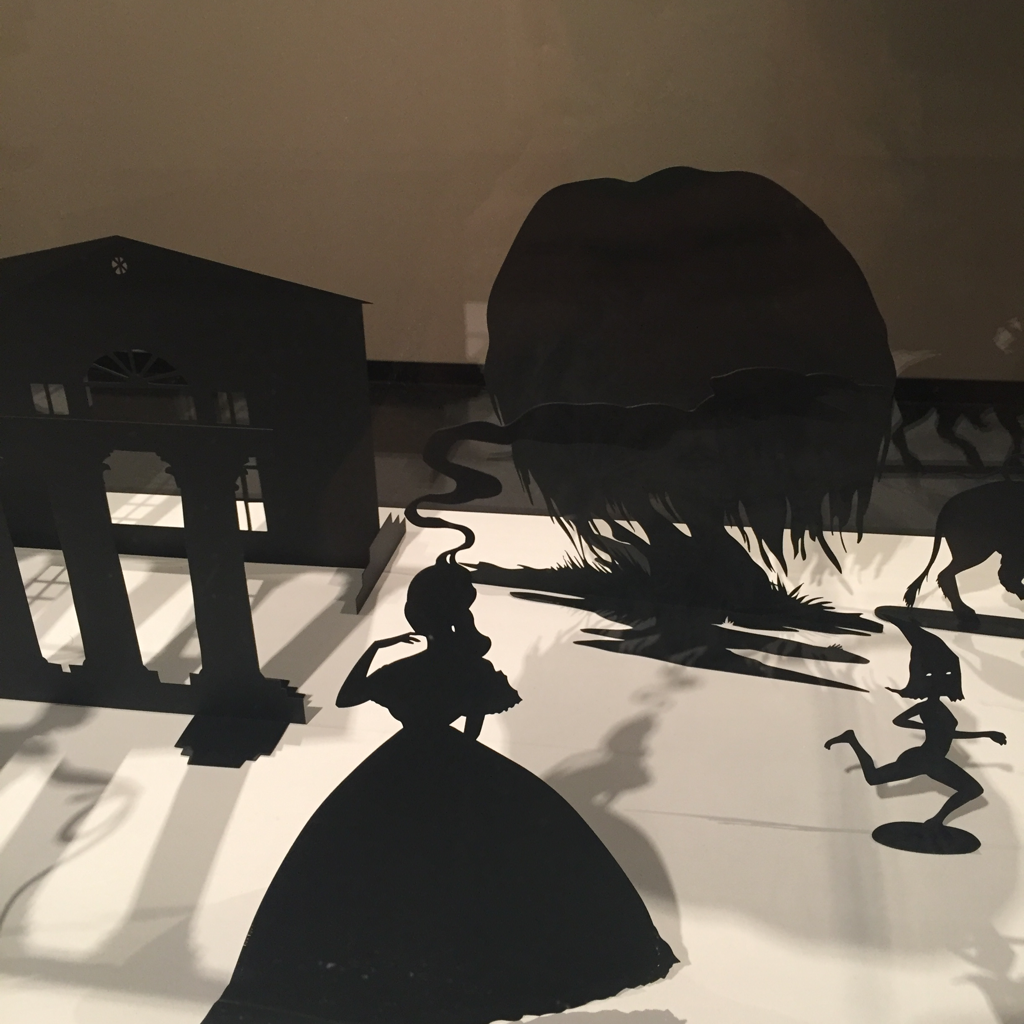 That's a great question that we have not been asked before. I know that Walker is largely building on known stereotypes and the shape doesn't resemble any accessories I am familiar with. I am looking more into it.
I can't seem to find any commentary on that particular element. However, taking the title "Burning African Village..." into consideration, I would guess that it is smoke.
Oh that makes sense. Thanks!
For performance art like this, is it staged and watched in the moment by an audience, or is the intention to document it and put that version on display?
The answer to your question is, it depends. On the Impossibility of Freedom in a Country Founded on Slavery and Genocide, specifically, was performed for a live audience AND captured photographically.
Incredible. Thank you for this information and for the conversation!
What is the significance of this work?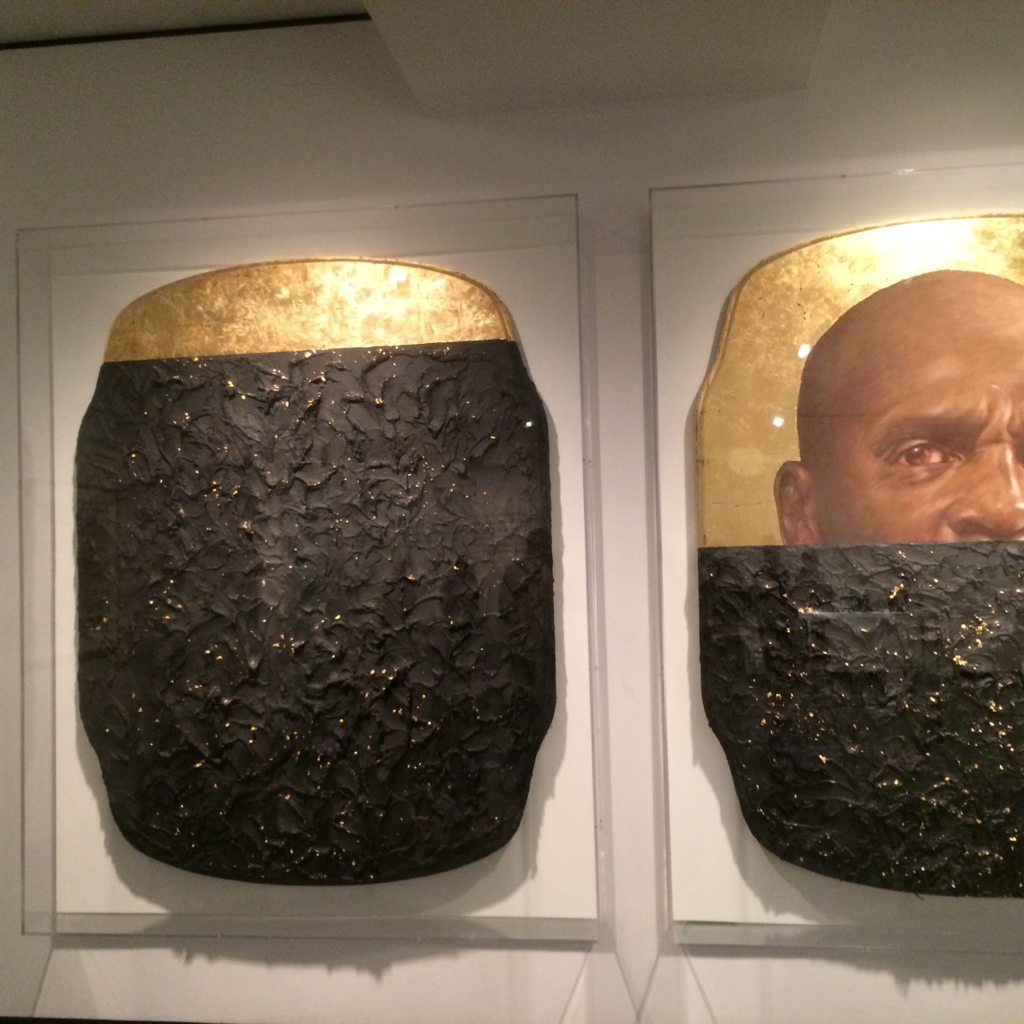 This work is part of a series by the artist Titus Kaphar which he began in 2011. After searching online for his father's prison record, he found dozens of men with the same first and last name. Inspired by this discovery, he created 10 inch portraits of each Jerome, using their mugshots as a reference. The tar that you'll notice was initially supposed to represent the percentage of each lifetime spent in prison, but he soon abandoned this formula in acknowledgment of the lasting effects of incarceration.
The artist is drawing on the visual tradition of Byzantine icons, especially depictions of Saint Jerome, patron saint of students, librarians, and scholars.
I think this work fits perfectly into the themes of the show, which frames mass incarceration as a direct descendent of lynching.
Tell me more.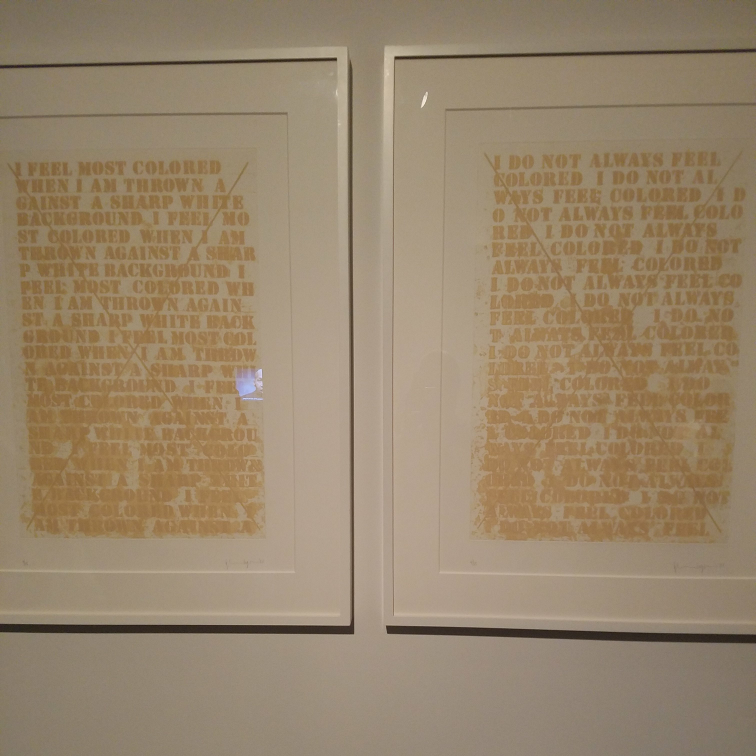 These are some of my favorite works by Glenn Ligon. Ligon works primarily with text in his artwork, taken from writers and thinkers of the 20th century. These two prints reference both Zora Neale Hurston's essay "How it Feels to Be Colored Me" and Ralph Ellison's Invisible Man.
Each quote here is from "How it Feels to be Colored Me." The plates used to make these prints were originally used in 1992 to print Ligon's "Four Untitled Etchings" series, which also included other prints with quotes by Ellison.
These prints, made in 2003, play off of this original series with several key changes. These changes includes allusions to Ellison's writing in the choice of ink, rather than via text, as well as the inclusion of the "X" generally used to cancel plates in print shops at the end of production.
Tell me more.
Jack Whitten's "Black Monolith II (For Ralph Ellison)" is made of surprising materials. The mosaic tiles are formed out of acrylic paint, molasses, copper, salt, coal, ash, chocolate, onion, herbs, rust, and eggshell instead of glass.
Did you notice the razor blade for a mouth? It can be seen as an allusion to Ellison's profession as an author. His most famous work is Invisible Man, about a black man struggling metaphorically with invisibility and visibility in the United States in the early 20th century. The curator has also described the razor as a representation of the "double edged experience of being black in America."
Tell me more.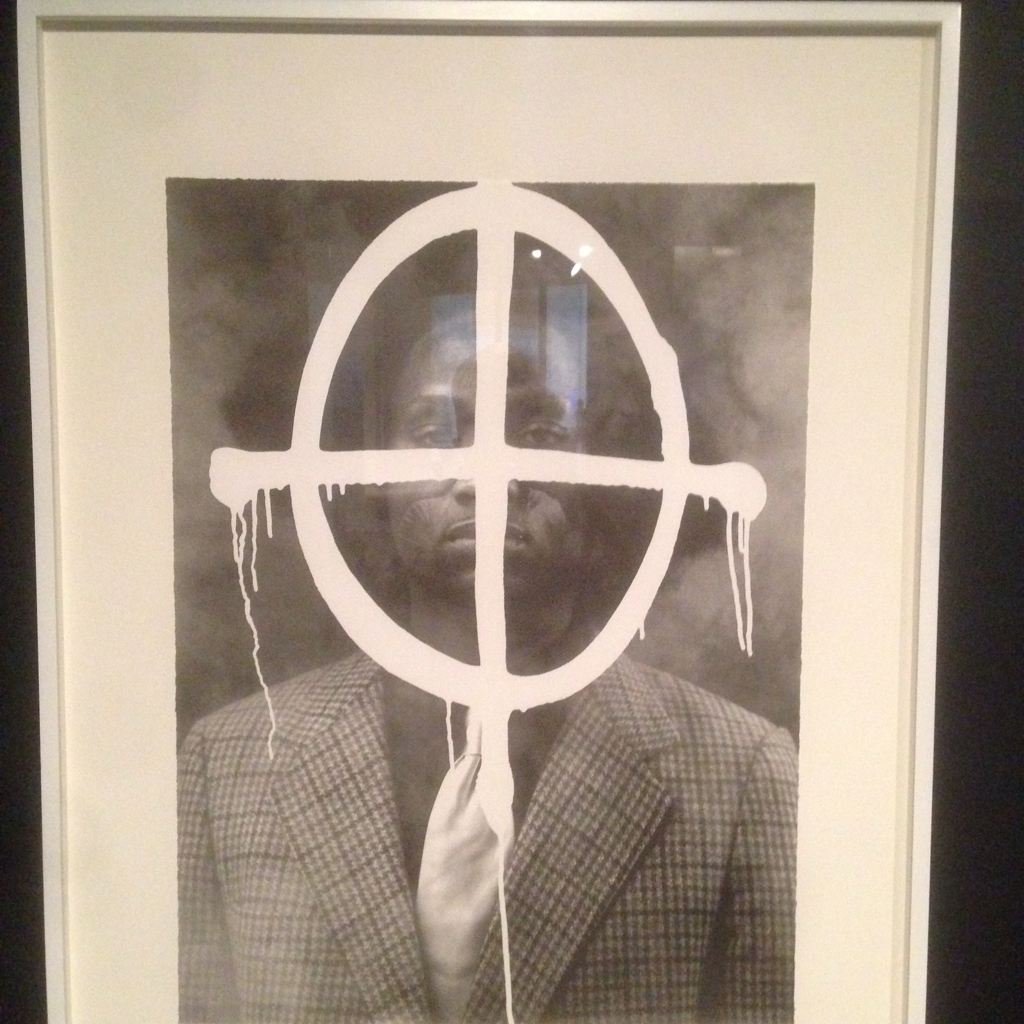 This work is so poignant, especially today. It shows the artist dressed as Thurgood Marshall, the first African American Supreme Court Justice. Johnson is questioning the notion of judicial progress for present day (2009) African Americans, looking back to the Brown v. Board of Education Supreme Court decision of 1954.
In his work Johnson navigates personal, racial, and cultural identity.  He draws on historical and material references and incorporates influences from mysticism and cosmology.
Where was this created?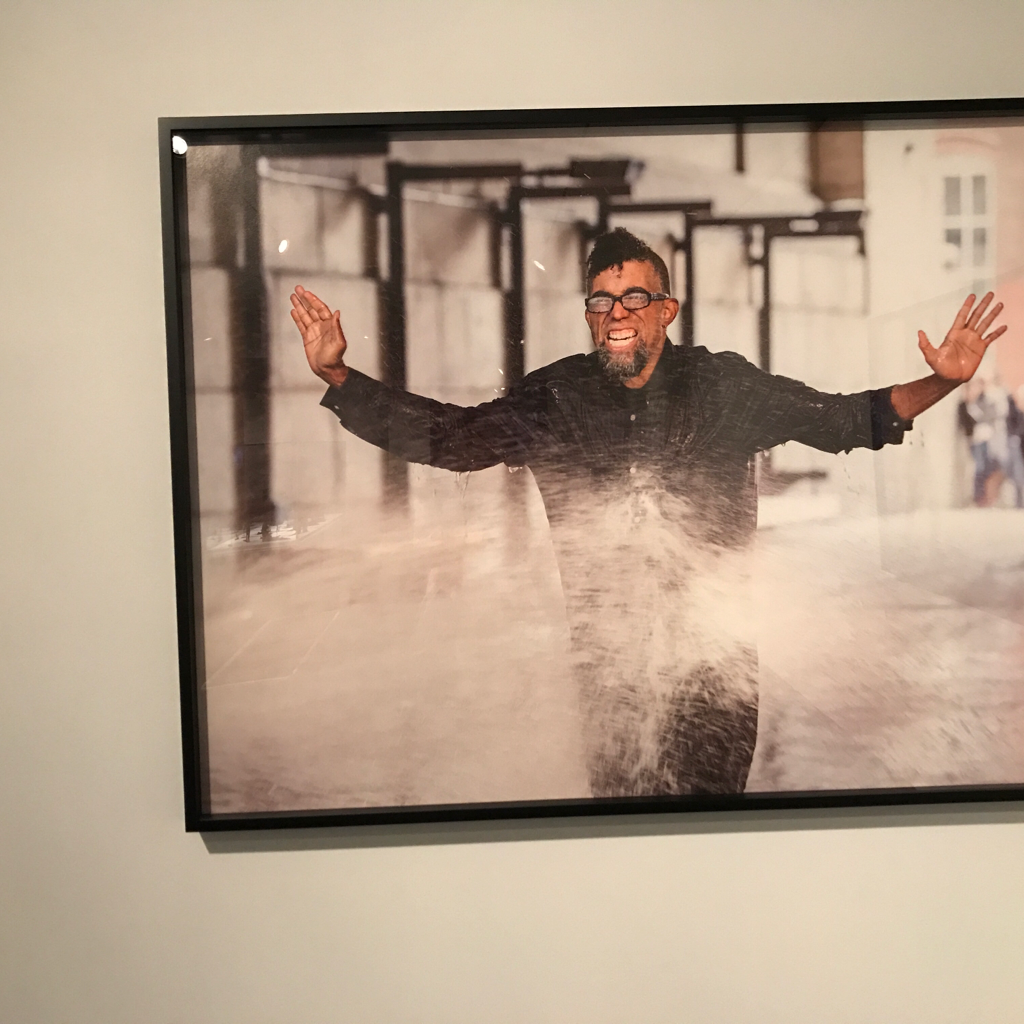 This was photograph was taken when Scott performed in Brooklyn. It was actually under the Manhattan bridge in DUMBO.
Tell me more about Elizabeth Catlett and her connection to the subject of this print.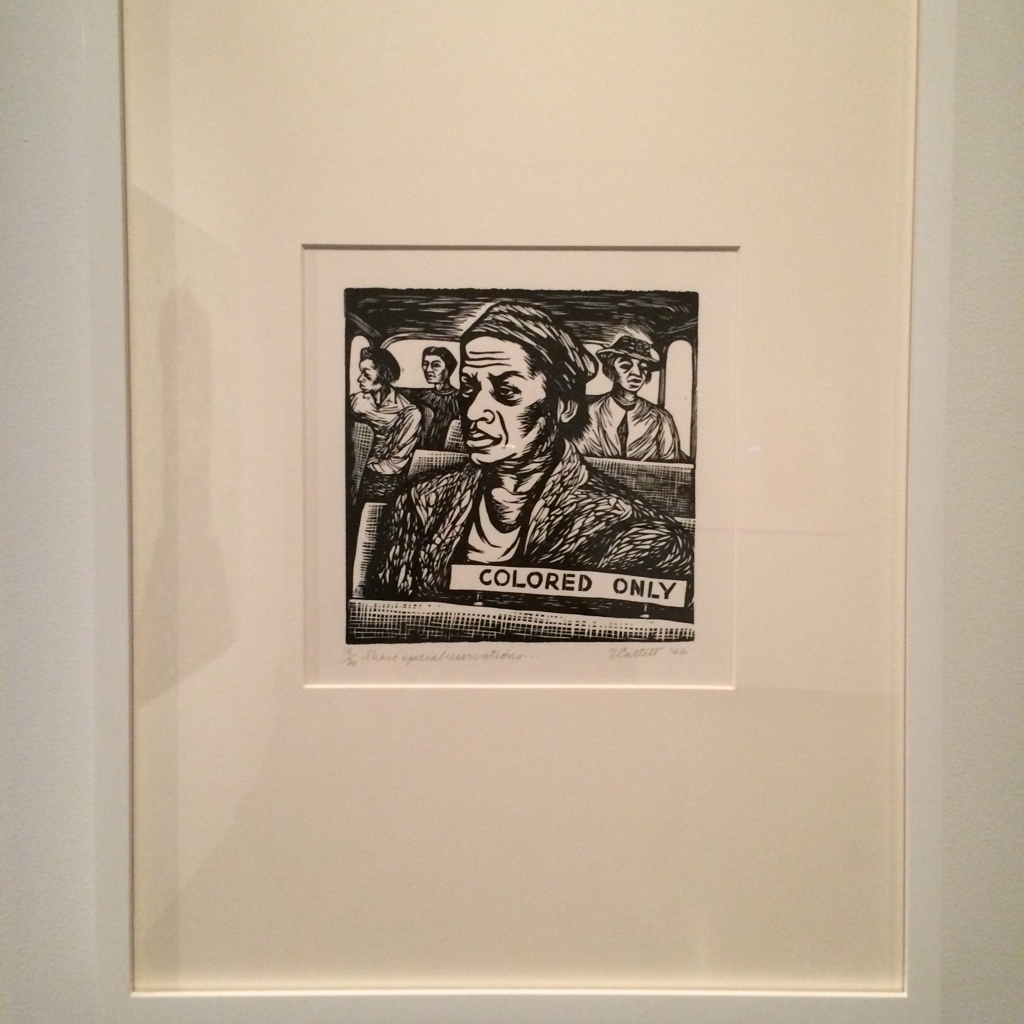 Catlett was the daughter of former slaves. After studying art in the United States, she moved to Mexico and spent the rest of her career there. She worked into her 90s! She was concerned above all with the social dimension of her art.
This print alludes to the segregation experienced by African Americans in the United States in the mid-20th century; this woman is riding a bus with separate seating for white and black passengers.
I think the sharp and jagged lines of her printmaking also express the tension of her subject.
Tell me more.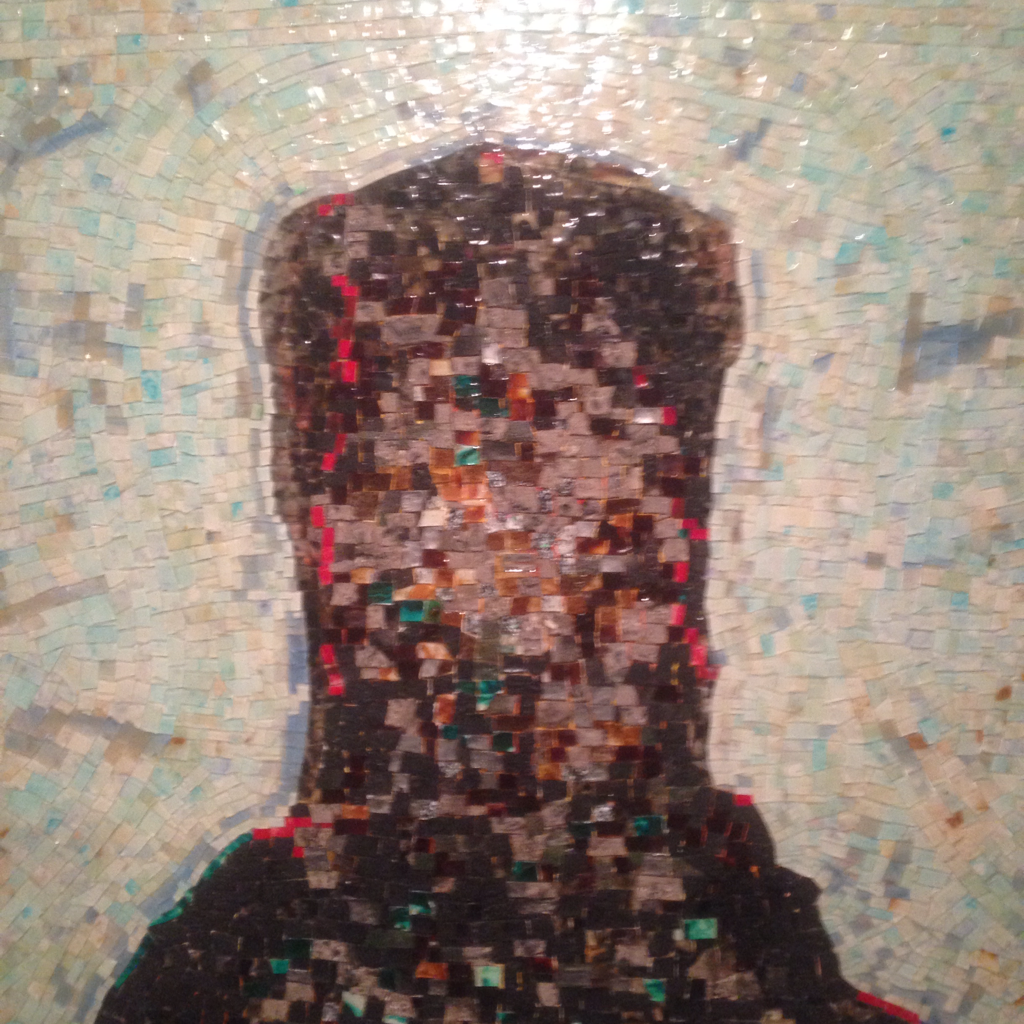 Jack Whitten works acrylic paint into tiles and then applies those tiles to a canvas to create a mosaic. This work is a part of his series "Black Monolith" which he uses to say: "thank you to black artists, writers, thinkers, and poets. It is a way to honor our own and to grieve our own." Monoliths are often used as monuments to mark important places or events. In this way, this is not just a portrait but also a monument or piece of architecture. There's a materiality to the painting.
Tell me more.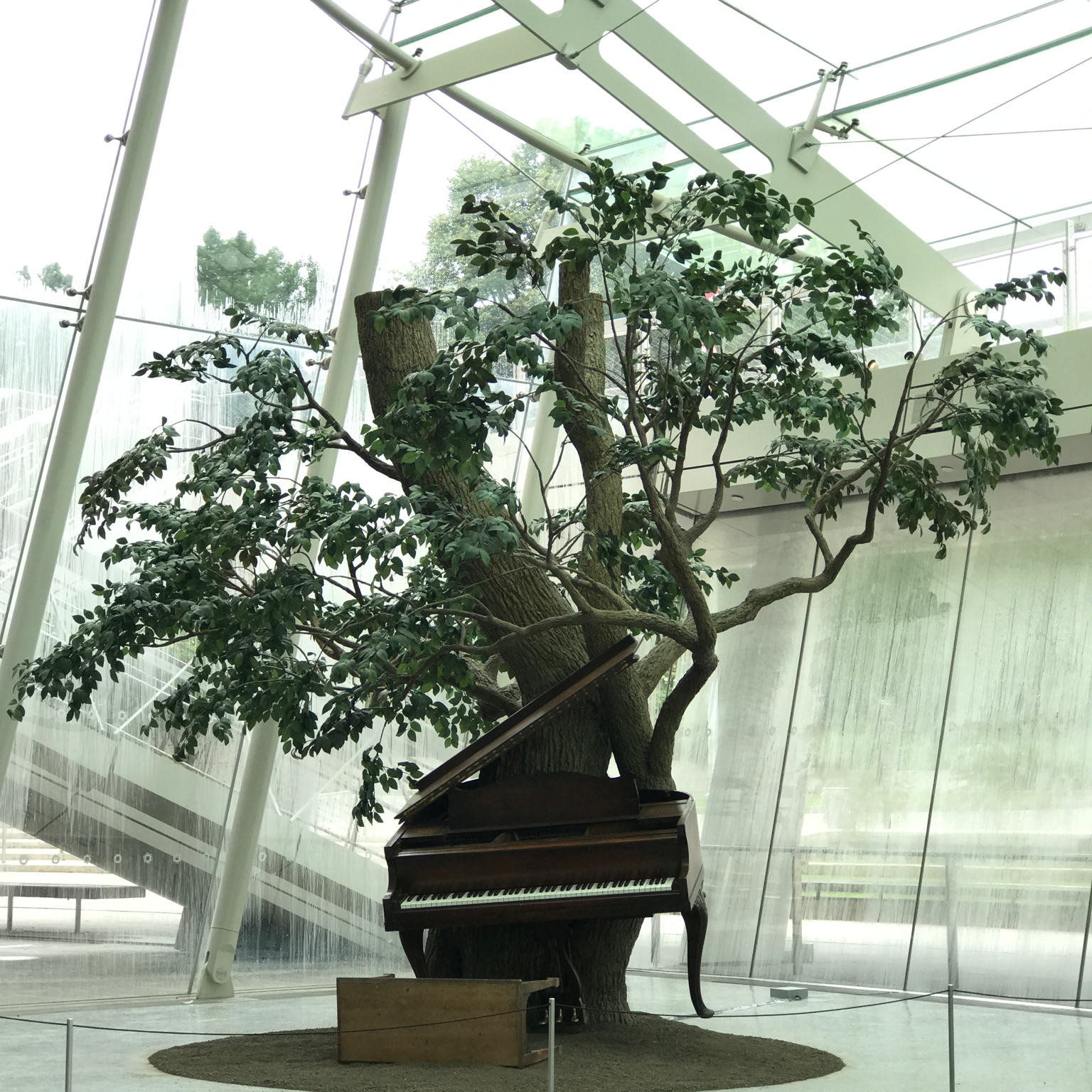 I love this piece! "Blossom," by Sanford Biggers, is a sculptural and sound based installation that incorporates many of the themes the artist favors in his work, including black history and identity in the United States and buddhism. The piano plays Biggers' own arrangement of "Strange Fruit" every 15 minutes.
I wonder is it playing right now? The jazz standard reflects on lynching in America, as does the piano with a tree growing violently through it, the bench knocked to the ground. "Blossom" is installed in the lobby alongside our exhibition The Legacy of Lynching: Confronting Racial Terror in America.
Tell me more.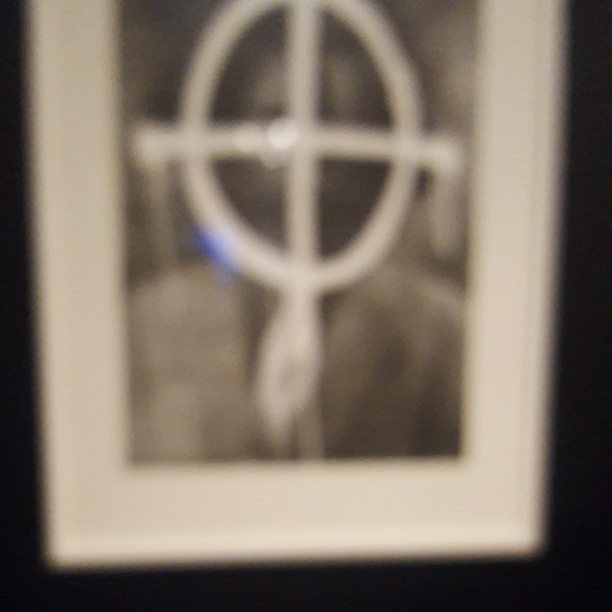 This work by Rashid Johnson features the artist himself dressed as Thurgood Marshall, overlaid with cross-hairs, questioning the notion of judicial progress for present-day (2009) African Americans.
For an eerily similar work, I would recommend visiting Elizabeth Catlett's "Target" on the 4th floor which was made in 1970 and addresses similar themes.
I saw that. I definitely see the similarities.
The artist is addressing the idea of progress over time from the Brown v. Board of Education decision in 1954 to 2009. Similarly, Catlett's "Target" can act as a kind of interlude in 1970, forcing us to question how much things have really changed when you see this continuity of imagery through time.
What do the red lines symbolize?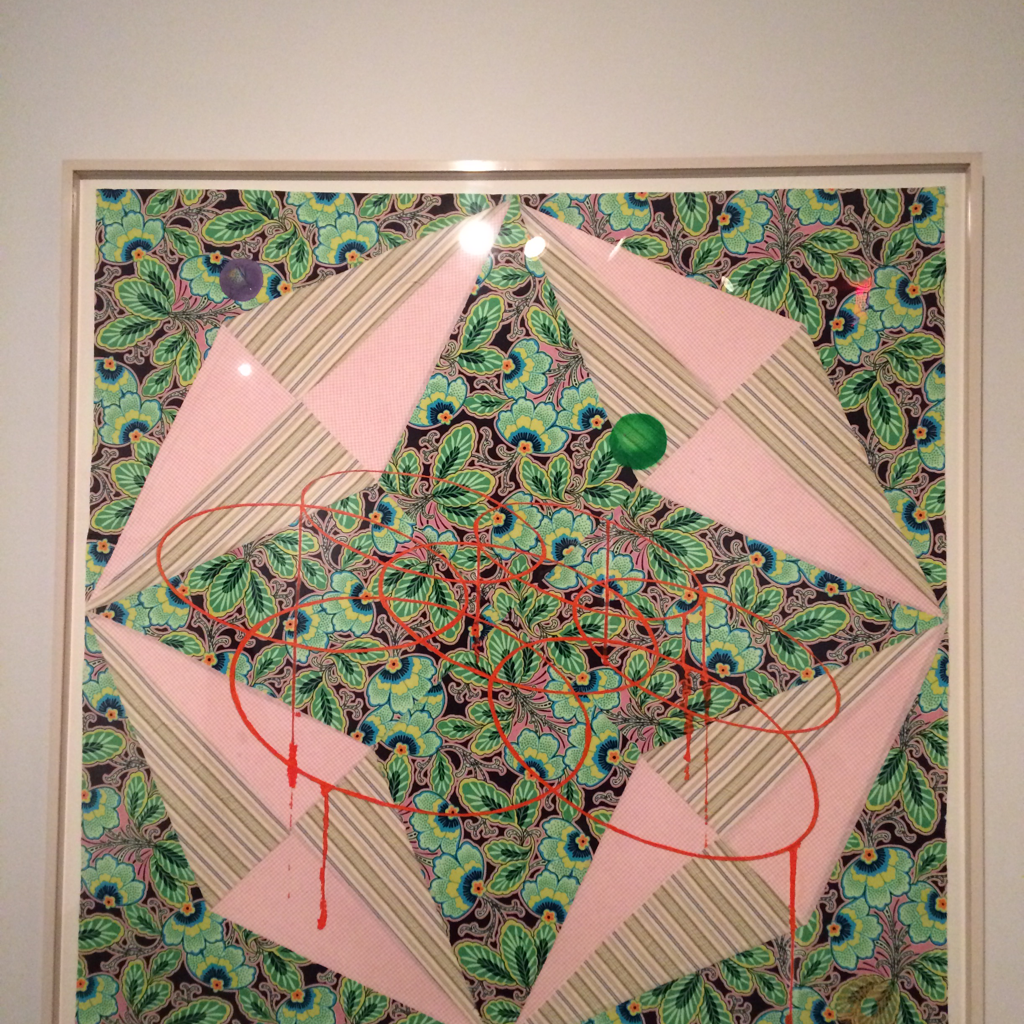 Great question! This work by Sanford Biggers is meant to reference a quilt like those used on the Underground Railroad, and suggest a similar navigation by the stars. The form is meant to evoke star charts, as well as clouds of cotton, which also appear in Biggers' work.
Many of his quilts in this series also include dance notation and imagery from Edo Period Japan. All of these associations open up possible readings of the piece. How were you interpreting the red lines?
Blood (esp. the dripping)
I can definitely see how it looks like blood, and Biggers is certainly engaging with a history of violence. That didn't even occur to me, thank you for pointing it out!
He also often brings spray painting into these quilt works, which encourages the dripping.
I like the juxtaposition of the different layers (of history and material).
As do I. That is a common quality in Biggers' work. He describes it as a desire for a "both/and" rather than an "either/or" reading.
That's great thanks a lot!
I know Kara Walker has (had?) a larger piece at the MFA Boston. Does she work in both large and small scale?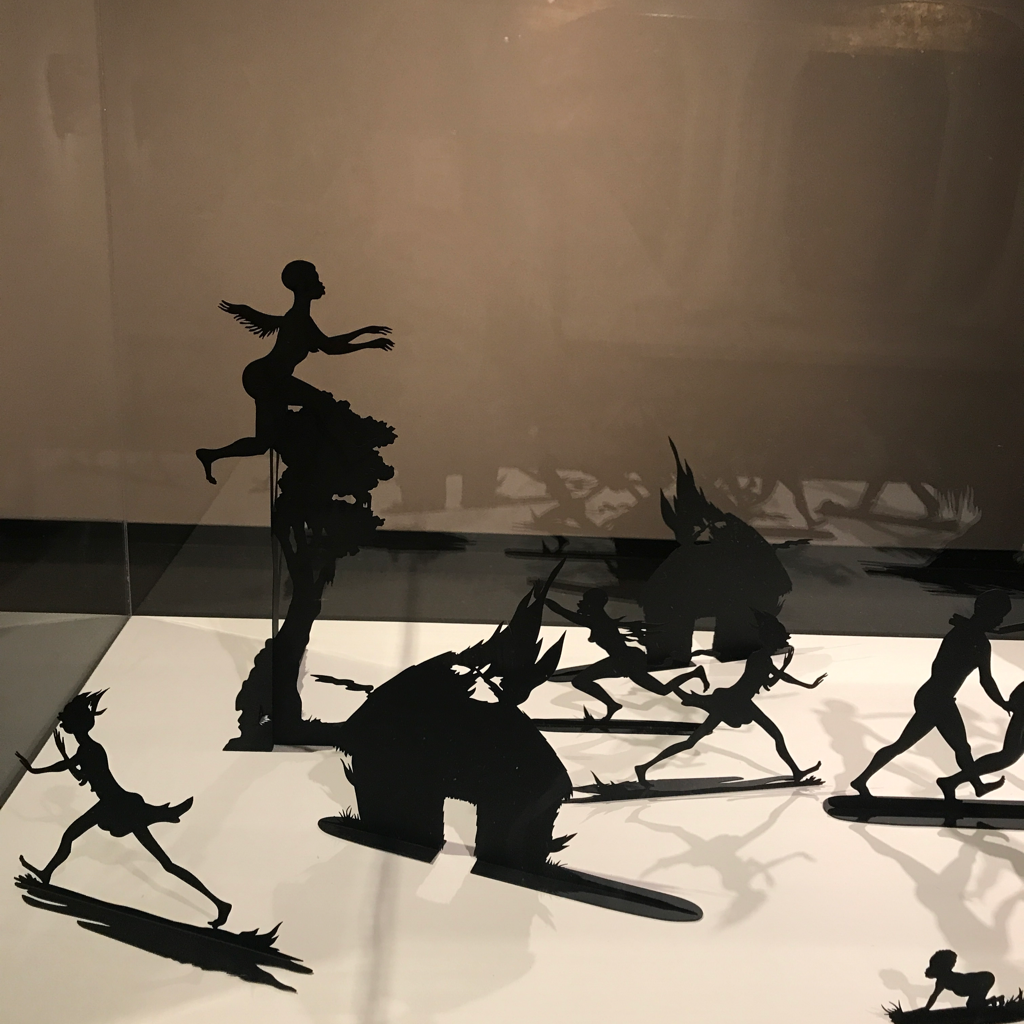 Yes! Her wall-scale silhouettes are her more famous works, but she has also produced much smaller drawings and works like this "play set."
And they are always the black and white silhouettes?
She was been working more lately in other styles and media, but the silhouettes are definitely her "signature" work. It's really interesting, the way she has taken a technique that was so popular in the 19th century and reinterpreted it. These pieces of laser cut steel, of course, mimic cut paper silhouettes.
The idea that runs through her work is the stereotyping of black identity and black history in the United States.
Very signature indeed! The second I walked by this glass case I knew it was her. Thanks!
Tell me more.
I find Mark Bradford's "Untitled" really interesting. The abstracted pattern reads as a crowd of people to me and I was really fascinated to learn that they are actually made of end-papers used in hairdressing. His elevation of everyday refuse is intended to bring to light the daily lives of black Americans, especially living in urban centers. The artist also grew up around hair salons, with family who worked in hairdressing.