May 3–December 8, 2019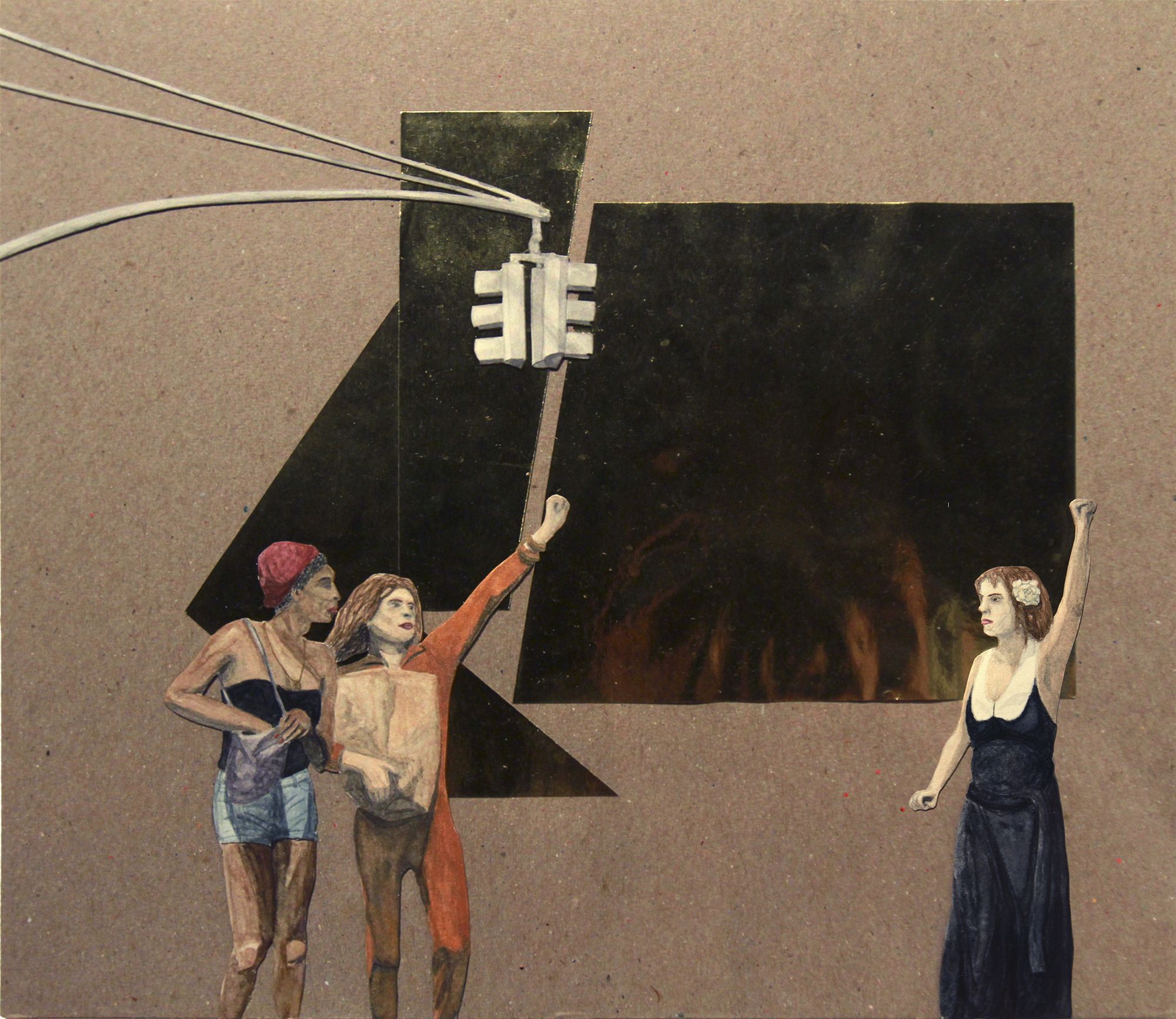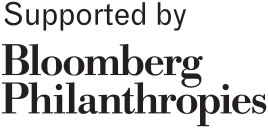 Can you tell me more about LJ Roberts' work "Stormé at Stonewall"?
Stormé DeLaverie was a prominent member of the Jewel Box Revue, a long running drag show. She was the only male-impersonator, or Drag King, on the cast.
In this work, LJ Roberts is interested in recovering alternative histories on the Stonewall Uprising of 1969. As recently as 2016, the New York Times reporting on the events at Stonewall still overlooked the significant presence of trans people, lesbians, and people of color.
Hmm. Okay thank you. What were the laws and historical context of the Stonewall riots? I know generally about what occurred. Not much about why.
In the 1960s, it was still illegal for bars to serve known homosexuals. Crossdressing was also illegal and gender non-conforming people were regularly arrested for wearing the "wrong" clothes.
This led to many mafia-run illegal clubs where queer people could gather to drink and socialize. These institutions were illegal but the mafia would pay off the police to let them continue operation.
Police raids were regular occurrences but often the bars would get a tip in advance and the raids would happen early in the evening while the bar was mostly empty. This was not the case the night of the first Stonewall uprising.
The bar was full of people and there had been no warning. Only a few cops showed up, expecting the bar and patrons to cooperate as usual. However, people were tired of being treated as "less than" and started to push back.
Basically, years of LGBTQ+ oppression led to the Stonewall Uprising, and while queer communities had been working for years to earn civil rights, this was the event that has gone down in history as the "start" of the gay rights movement.
Thank you so much. So helpful.
Please tell me more about Marsha.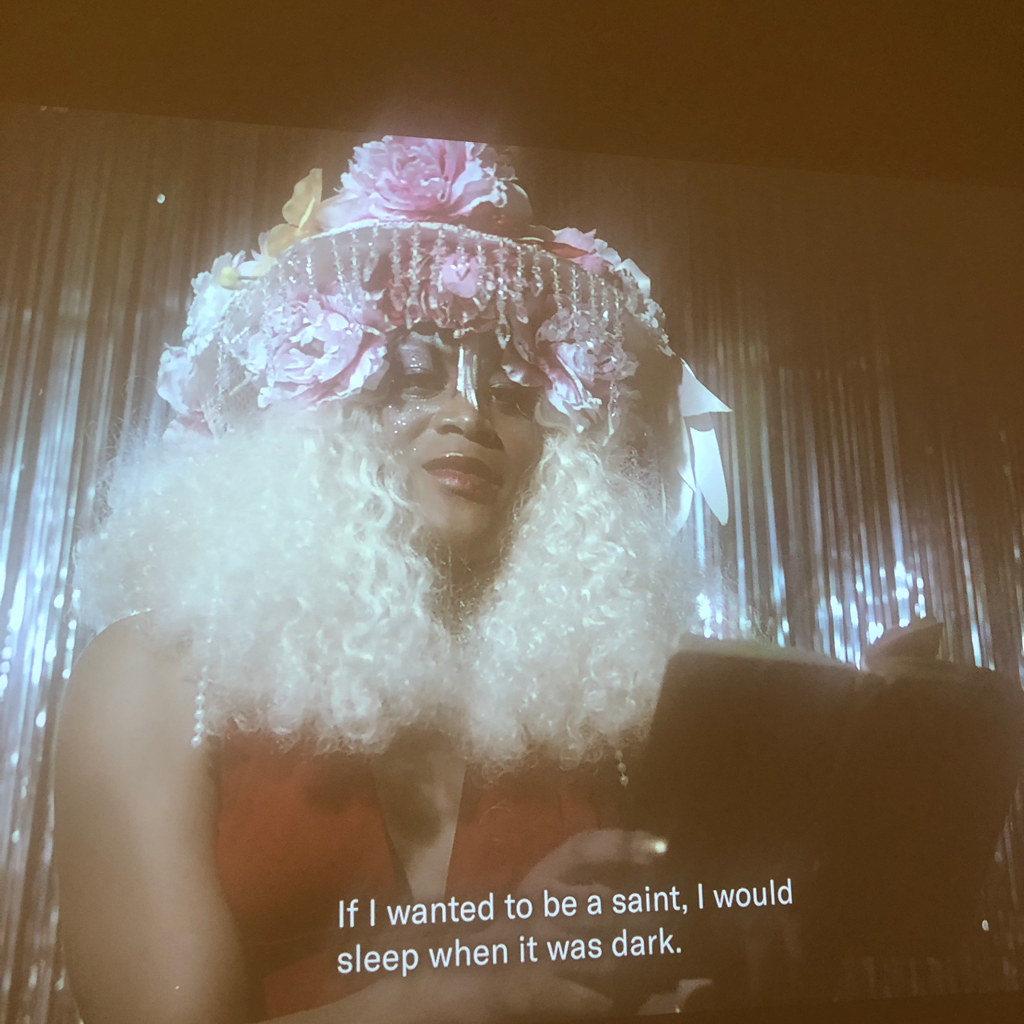 Marsha P. Johnson, a Black transwoman, was an activist, drag performer, sex worker, and fixture in Greenwich Village street life for 3 decades!
She was born in New Jersey and moved to NYC at the age of 18 with little money (15 dollars) and a bag of clothes.
She was a key figure in the Stonewall Uprising–she was 23 years old at the time. She and her close friend Sylvia Rivera founded Street Transvestite Action Revolutionaries (STAR) to advocate for transgender youth whose needs weren't adequately addressed by other early gay advocacy groups.
Throughout the 1970s, she gained popularity and visibility through her participation in the drag scene. Throughout her life, she was praised for her insistent calls for social and economic justice.
Her words "Nobody Promised you Tomorrow" are actually the title of this exhibition, and her life and work are honored in several of the artworks on view!
Tell me more about Nobody Promised You Tomorrow. 
This exhibition brings together diverse works by 28 LGBTQ+ identifying artists born after the Stonewall Uprising in 1969. Using a variety of media and methods, the artists connect back to the Stonewall history or focus forward on current issues and events.
One of my favorite works is the textile banner by Tuesday Smillie called "Street Transvestites 1973." Using lace, silk, and even broken jewelry, Smilie builds on the history of protest signage and highlights the work of Marsha P. Johnson and Sylvia Rivera.
I love how she mimics the shadows in a photograph of the original STAR banner carried by Johnson and Rivera using black lace, evoking both glamour and mourning.
Who is CeCe McDonald and why were they incarcerated?
CeCe McDonald is a trans activist who was arrested in 2011 after being involved in a fight outside Schooner Tavern, after another bar patron directed hateful slurs their way and later initiated violence.
McDonald was arrested for stabbing a Dean Schmitz, who later died from his wounds and injuries. After initially confessing to the attack, McDonald would later claim to be covering for friends.
McDonald argued self defense, but ended up serving 19 months in prison and was released in January of 2014. Since being released, McDonald works an activist for both trans issues and prison reform.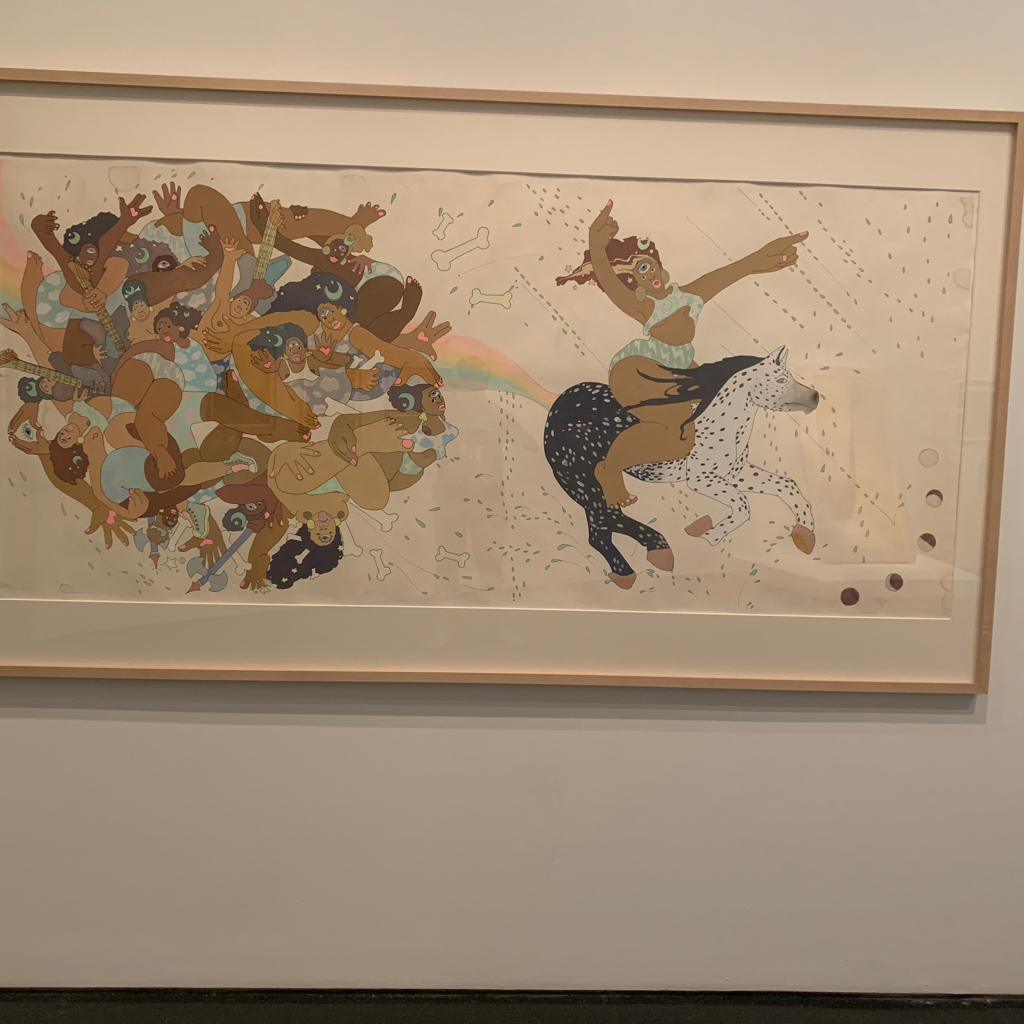 Amaryllis DeJesus Moleski is inspired by Greco-Roman mythology but applies her own female perspective and populates her work with queer people and people of color.
Fellow artist Isissa Komada-John has described Moleski's work as "queer-femme futuristic myth making."
What is their gender pronoun?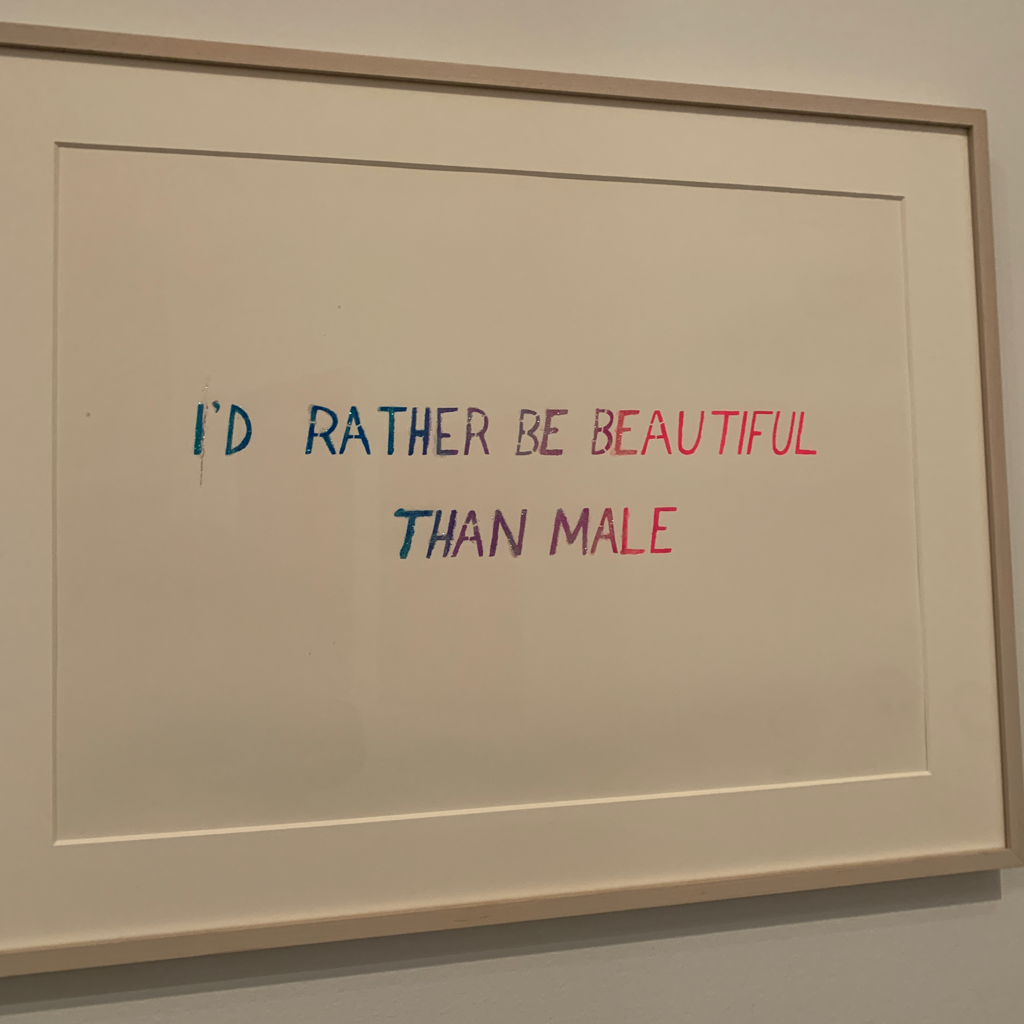 Mark Aguhar used she/her pronouns.
And what was her sexuality?
I'm not certain. In everything I'm reading, she is referred to as "queer." Her artwork is much more about gender expression and affirmations of identity.
What are they trying to do?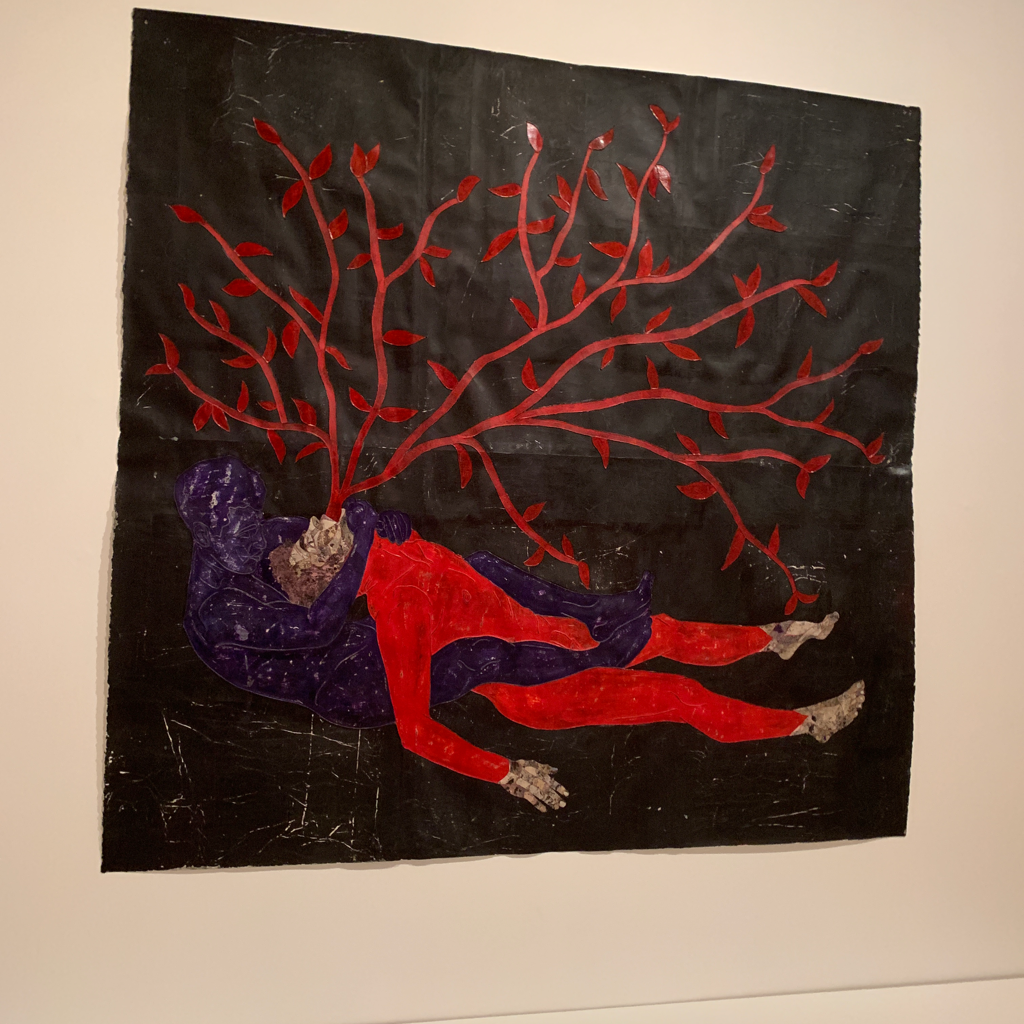 This painting is intentionally ambiguous: is the blue figure protecting and cradling the red one? or is it trapping them and holding them down?
That's what I'm wondering haha!
Yes! The artist has left it open to interpretation.
Felipe Baeza is interested in "how the body undergoes fragmentation or is pulled apart and dismembered, then reconstructed."
So I think in this tension, both things may be happening: being held down could be the same as being held together. Conflict can create growth.
Can you tell me more about this?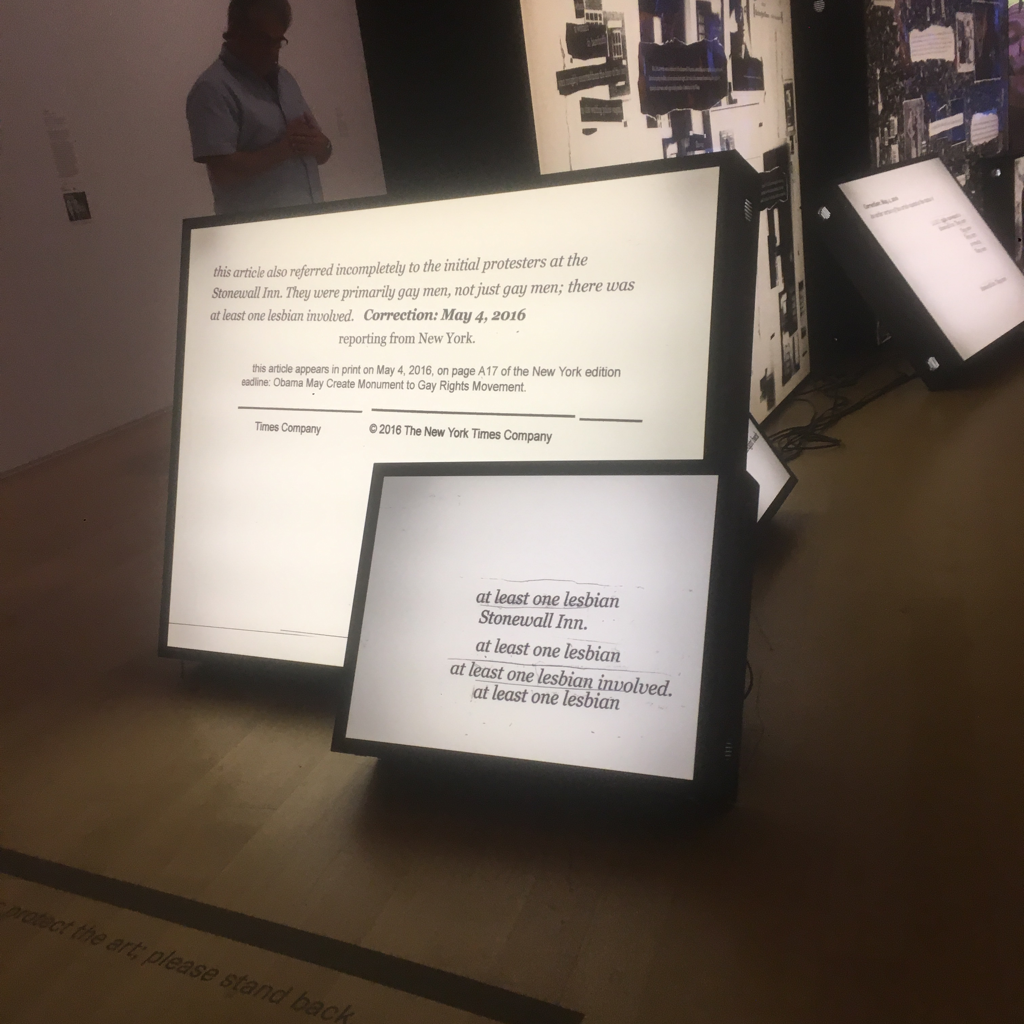 This work reminds us of the multiplicity of accounts and somewhat mysterious history surrounding the Stonewall uprising and the early days of the Gay Rights movement.
There wasn't a lot of documentation of the uprising and no photographs so we have to rely on word of mouth. A great example of this is the 2014 NYT article that presented a history of the uprising as if only gay men where involved.
A correction was issued the following day that said "at least one lesbian was involved." The lesbian they were referring to was Stormé DeLarverie, for whom this work is named. But there were likely plenty more women involved!
Can you tell me about "Happy Birthday Marsha"?
Marsha P. Johnson was a key figure in 1960s queer activism. A transgender woman who was known to often be bedecked with flowers and a wide smile, Johnson championed causes such as STAR: Street Transvestite Action Revolutionaries.
In this video, filmmakers Tourmaline and Sasha Wortzel imagine Johnson's life on the night of the Stonewall uprising. They imagine what Johnson must have been feeling as tensions built toward that fateful rebellion.
Tourmaline and Wortzel use archival footage, as well as interviewing people who knew Marsha Johnson and her friend the poet Sylvia Rivera, who also appears in this film.
The filmmakers said, "We wanted to be with and entangled among our ancestors and share that entanglement with the world."
Sadly, Martha P. Johnson was found dead in the Hudson River in 1992. Her death was first considered a suicide, but friends and fellow activists demanded further investigation. The case was reopened and remains unsolved.
Could you tell me more about the artist?
And their use of witch hands?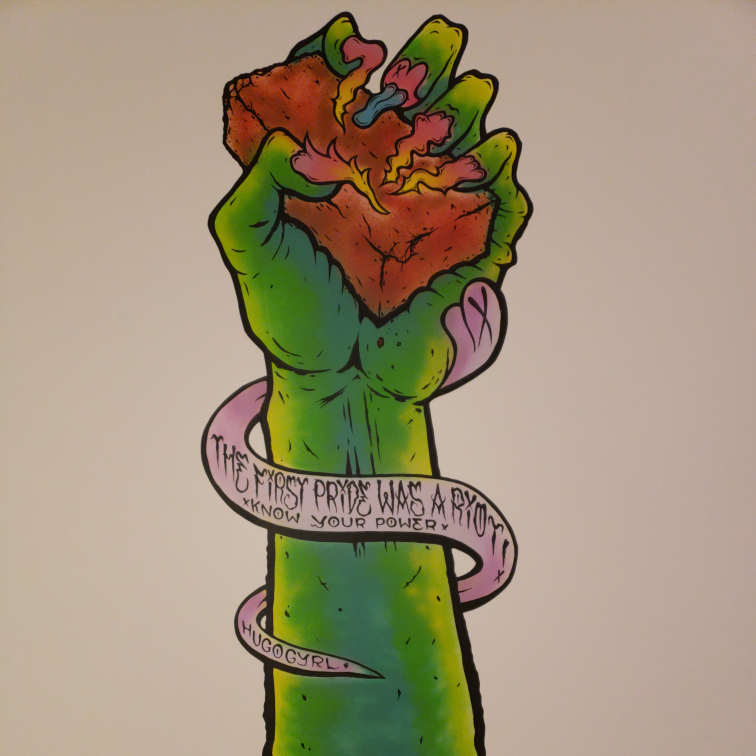 First, the nom de plume of the artist (not their real name!) Hugo Gyrl is a pun. If you say it aloud, it sounds like "You go girl!" Very fun.
Witch hands are a key feature in their work. They reference the women who lived on the periphery of society, as well as the power of feminism, in whatever form it may exist (queer, femme, girl, woman, etc.)
Hugo Gyrl is based in New Orleans, a city with a history of witchy-ness, which I think definitely influences their work. They travel widely though, and their street art can be found all over NYC.
Do we know who Hugo Gyrl is?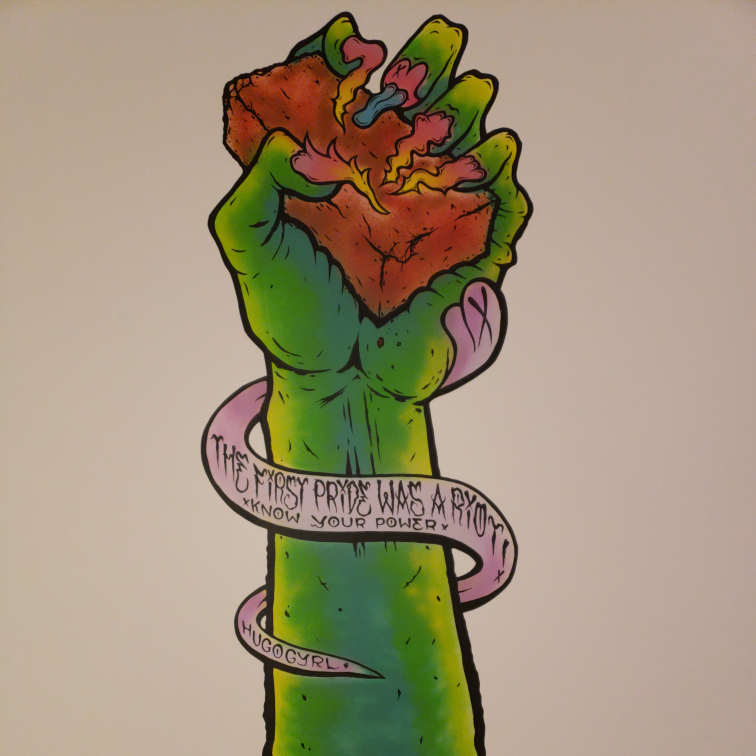 Wellll they did come to the museum to paste this piece, so we do know who they are! But because street art still involves some illegal activity, they prefer to keep their identity hush-hush :)
This is from the artist's Instagram, the day after they installed their work here in the museum:
"The next day, I was feeling so good, putting up wheatpastes near Redhook, when all of a sudden cherries and berries! (cop lights) Guess what, wheatpasting is still illegal! So I spent the night in jail, about 19hrs total. A $120 fine later, and I was back on the BK streets. You know what? I STILL felt GOOD!!! "
Thanks so much for all this info! I appreciate you.
Tell me about "Instructions for a Hard Time."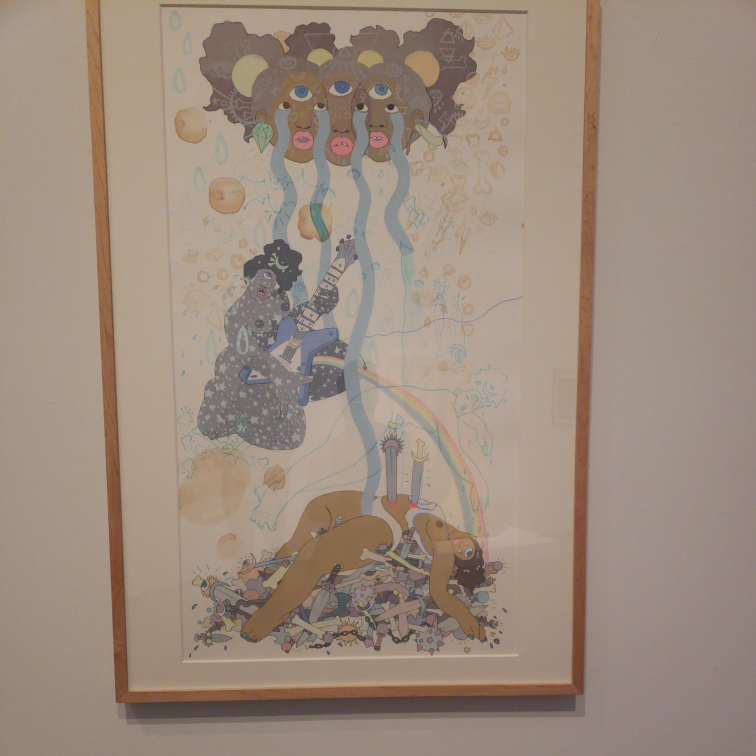 This work is made using gouache, marker, acrylic paint, and tea! The tea gives the paper a kind of "antique" tint, which is appropriate since the artist is inspired by Greek and Roman mythology.
The artist, Amaryllis DeJesus Moleski, strives to challenge the Eurocentric view of this mythology by depicting it in a queer and woman of color context.
Using fantasy and colorful, star-filled imagery, she challenges current power structures as well as aesthetic expectations of beauty and representation.
My students and I were trying to figure out the intentions of the blue character.
My students believe that the red tree represents rage, anger, and repression that is being released from the red character.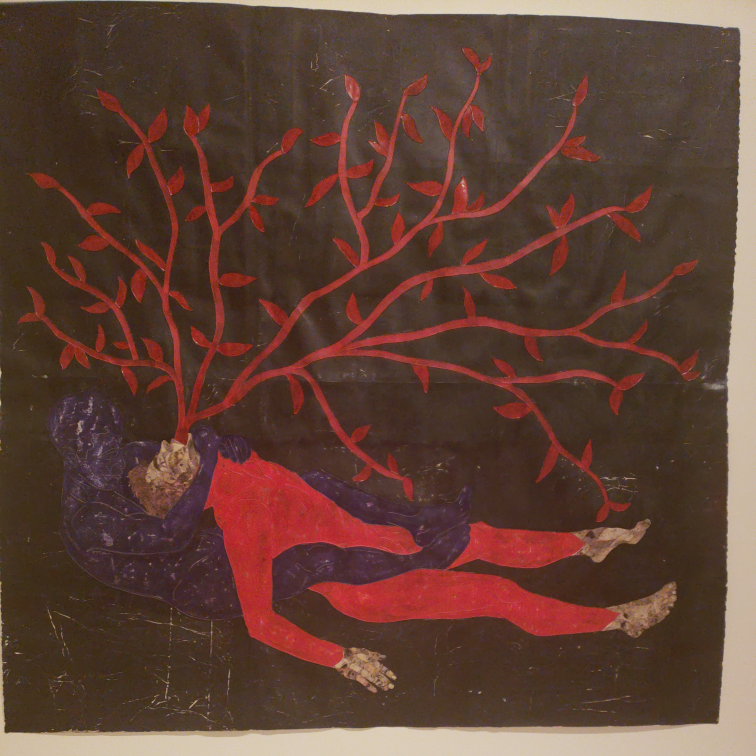 The artist intentionally presents these figures ambiguously; we do not know exactly what they are doing or what their relationship is. Works like this welcome a variety of interpretations.
As far as the red tree, that is a really interesting reading! I have also heard it interpreted as representing growth, like spiritual growth, or representing a deep connection to Maya history and mythology as a marker of identity.
Can you tell me more about these posters?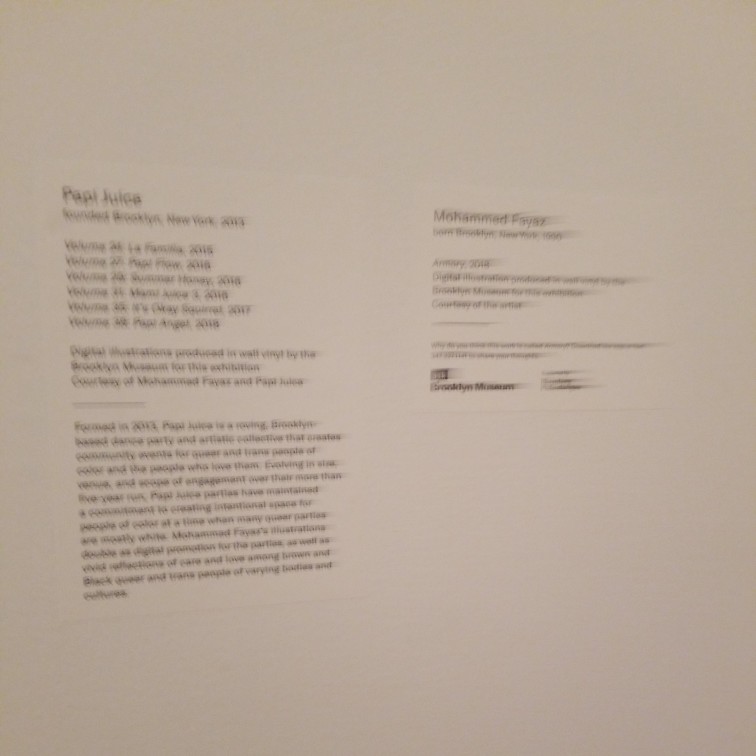 Mohammed Fayaz, who also goes by Mojuicy, is an illustrator and one of the organizers of the art collective Papi Juice. All of the works here were designed to advertise one of their parties.
According to Fayaz's own Instagram post sharing a piece made for a function in Bed Stuy: "It's called "Armory" coz we do a really sweet job of protecting one another. Which one are u? I'm def the hijabi on her phone!"
Can you tell me some more about the work of Amaryllis DeJesus Moleski?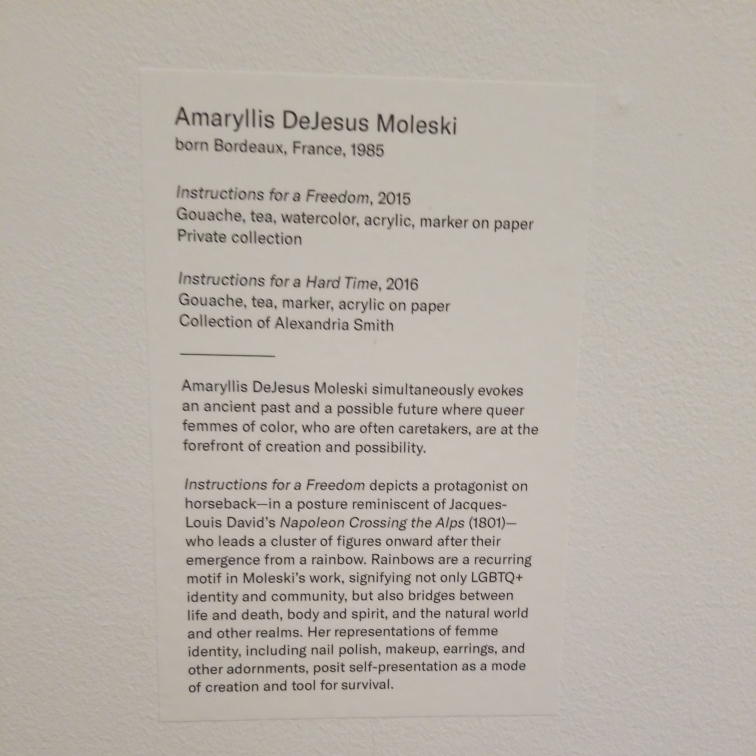 I love these works! Moleski takes Greek and Roman mythology and reinterprets it, channeling fantastical stories through a queer woman of color context and populating them with diverse body types.
The detail in the paintings is extensive, from the water splashing on the horse's hooves to the double headed axes and guitars (another kind of "ax") in the jumble of bodies.
The woman charging on the horse is a reference to the 19th century French painting "Napoleon Crossing the Alps." We have another interpretation, by Kehinde Wiley, in the museum collection as well.
Can you tell me more about John Edmonds' work?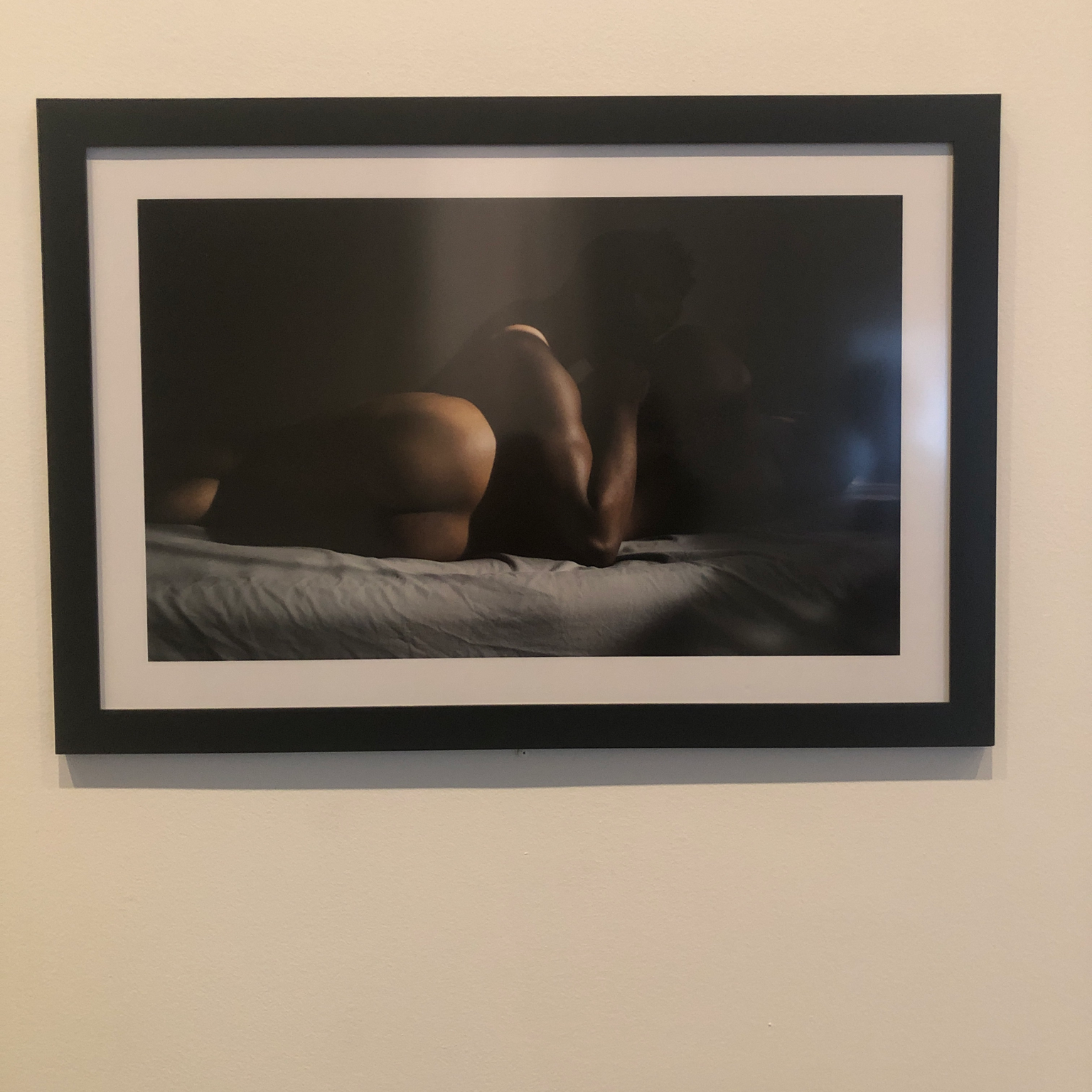 John Edmonds is known for work that breaks down expectations of Black masculinity by capturing moments of softness that contradict stereotypes.
A photograph like this invites the viewer to share an intimate moment in the relationship between the two people depicted.
How was this made?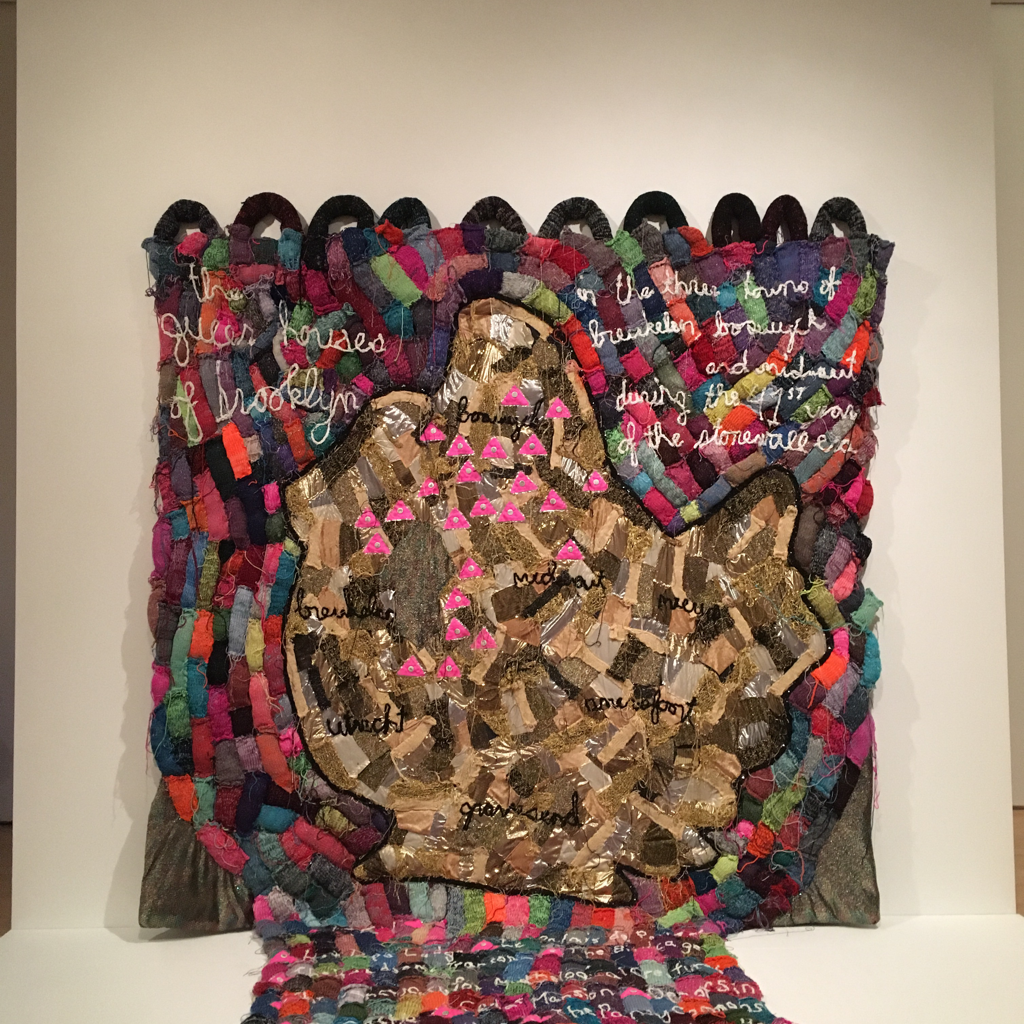 This work was mostly made with knitting needles! Each different block of color you see was knit, then filled with batting to give it that fluffy 3D look.
Then, the knitted tubes were stitched together into the pattern you see. So it's kind of a cross between a quilt and bunch of beautiful stuffed socks.
Finally, the words and pink triangles were stitched on top.
What's the "I WAS NEVER YOURS" art piece about?
This banner was originally created for the Women's Strike that occurred on March 8th of 2017. The original included no text. Here's how the artist describes imagery in the work:
"The image is of an antifascist woman stabbing white supremacist and patriarchal structures --that started rising after January 2017. This was a warning and a response."
The "I was never yours" message was added for a May Day Workers' Strike.
Oh I see, that makes a lot of sense. Thank you!
Can you please tell us what kind of material this is? It doesn't seem like canvas, it's flush to the wall.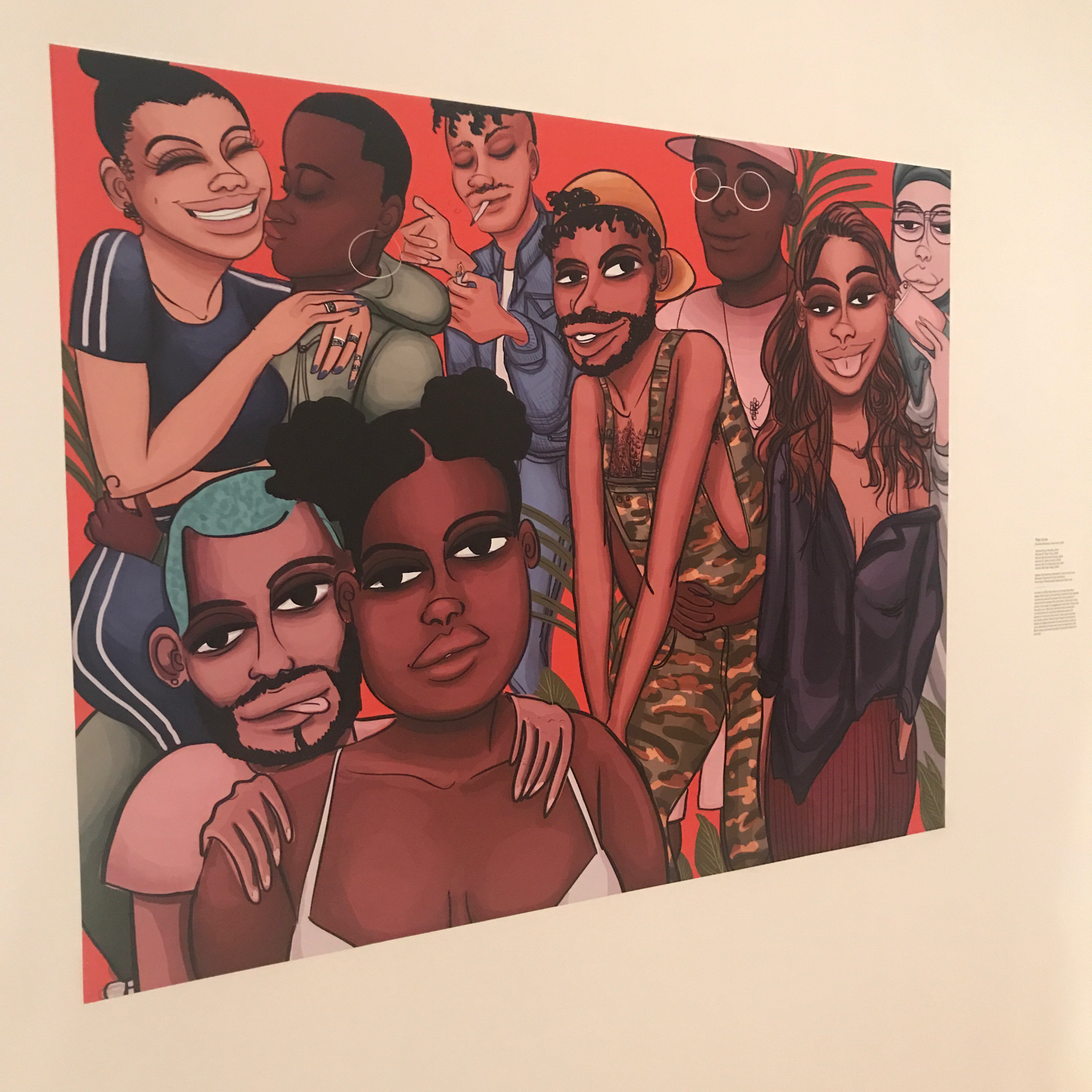 You are correct! The material that you are seeing in the gallery is vinyl which has been run through a specialized printer. The artwork itself was created by Mohammed Fayaz entirely digitally: that's it's primary form.
This image of Armory was specially printed to be included in this exhibition.
The back of the vinyl is coated with an adhesive. Something like this is produced in a very similar way to some large scale wall-labels or signs you might see elsewhere in the museum.
Tell me about this video with the mirrors.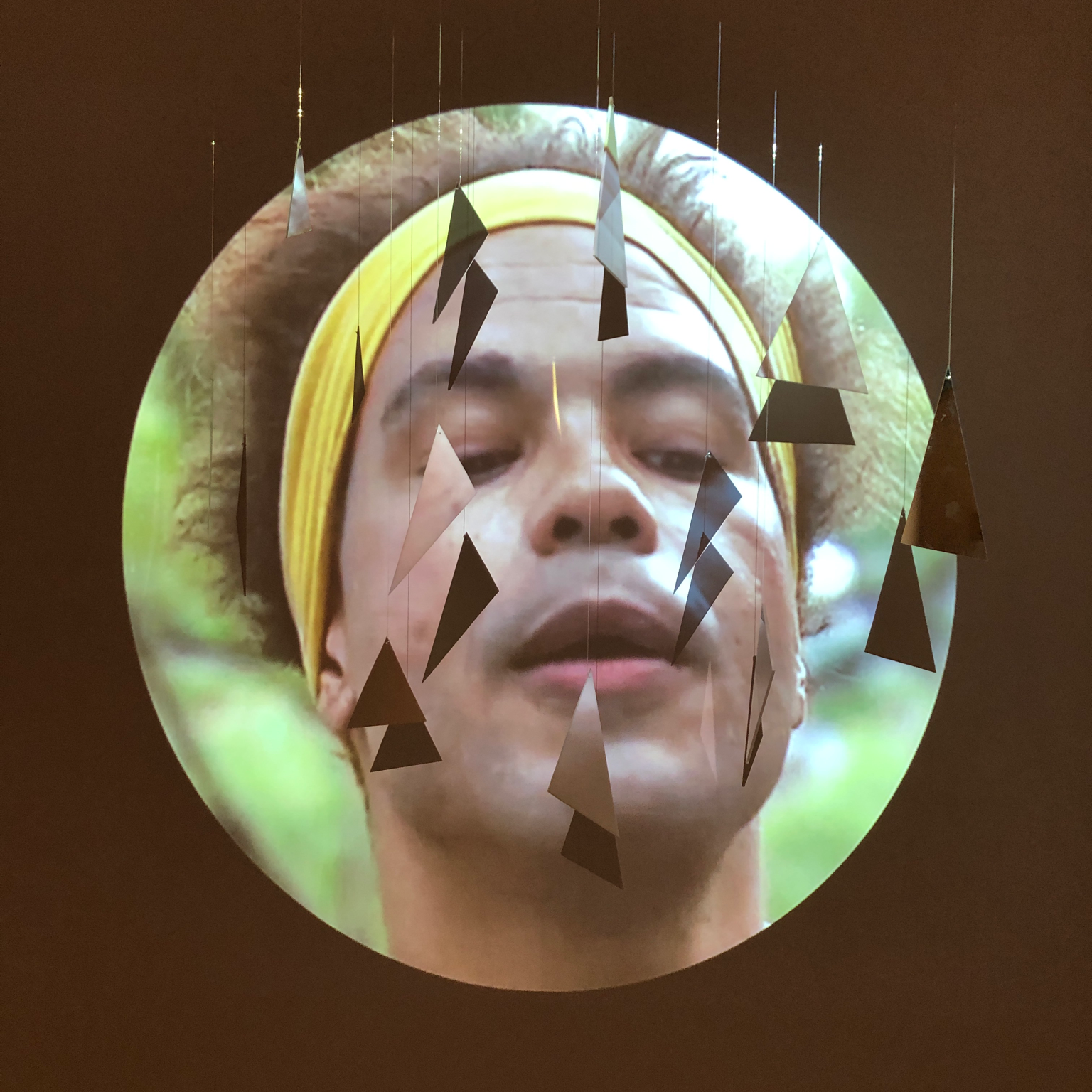 That's a great shot of Kiyan Williams's "Reflections."
The artist says of this piece: "Reflections brings together voices from the past and present that speak to the diverse experiences of Black people who resist normative gender. During the performance I reflect, refract, and obscure video with my body, complicating how the projected images are viewed and consumed. Reflections is a part of my ongoing exploration and activation of unpublished archival video from filmmaker and activist Marlon Riggs, whose seminal film Tongues Untied (1989) gave voice to the lives of Black gay men in America."
Reflections emphasizes that while the stories in Tongues Untied needed to be told, there remained/remain still other stories in need of the same attention; namely those of non-gender-conforming individuals.
Tell me more about "Instructions for a Freedom."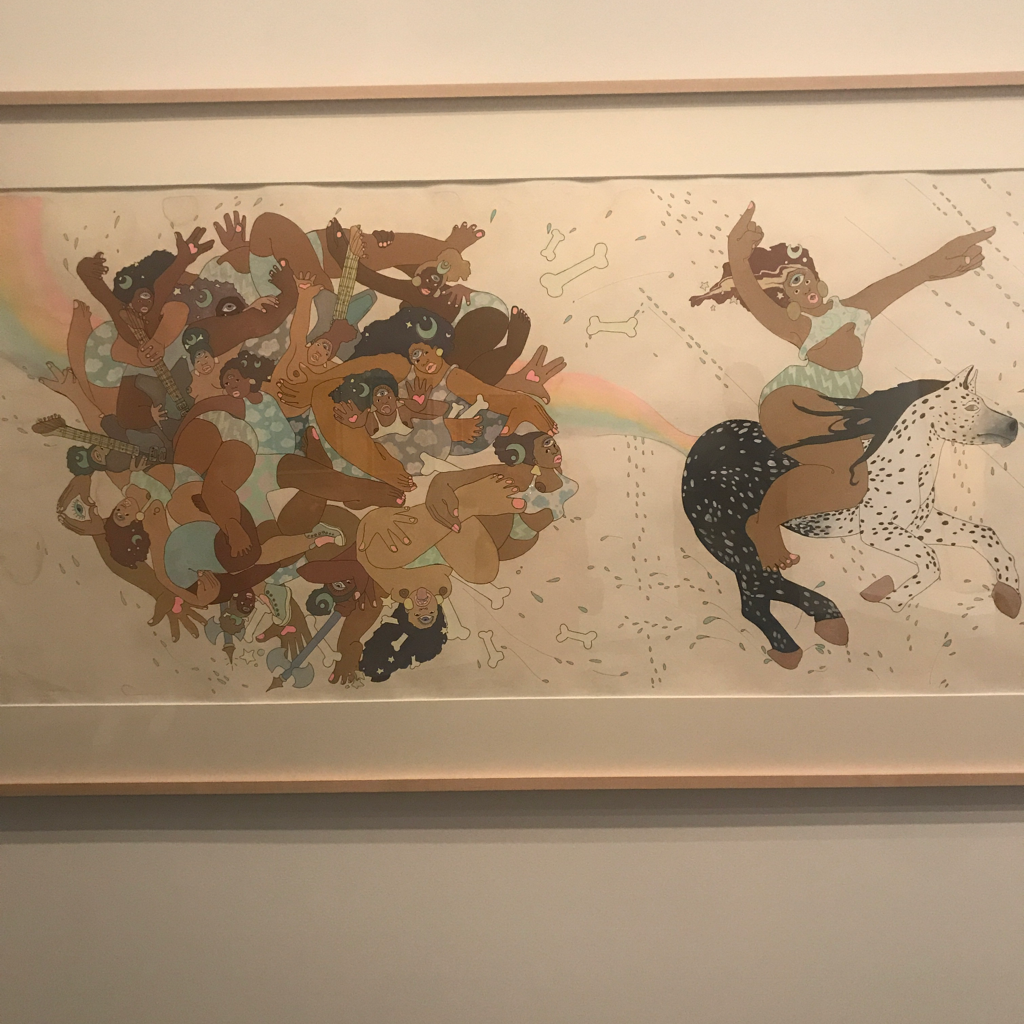 Amaryllis DeJesus Moleski often paints large works! She looks at Greco-Roman mythology, but reinterprets it within a queer and woman of color context.
She also strives to challenge the Eurocentric and normative narratives of what is considered a "desirable body," as we can see here. The women in her works are often of color and have fuller bodies.
In this way, she explores and challenges current power structures!
Tell me more.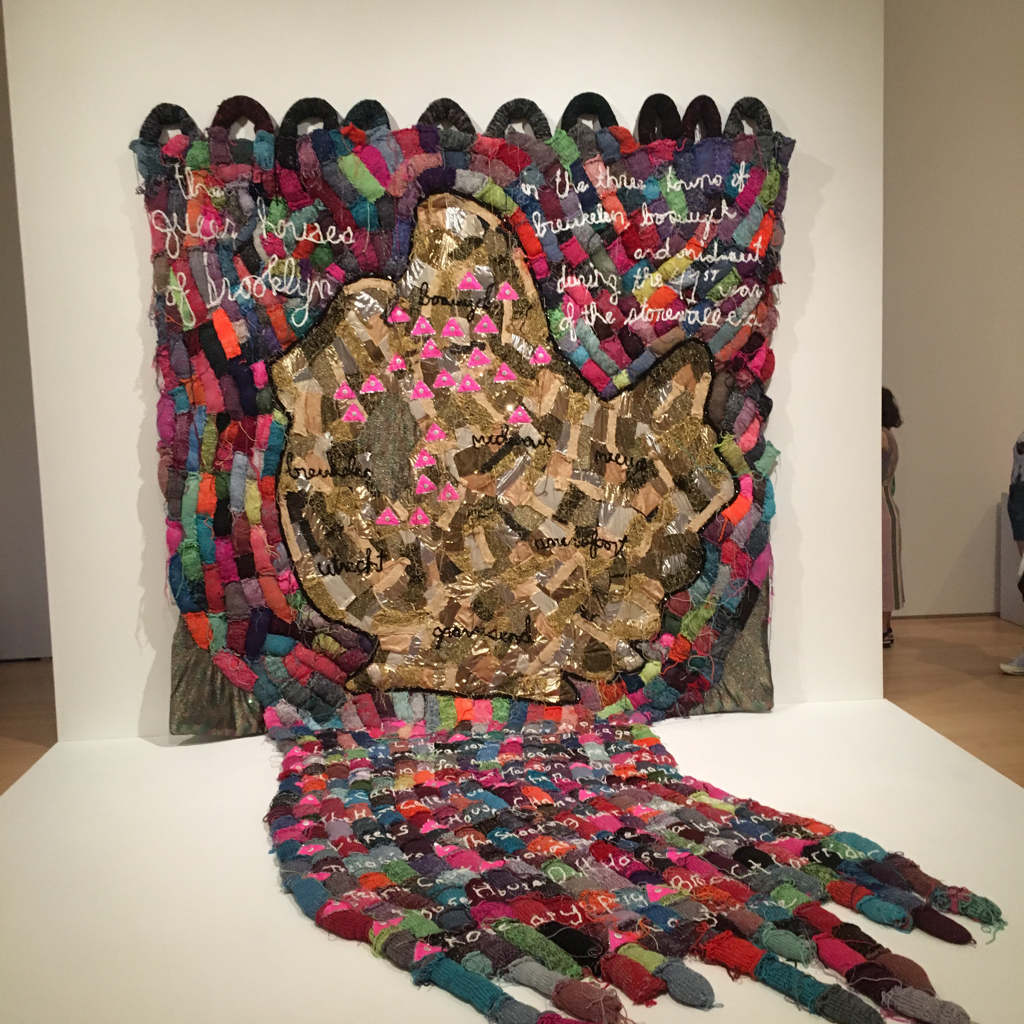 This is a map of the Queer Houses of Brooklyn! If you look closely, you can see that the location of each house is marked with a pink triangle.
The pink triangle became a queer symbol when it was reappropriated by the SILENCE=DEATH project and later, ACT UP!. It first appeared on a 1987 poster addressing the AIDS crisis.
Historically, an upside down pink triangle badge was employed in Nazi concentration camps to identify homosexual prisoners. The right side up pink triangle quickly became an icon of AIDS activism.
Can you tell me more about Tourmaline?
Tourmaline is a filmmaker who focuses on black queer and trans social life in her work. Through her work, she attempts to highlight the way that the lives of gender non-conforming people are both invisible and hyper-visible at the same time.
The film, Happy Birthday, Marsha!, has been described as a form of ancestor worship for its creators, Tourmaline and Sasha Wortzel. Before shooting, they made an altar and offered flowers.
"We wanted to be with and entangled among our ancestors and share that entanglement with the world," Tourmaline and Wortzel said in an interview.