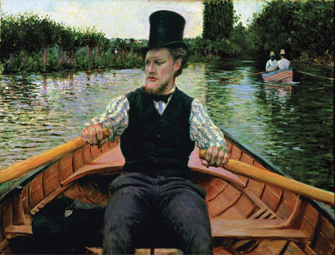 Gustave Caillebotte: Impressionist Paintings from Paris to the Sea
March 27–July 5, 2009
As a participant in the landmark retrospective exhibition that introduced Gustave Caillebotte to the American public in 1976–77, the Brooklyn Museum is proud to present Gustave Caillebotte: Impressionist Paintings from Paris to the Sea, the first major showing of the artist's oeuvre in New York in over thirty years. In addition to the well-known Parisian cityscapes that have traditionally marked him as the "Urban Impressionist," Caillebotte painted scenes of outdoor life away from the city on the coast of Normandy and in the villages of Yerres and Petit Gennevilliers, where he and his family maintained estates. The approximately forty paintings included in this focused thematic exhibition reveal Caillebotte's extraordinary passion for subjects in which water plays a central role—as an enigmatic, magical element reflecting its surroundings, as an essential atmospheric ingredient, and as a scene for sporting activities. As a passionate rower and yachtsman, Caillebotte approached his motifs with the trained eyes and hand of an accomplished engineer and sportsman. The exhibition will also include drawings as well as models and sketches for the construction of Caillebotte's sailboats.
Gustave Caillebotte: Impressionist Paintings from Paris to the Sea is organized by the Brooklyn Museum, Ordrupgaard, Copenhagen, and Kunsthalle Bremen. The exhibition is curated by Judith F. Dolkart, Brooklyn Museum, Dorothee Hansen, Kunsthalle Bremen, and Anne-Birgitte Fonsmark and Gry Hedin, Ordrupgaard.
The Brooklyn presentation is made possible by generous support from the Robert Lehman Foundation, the Brooklyn Museum's Barbara and Richard Debs Exhibition Fund, and Martha A. and Robert S. Rubin Exhibition Fund. The Federal Council on the Arts and the Humanities has granted an indemnity for this project.