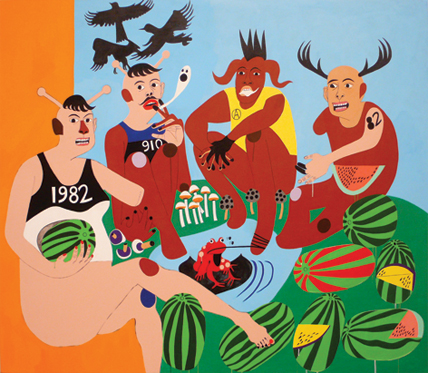 Extended Family: Contemporary Connections
August 4, 2009–September 5, 2010
In the face of the social upheaval of the past few decades, the family has remained territory that is routinely explored in art. The intergenerational selection of work on view in this installation demonstrates that familial relationships continue to provide a rich source of artistic material, while the concept of the family has also been extended beyond blood ties to embrace larger groups or communities united by shared values, identities, lifestyles, or emotional needs. The artists express fluid definitions of the family and domesticity, drawing on experiences that are private and public, individual and communal. As members of a community that is both homegrown and globetrotting, many of the artists in this installation also transcend national boundaries, representing a new twenty-first-century breed that travels to create work in cities around the world.
Extended Family: Contemporary Connections highlights recent acquisitions and presents them alongside notable works that entered the collection over the past five decades. The Museum's contemporary collecting focuses on art of the twenty-first century, which has seen the rise of Brooklyn as one of the most vibrant centers of cultural production in the world. Williamsburg, Greenpoint, and Dumbo—now established artists' enclaves—have given way to Red Hook, Bed-Stuy, the Gowanus Canal, and Bushwick as frontiers that offer artists prospects for affordable studio spaces. The Brooklyn Museum has collected contemporary art since the mid-nineteenth century. Extended Family demonstrates the Museum's continuing commitment to living artists and to collecting distinctive art of our time.
The exhibition is co-organized by Eugenie Tsai, John and Barbara Vogelstein Curator of Contemporary Art, and Patrick Amsellem, Associate Curator, Photography, Brooklyn Museum.
The generous support of the John and Barbara Vogelstein Contemporary Acquisitions Challenge has made possible many recent additions to the collection featured in Extended Family: Contemporary Connections. This exhibition was also made possible in part with support from the FUNd.
The creation of the new contemporary galleries was made possible in part through support provided by the New York City Council through the efforts of Council Member Bill de Blasio.