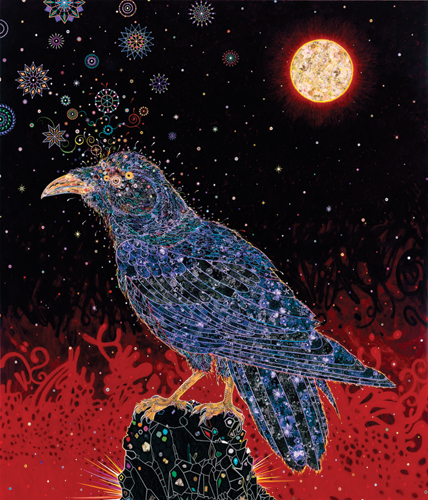 Fred Tomaselli
October 8, 2010–January 2, 2011
This focused mid-career survey presents a selection of Fred Tomaselli's unique hybrid paintings and collages from 1990 to the present. These layered paintings combine cutout images of plants, birds, smiling mouths, and hands (clipped from field guides and magazines) with passages of paint and actual prescription pills and hallucinogenic plants to create highly stylized, eye-popping compositions. Tomaselli's artwork draws upon a wide range of sources from both popular culture and art history, and from his own hobbies of gardening, kayaking, and bird-watching. Growing up near the desert in southern California, Tomaselli felt the influence of nearby theme parks, with their manufactured reality, and the music and drug counterculture of Los Angeles in the 1970s and 1980s. His distinctive melding of these influences coalesces into a folk-driven, utopian vision of the mythic American West and of lush gardens as sites of contemplation, loss, and possible redemption. One of the pioneering artists who moved to Williamsburg, Brooklyn, in the 1980s, Tomaselli continues to live and work in the borough.
This exhibition is organized and toured by the Aspen Art Museum and The Frances Young Tang Teaching Museum and Art Gallery at Skidmore College. The Brooklyn Museum presentation is coordinated by Eugenie Tsai, John and Barbara Vogelstein Curator of Contemporary Art, Brooklyn Museum.
Presenting sponsor
The exhibition has also received support from Sotheby's; Glenstone; James Cohan Gallery; The Susan and Leonard Feinstein Foundation; White Cube, London; Amanda and Glenn Fuhrman; Amy and John Phelan; Mickey Cartin; Greg Feldman and Melanie Shorin; Scott and Meg Mueller; and other generous donors.
Media sponsor