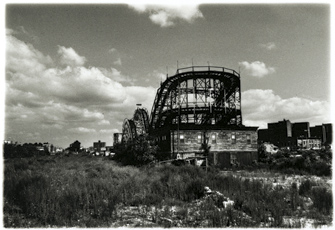 Goodbye Coney Island?
November 28, 2007–April 6, 2008
An exhibition of more than fifty photographs from the Brooklyn Museum's holdings, Goodbye Coney Island? traces the evolution of this fabled part of New York over the past 125 years. Coney Island has undergone many transformations since it first became a popular resort in the nineteenth century, and in the near future a prospective redevelopment plan may yet again change this section of Brooklyn.
Goodbye Coney Island? presents images that depict the area's early life and its landmarks and attractions from the 1870s to the present, including the Oriental Hotel, Steeplechase, Luna Park, the beach and boardwalk, and the classic Thunderbolt rollercoaster. The exhibition will include photographs by Breading Way, George Bradford Brainerd, Stephen Salmieri, Garry Winogrand, Lynn Butler, and many others.
About a third of the photographs on view are contemporary prints of digitally scanned late-nineteenth and early-twentieth-century glass-plate negatives from the Brooklyn Museum collection.
This exhibition is organized by Patrick Amsellem, Associate Curator of Photography, Brooklyn Museum.