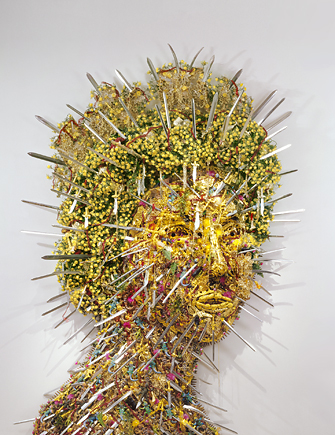 Infinite Island: Contemporary Caribbean Art
August 31, 2007–January 27, 2008
Infinite Island presents some eighty works made in the last six years that reflect the region's dynamic mix of cultures, its diasporas, and its socio-political realities, all of which are constantly transforming themselves. The forty-five emerging and established artists, who work both in the Caribbean and abroad, represent multiple perspectives as they explore the complexities of Caribbean history and identity. Including painting, sculpture, photography, prints and drawings, video, and installation, the exhibition is grouped around themes that encompass history, memory, politics, myth, religion, and popular culture.
The exhibition is curated by Tumelo Mosaka, Associate Curator of Exhibitions at the Brooklyn Museum.
Sponsored by Forest City Ratner Companies.
The exhibition is made possible by the Martha A. and Robert S. Rubin Exhibition Fund and the Barbara and Richard Debs Exhibition Fund. Generous support is contributed by the Peter Norton Family Foundation, the American Center Foundation, and the National Endowment for the Arts. Additional funding is contributed by the Friends of Brooklyn Museum, the Mondriaan Foundation, Amsterdam, and the Consulate General of the Netherlands.
The accompanying catalogue is supported by a Brooklyn Museum publications endowment established by the Iris and B. Gerald Cantor Foundation and the Andrew W. Mellon Foundation.
Media sponsor