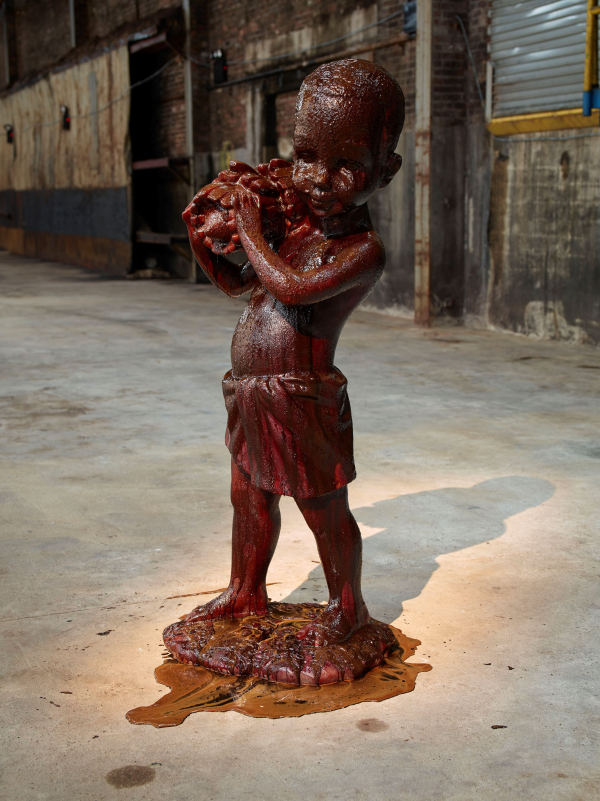 Kara Walker: "African Boy Attendant Curio (Bananas)"
May 20–November 1, 2015
Kara Walker: "African Boy Attendant Curio (Bananas)" presents a new resin-cast version of one of the sculptures that accompanied A Subtlety, Walker's 2014 project at the Domino Sugar Refinery in Williamsburg, Brooklyn. At Domino, a nearly forty-foot-tall sugar-coated sculpture of a black woman, a hybrid sphinx-mammy, was accompanied by attendants made out of sugar and corn syrup that melted dramatically over time. In this installation, a permanent version of one attendant, a black boy carrying a bushel of bananas, is presented alongside sugar-related objects from our collection.
Together with sugar bowls and other items, the figure highlights the impact on material culture of the triangular trade between Europe, Africa, and the Americas, and the enslaved people whose bodies and labor were the foundation of the sugar industry.
Kara Walker: "African Boy Attendant Curio (Bananas)" is organized by Rujeko Hockley, Assistant Curator of Contemporary Art, Brooklyn Museum.
Generous support for this exhibition is provided by the FUNd.