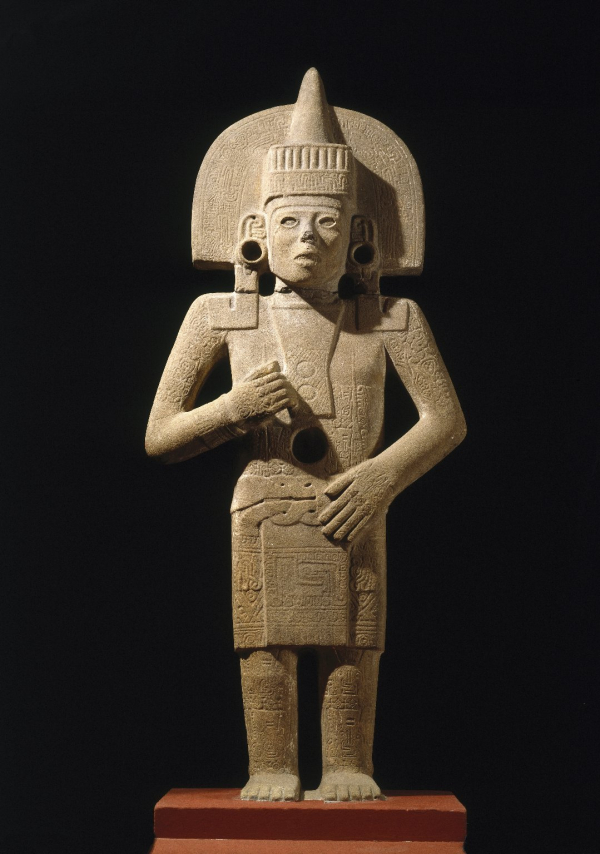 Life, Death, and Transformation in the Americas
January 18, 2013–November 10, 2019
Life, Death, and Transformation in the Americas presents over one hundred masterpieces from our permanent Arts of the Americas collection, exemplifying the concept of transformation as part of the spiritual beliefs and practice of the region's indigenous peoples, past and present. Themes of life, death, fertility, and regeneration are explored through pre-Columbian and historical artworks, including many pieces that are rarely on display.
Highlights include the Huastec Life-Death Figure, the Kwakwk'wakw Thunderbird Transformation Mask, and two eight-foot-tall, nineteenth-century Heiltsuk House Posts made to support the huge beams of a great Northwest Coast plank house. Other featured objects include Hopi and Zuni kachinas, masks from throughout the Americas, Mexica (Aztec) and Maya sculptures, and ancient Andean textiles including the two-thousand-year-old Paracas Textile, which illustrates the way in which early cultures of Peru's South Coast envisioned their relationship with nature and the supernatural realm.
Among the twenty-one objects that have rarely or never been on public view are a full-body bark-cloth mask made by the Pami'wa of Colombia and Brazil, a Maya effigy vessel in the form of a hunchback wearing a jaguar skin, and two contemporary kachinas by Hopi carver Henry Shelton.
Life, Death, and Transformation in the Americas is organized by Nancy Rosoff, Andrew W. Mellon Curator, Arts of the Americas, Brooklyn Museum; and Susan Kennedy Zeller, Associate Curator, Native American Art, Brooklyn Museum.