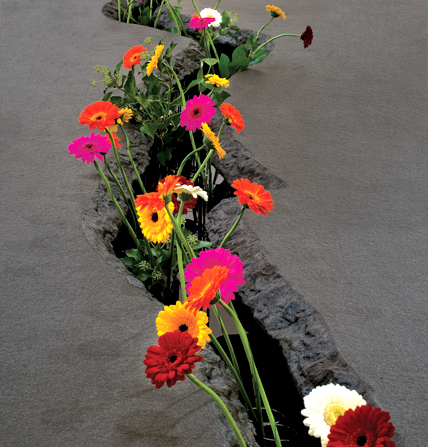 Lee Mingwei: "The Moving Garden"
October 5, 2011–January 22, 2012
The Moving Garden comprises a forty-five-foot-long granite table with one hundred freshly cut flowers that appear to grow out of a channel running down its middle. Created by New York–based artist Lee Mingwei, the interactive installation also includes single blossoms arranged around the channel, which visitors are invited to take when they leave the Museum, on the condition that they make a detour on the way to their next destination and give the flower to a stranger as a gift. As the day wears on, the flowers on the table disappear, one by one. The next day, they are replaced, and the cycle begins again.
Lee's piece was inspired by his reading of Lewis Hyde's The Gift: Imagination and the Erotic Life of Property, which explores the beneficial effects of gifts on both those who give them and those who receive. Another inspiration came on a spring day, when the artist was sitting along the banks of the Rhône River in Lyon and saw hundreds of flowers inexplicably floating downstream. This 2009 piece is one of many participatory works of art that Lee has been creating since the late 1990s.
Lee Mingwei: "The Moving Garden" was organized by Eugenie Tsai, John and Barbara Vogelstein Curator of Contemporary Art, Brooklyn Museum, in close cooperation with the artist.