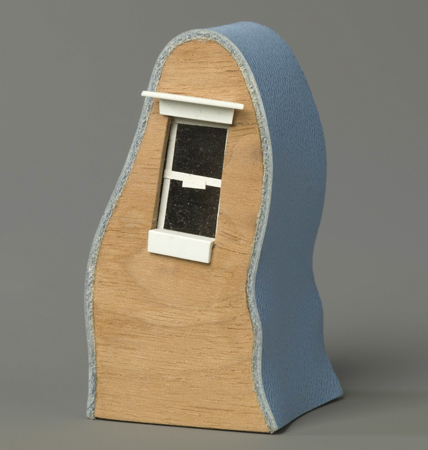 Raw/Cooked: Lan Tuazon
November 4, 2011–January 15, 2012
The second exhibition in the Raw/Cooked series presents Bushwick-based artist Lan Tuazon. Her three-part project, On the Wrong Side of History, challenges the reasoning behind museum classification and display. Dispensing with chronology and origin as the primary frames of organization, Tuazon returns to a pre-modern system of classification in which objects are grouped together by thematic relationships and similarities of function, investigating the possibility of finding new meanings in the Museum's collection.
The first part of the exhibition is a site-specific work constructed from wood platforms and plexiglas vitrines formerly used to display and protect art. The second part includes three ink drawings; each depicts a reordered selection of objects from the Museum's collection, exploring an alternative approach to museum organization. Part three comprises seven "sculptural combines" created to be displayed alongside artifacts within the third-floor Egyptian galleries. The sculptures interpret each artifact's conceptual content, according to one of seven types of relationships, or "resemblances," and are accompanied by short explanatory texts.
Tuazon received a B.F.A. from Cooper Union in 1999 and an M.F.A. from Yale University in 2002. She was recommended for Raw/Cooked by advisory board member Michael Joo.
Raw/Cooked is organized by Eugenie Tsai, John and Barbara Vogelstein Curator of Contemporary Art, Brooklyn Museum.