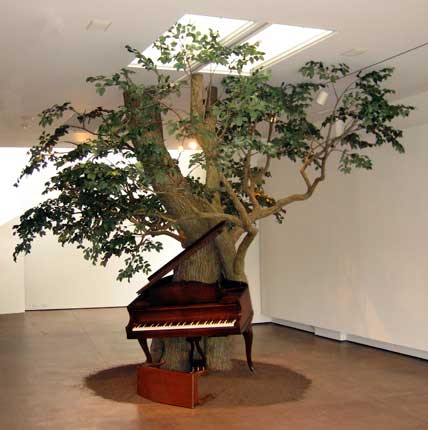 Sanford Biggers: Sweet Funk—An Introspective
September 23, 2011–January 8, 2012
In this focused selection of thirteen pieces, New York–based artist Sanford Biggers challenges and reinterprets symbols and legacies that inform contemporary America. The exhibition is Biggers' first museum presentation in New York, and it will also mark the Brooklyn debut of Blossom (2007), a large-scale multimedia installation that incorporates references ranging from lynchings to Buddha's enlightenment under the bodhi tree. Recently acquired by the Brooklyn Museum, Blossom also alludes to the ideologically tinged landscapes of artists such as Alfred Bierstadt and Frederic Church.
Among the other, thematically related pieces is Cheshire (2008), a sculpture that references both the disembodied smile of the eponymous cat and the caricatured grin associated with blackface minstrelsy. Kalimba II (2002), named after an African percussion instrument, incorporates a piano bisected by a wall; a bench invites visitors to sit down and play half of the keyboard, initiating a dialogue/duet with an unseen visitor on the other side of the wall. As with Blossom, Lotus (2007) combines references to Buddhism and to slavery: a lotus etched in glass contains in each petal diagrams of human bodies placed in the cargo hold of an eighteenth-century slave ship. Biggers has been creating installations and performances for more than a decade.
Sanford Biggers: Sweet Funk–An Introspective is organized by Eugenie Tsai, John and Barbara Vogelstein Curator of Contemporary Art, Brooklyn Museum.
Generous support for this exhibition has been provided by the Martha A. and Robert S. Rubin Exhibition Fund, Toby Devan Lewis, the FUNd, the Stephanie and Tim Ingrassia Contemporary Art Exhibition Fund, and other donors.
The accompanying catalogue is supported by the Lambent Foundation and by a Brooklyn Museum publications endowment established by the Iris and B. Gerald Cantor Foundation and the Andrew W. Mellon Foundation.