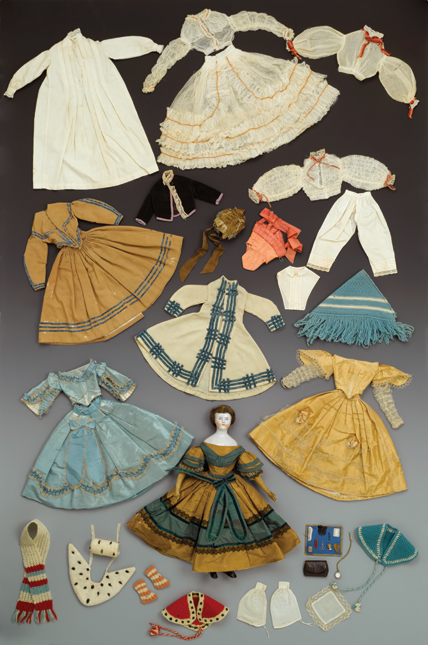 Healing the Wounds of War: The Brooklyn Sanitary Fair of 1864
January 29–October 17, 2010
This exhibition presents a selection of artworks and historical objects celebrating the contributions of women to the mid-nineteenth-century Sanitary Movement, particularly the highly important Brooklyn and Long Island Sanitary Fair of 1864. The genesis of the exhibition was a rare doll from the Museum's collection featuring an elaborate trousseau made by a woman named Eliza Lefferts and sold at the Brooklyn Sanitary Fair. During the Civil War, sanitary fairs were held to raise money for the war effort in major cities in the Northeast. These large-scale fairs were social events that combined entertainment, education, and philanthropy. Although the U.S. Sanitary Commission was headed by men, most of its work was accomplished by thousands of women volunteers. In Brooklyn, civic-minded women's organizations orchestrated the hugely successful Brooklyn Sanitary Fair, a separate event from the New York Sanitary Fair. It raised $400,000, well over the projected $100,000 and equal to more than four million dollars by today's standards. The money was used for clothing, food, medical supplies, and other provisions for the Union Army. In addition to Eliza Lefferts's doll, the exhibition includes engravings by Winslow Homer depicting women during wartime and a rare autograph book compiled by prominent Brooklynite Gertrude Lefferts Vanderbilt, on loan from the Brooklyn Historical Society.
The Herstory Gallery is dedicated to exhibitions that elaborate on the lives and histories of the 1,038 women who are named in Judy Chicago's The Dinner Party, installed permanently in the adjacent gallery. Dr. Elizabeth Blackwell, the first woman to earn a medical degree in the United States and a dedicated pioneer of the Sanitary Movement, is represented in The Dinner Party.
This exhibition is organized by Catherine J. Morris, Curator of the Elizabeth A. Sackler Center for Feminist Art.