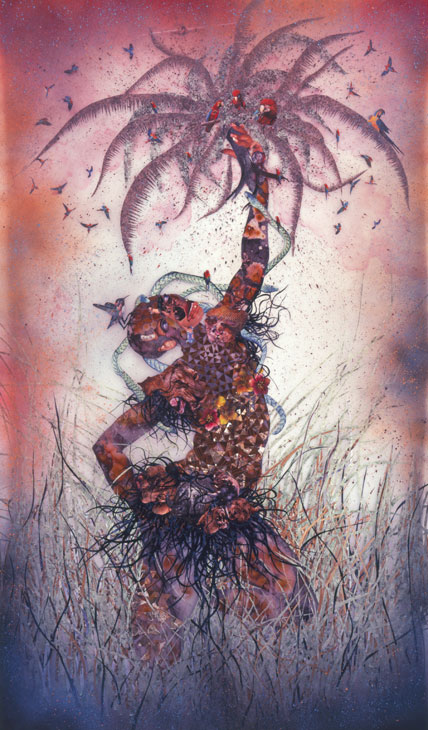 Wangechi Mutu: A Fantastic Journey
October 11, 2013–March 9, 2014
Wangechi Mutu: A Fantastic Journey is the first survey in the United States of this internationally renowned, Brooklyn-based artist. Spanning from the mid-1990s to the present, the exhibition unites more than fifty pieces, including Mutu's signature large-scale collages as well as video works, never-before-seen sketchbook drawings, a site-specific wall drawing, and sculptural installations.
Born in Nairobi, Kenya, Mutu scrutinizes globalization by combining found materials, magazine cutouts, sculpture, and painted imagery. Sampling such diverse sources as African traditions, international politics, the fashion industry, pornography, and science fiction, her work explores gender, race, war, colonialism, global consumption, and the exoticization of the black female body. Mutu is best known for spectacular and provocative collages depicting female figures—part human, animal, plant, and machine—in fantastical landscapes that are simultaneously unnerving and alluring, defying easy categorization and identification. Bringing her interconnected ecosystems to life for this exhibition through sculptural installations and videos, Mutu encourages audiences to consider these mythical worlds as places for cultural, psychological, and socio-political exploration and transformation.
Wangechi Mutu: A Fantastic Journey is organized by the Nasher Museum of Art at Duke University by Trevor Schoonmaker, Chief Curator and Patsy R. and Raymond D. Nasher Curator of Contemporary Art. The Brooklyn Museum presentation is coordinated by Saisha Grayson, Assistant Curator, Elizabeth A. Sackler Center for Feminist Art, Brooklyn Museum.
This exhibition was made possible by the Andy Warhol Foundation for the Visual Arts. Major support was provided by Marilyn M. Arthur, the Ford Foundation, the Mary Duke Biddle Foundation, Katherine Thorpe Kerr, Susanne Vielmetter Los Angeles Projects, Gladstone Gallery, New York; Victoria Miro Gallery, London; and the North Carolina Arts Council, a division of the Department of Cultural Resources.
The exhibition in Brooklyn has been made possible by the Elizabeth A. Sackler Foundation.
Additional generous support has been provided by Gladstone Gallery, Victoria Miro Gallery, London, Susanne Vielmetter Los Angeles Projects, and the Helene Zucker Seeman Memorial Exhibition Fund.