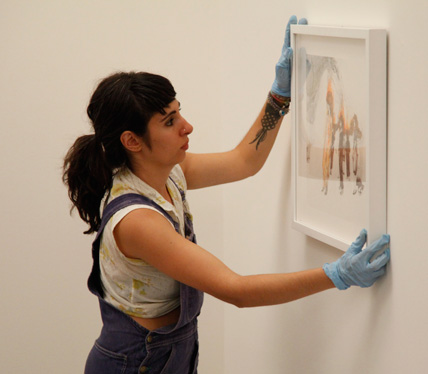 Work of Art: Kymia Nawabi
December 22, 2011–February 5, 2012
This exhibition highlights the work of Kymia Nawabi, the season-two winner of Bravo's series Work of Art: The Next Great Artist, a recently concluded creative competition among contemporary artists from across the United States for a cash prize and an exhibition at the Brooklyn Museum. The judges for the Bravo show included series host China Chow; Bill Powers, a New York gallery owner and arts writer; and Jerry Saltz, art critic for New York magazine. Art auctioneer Simon de Pury served as a mentor to the contestants, and a new guest judge joined the panel each week.
Nawabi's presentation, which she titled Not for Long, My Forlorn when it appeared on the final episode of Work of Art, may be seen as an expression of both her personal mythology and her ideas on the cyclical nature of life. Produced over a period of three months, it includes twelve paintings and two sculptures inspired by the Egyptian deity Thoth, most often represented as a man with the head of an ibis. Nawabi appropriates the idea of Thoth as the god who holds the universe in balance and who greets the deceased in the afterlife. Her work also incorporates the Ouroboros, an ancient symbol of eternity that is often depicted in the shape of a snake eating its own tail. Viewed by the artist as a positive force, the snake, which sheds its skin, becomes a metaphor for renewal and the passage from one form of life to the next.
The exhibition Work of Art: Kymia Nawabi is organized by Patrick Amsellem, former Associate Curator of Photography, Brooklyn Museum, in cooperation with Bravo, Magical Elves, and Pretty Matches.