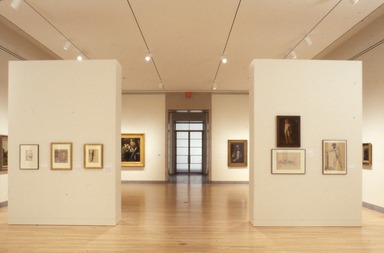 Frederic Bazille: Prophet of Impressionism
Dates:

November 13, 1992 through January 24, 1993

Collections: European Art
Print
Press Releases
Press Coverage of this Exhibition
THE NEW SEASON/ART; ONE CRITIC'S CHOICES

September 13, 1992 By Roberta Smith

"Every art season has a veritable Alps of high points, a cluster of important yet slightly intimidating exhibitions to scale. This year we've got Matisse at the Modern, Magritte at the Metropolitan, the Russians at the Guggenheim -- shows of such size that they almost seem like too much of a good thing. As a result, the mind often eases into the new..."

Review/Art; A Tragic Harbinger of the New

November 13, 1992 By MICHAEL KIMMELMAN

"ONE of the first paintings to be seen in the fine retrospective of Frederic Bazille opening today at the Brooklyn Museum is not especially fine. The stiffness of the figures in a copy of Veronese's "Mystic Marriage of St. Catherine" betrays the gropings of a young painter. Still, as Bazille's only significant depiction of a religious subject, the..."