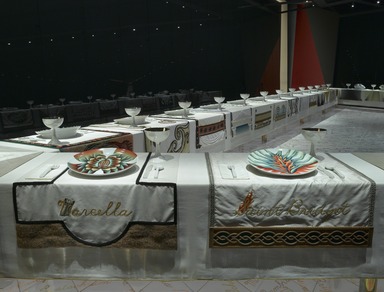 The Dinner Party by Judy Chicago (installation)
Print
Exhibition Didactics
The Dinner Party
Judy Chicago's The Dinner Party is the most significant icon of 1970s American feminist art. Begun in 1974 and finished in 1979, with the help of hundreds of collaborators, the large-scale work celebrates the achievements of 1,038 actual and mythical female figures, most of whom have been neglected by history until they were reclaimed by feminist scholars. In honoring those Individuals, the work at the same time pays tribute to all women who have been lost to history.

The Dinner Party consists of a series of Entry Banners, a Heritage Floor, and a massive ceremonial banquet, arranged on a triangular table measuring forty-eight feet on each side with a total of thirty-nine place settings. The "guests of honor" commemorated on the table are designated by means of intricately embroidered runners, each executed in a historically specific manner. Upon these are placed, for each setting, a gold ceramic chalice and utensils, a napkin with an embroidered edge, and a fourteen-inch china-painted plate with a central motif based on butterfly and vulvae forms, and rendered in a style appropriate to the individual woman being honored. The names of the other 999 women are inscribed on the hand-cast title Heritage Floor below the triangular table.

This iconic work remains important on many levels. Not only was it the first truly monumental work of American art, conceptualized by a woman, to survey the contributions of women to Western civilization over the millennia, but its feminist reclamation of several "crafts" traditionally associated with women (embroidery, needlework, china painting, ceramics), and its utilization of "central core" (or vulvae) imagery, were virtually unprecedented in artistic production at that time.

Having The Dinner Party at the Brooklyn Museum is particularly fitting, since the Museum exhibited it in 1980 as part of the work's initial tour. Returning to Brooklyn, it serves at the central installation of the Elizabeth A. Sackler Center for Feminist Art, thus preserving for posterity a visual symbol that the artist created specifically "to end the ongoing cycle of omission in which women were written out of the historical record." Through the generous gift of Elizabeth A. Sackler, the Brooklyn Museum has eagerly taken on that mission.