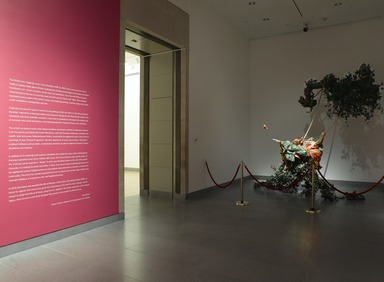 Yinka Shonibare MBE
Print
Exhibition Didactics
Yinka Shonibare MBE
The British-born Nigerian artist Yinka Shonibare MBE (b. 1962) works across diverse artistic media to explore ideas about African contemporary identity and the legacy of European colonialism. Shonibare's art, which considers social class and aesthetics, since the mid-1990s has been characterized by the use of recurring visual symbols such as "Dutch wax" fabric. This exhibition represents twelve years of the artist's career, encompassing painting, sculpture, large-scale mixed-media installations, photography, and film.

Originally introduced in place of canvas for his paintings, Dutch wax fabric is rich with meaning for the artist. Inspired by Indonesian batiks and produced in Europe for the West African market in the nineteenth and early twentieth centuries, it has come to symbolize for Shonibare the complex web of economic and racial interactions—and interdependencies—between Europe, Asia, and Africa.

The artist's sculptural works often feature headless mannequins clothed in elaborate costumes from the period just before the French Revolution, when the European aristocracy controlled vast wealth, land, and power. Referencing art history—particularly the eighteenth-century French Rococo paintings of Jean-Honoré Fragonard, with their depictions of luxury and privilege—Shonibare's sculptural tableaux portray idyllic, romanticized narratives, as well as imagined scenarios of sexual decadence and violence.

In addition to his paintings and sculpture, Shonibare has created two major suites of photographs, drawing inspiration from Oscar Wilde's 1891 novel, The Picture of Dorian Gray, and the notion of the Victorian social aspirant or "dandy." In each suite Shonibare takes on the role of the central character, re-creating his poses and attire. A third, more recent series of photographs focuses on the eighteenth-century Enlightenment era and explores ideas about the co-existence of reason and irrationality. The artist has recently expanded his focus to embrace the moving image, creating vast, cinematic tableaux of sumptuous color and heightened drama.

In 2005 Shonibare was awarded the title of Member of the Order of the British Empire (MBE), an honor he regards with some irony, given the critical focus of his work for over a decade. He has chosen to adopt this title at all times, using it as his "platform" for further exploration of the colonial legacy, class structure, and social injustices that remain in the country he calls his home.

Rachel Kent
Senior Curator, Museum of Contemporary Art, Sydney

Mother and Father Worked Hard So I Can Play, 2009
Yinka Shonibare MBE has created a site-specific installation in several of the Museum's period rooms as a complement to the major exhibition on the 1st and 4th floors. This presentation is akin to a treasure hunt, with mischievous, playful children hidden in various parts of the historic interiors. As in much of Shonibare's work, the figures are headless and dressed in Victorian costumes made from Dutch wax fabrics. The installation explores the idea of these rooms as expressions of American aspiration and achievement. The unruly children appear to be enjoying an overindulged youth, which is a benefit of the hard work of their ancestors.