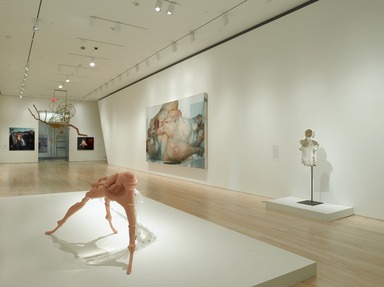 Global Feminisms
Dates:

March 23, 2007 through July 1, 2007

Collections: Contemporary Art , Elizabeth A. Sackler Center for Feminist Art
Location: This exhibition is no longer on view in Elizabeth A. Sackler Center for Feminist Art and Morris A. and Meyer Schapiro Wing, 4th Floor
Description:

Global Feminisms. [03/23/2007 - 07/01/2007]. Installation view.

Citation:

Brooklyn Museum Digital Collections and Services. Records of the Department of Digital Collections and Services.

(DIG_E_2007_Feminisms)

Source:

born digital

Related Links:
Print
Exhibition Didactics
Introduction
Global Feminisms is the first major exhibition to examine international feminist art at the turn of the twenty-first century. While previous exhibitions of feminist art have dealt with the art of the 1970s or the theoretical or conceptual art of the 1980s, Global Feminisms looks to the present and future rather than the past. It takes as its starting point the year 1990, designating it as the approximate historical moment when the intersections of race, class, sex, and gender were placed at the forefront of feminist theory and practice. Such issues had been explored throughout the 1970s, but it was only from the mid-1980s onward that they began to be articulated more consistently; the 1990s marked a move away from the Western domination of feminist art toward the inclusion of work by artists from regions outside of America and Europe. This exhibition illustrates that shift.

Insofar as the present exhibition expands upon the many developments that have occurred in feminist theory and contemporary art practice over the intervening three decades, Global Feminisms also defines itself in counterpoint to the landmark exhibition Women Artists: 1550–1950, which was organized by the art historians Linda Nochlin and Ann Sutherland Harris and shown at the Brooklyn Museum in 1977. Unlike that exhibition, however, which presented an historical survey, Global Feminisms is devoted to contemporary art by women artists born since 1960.

Presenting the work of 88 female young to mid-career artists from around the world, this exhibition includes a multitude of voices, calling attention to the fact that feminism is a truly global issue. By making feminism a plural noun, feminisms, we mean to imply that there is not one single, unitary feminism any more than there is a universal "woman." Similarly, Global Feminisms seeks to challenge the concept of a "global sisterhood," a term that assumes a universal sameness among women without taking into account social, racial, ethnic, economic, sexual, and cultural differences.

The exhibition's installation is neither chronological nor geographical but is instead organized loosely into four thematic sections within which diverse works can overlap. The sections are Life Cycles, Identities, Politics, and Emotions.

It is our wish that this exhibition, though it does not pretend to be comprehensive, will provide a salutary precedent for future curatorial activisms with a global focus. Above all, we hope that this show constitutes not only a revelation of the creative energy of women and their art throughout the world, but equally, a reclamation of difference as a major positive force in the human situation, rather than a crippling predicament. It is only through the acceptance of difference in its many varieties that art, and society, can change.

Maura Reilly and Linda Nochlin
Curators of the Exhibition

Life Cycles
The works in this section of the exhibition share a desire to break down the stereotypes that still "typecast" women today.

This section charts the stages of life, from birth to death, but does so in a non-traditional and subversive fashion. Instead of offering the comforting, joyous, or serenely accepting images of pregnancy, motherhood, marriage, old age, and death that one might expect, artists in this section question the stereotypes associated with these milestones in life—challenging the familiar societal roles, expectations, and concepts that generally accompany them. Global Feminisms artists therefore prefer to explore lesbian motherhood, primate wet-nurses, male pregnancy, the dark underbelly of childhood, cyber-feminist marriages, honeymoons without husbands, and seductive tombstones.

Identities
In the words of the feminist theorist Donna Haraway, identities are "contradictory, partial, and strategic." This idea is central to Global Feminisms, which seeks to reveal that a person's identity cannot be restricted to a single definition, and recognizes that identities—race, class, gender, sex—are fluid, and never stable. For instance, many of the artists in this section perform the role of the exotic, histrionic, transgender, or abject "other" so as to deliberately overturn derogatory or restrictive stereotypes. Others demonstrate the falsity of fixed notions of selfhood by celebrating hyperbolic or multiple selves.

Emotions
In the history of art, women have always dominated the representation of emotions. This section explores the representation of various emotional and psychological states, ranging from ecstasy to self-loathing, contentment to psychosis, sexual pleasure to hysteria. While traditionally men are depicted as stoical and controlled, women are assigned the role of explicitly emotional and irrational expression. The word hysteria, after all, meaning a heightened, pathological emotional state, is derived from the Greek term for "uterus."

Some of the artists in this section consciously parody, through exaggeration or hyperbole, the conventional idea of women as hysterical victims of their emotions. Others evoke strong emotional responses in the spectator, who is confronted with passionate kisses, domestic violence, self-mutilation, fits of laughter, bouts of tears, or the display of sexually arousing poses. These representations dismantle the whole confining structure of what is "natural" for women, and men, to feel and express. Women are no longer envisioned as the bearers of the freight of emotional authenticity; emotions are seen as arising from specific social and political situations rather than being "natural."

Politics
Inverting the 1970s dictum that "the personal is political," this section looks at the world through the eyes of women artists who declare that the political has now become deeply personal. Never content in their role as the historically silent female subject, the artists in Global Feminisms talk back and speak out in protest against the inequities and injustices in the world around them. They explore the problematic relationship between the individual and those institutional or political forces that give rise to war, apartheid, racism, hate crimes, sex trafficking, colonialism, geographical displacement, and industrial pollution.