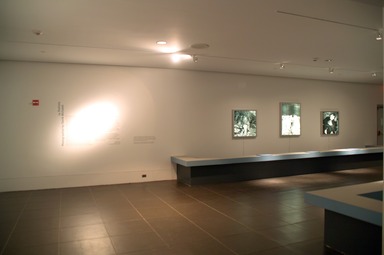 14 Stations: Photographed by David Michalek
Dates:

November 12, 2004 through March 27, 2005

Organizing Department: Prints, Drawings and Photographs
Collections: Photography
Location: This exhibition is no longer on view in Mezzanine Gallery, 2nd Floor
Description:

Records: Exhibition views: installations. 14 Stations: Photographed by David Michalek. [11/12/2004 - 03/27/2005]. Installation view.

Citation:

Brooklyn Museum. Digital Collections and Services.

(DIG_E_2004_Michalek)

Source:

born digital

Related Links:
Print
Exhibition Didactics
14 Stations Photography by David Michalek
The photographer David Michalek derived the concept of 14 Stations from the longstanding artistic tradition of the fourteen Stations of the Cross, also known as the Via Dolorosa or Via Crucis. This series of images, which originated in medieval Europe, depicts fourteen episodes unfolding in the hours from Christ's condemnation by Pontius Pilate to his death at Calvary. Many of the Stations are based on specific passages in the Gospels. As a whole, they are a focus of devotional exercises in the Catholic religion and are often placed on the walls of churches and chapels, or built into wayside shrines leading to places of pilgrimage.

It is the portrayal of Christ as a suffering human being—visualized in a direct, immediate manner—that made images of the Stations of the Cross an enduring feature of Christian devotion. In the spirit of this tradition, David Michalek selected the theme as a starting point to give testimony to the endurance and dignity of certain individuals in our own time who undergo suffering. He has chosen to focus specifically on the dire effects of homelessness. Michalek collaborated with men and women who have been homeless and who are affiliated with the Interfaith Assembly on Homelessness and Housing, a New York–based non-profit organization.

In the Middle Ages, groups of Catholics acted out the episodes of the Stations of the Cross as a devotional pageant, reenacting Christ's journey to the Crucifixion in order to comprehend the nature of his suffering. Similarly, in Michalek's project on view here, participants enacted each Station, with different individuals—men and women alike—assuming Christ's role in each. The artist then photographed the resulting scenes, sometimes bringing out a conceptual, if not a literal, relationship to how that Station has been portrayed in the past.

As Michalek says, "14 Stations is an attempt to give individuals who have suffered an opportunity to process that experience through the framework of a spiritual model. Such an art is not redemptive in itself, but hopefully it contributes to the recognition of the spiritual vocation of being human."

Charlotta KotikCurator and ChairDepartment of Contemporary Art

Artistic Process
"Not every effort will be a final one. Try one thing, then another, then another, then another—like sculpture. Sculpt the piece. Find the form. Look for it. What it should be. But maybe that certainty came too early. Stay open to a change. Let the piece become what it can be."

David Michalek

During his process of collaborating with members of the Interfaith Assembly on Homelessness and Housing in 2003 to create 14 Stations, David Michalek recorded its creative evolution in detailed notebooks (one of which is displayed in this exhibition). There, he jotted down his ideas, drew sketches, and pasted fragments of photographs and poetry written by his partners, ultimately developing the final images of the series.

Michalek's notes reveal that he did not simply follow the established iconography of the fourteen scenes, but rather created an indepen-dent, personal statement. He saw traditional representations from the past as a point of departure, reinterpreting their meaning for the time we live in. However, traditional versions of the Stations of the Cross were discussed with the group, and the responses of the individual members were taken into account. In addition, Michalek and his volunteers engaged in broader discussions of literature, art, and current affairs, and established a writing workshop. They also shared personal stories about their predicament as homeless or formerly homeless individuals.

The scenes themselves were composed after these discussions, using sketches, Polaroids, and even three-dimensional models, with the "staging" of the scenes worked out in rehearsals. Throughout the lengthy development process, Michalek made changes and adjustments, responding to comments from the participants.

The collaborative dynamic of the project, in both its conceptual development and execution, ensures that 14 Stations remains, in large part, not only the work of an individual photographer but the expression of a group. Indeed, the experience of the participants, working together on a complicated endeavor, produced a heightened sense of responsibility for one another.

A number of the volunteers have since been able to reach out to a world of wider possibilities and ultimately leave their homeless condition for a more stable existence.