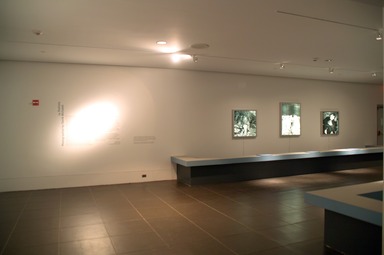 14 Stations: Photographed by David Michalek
Dates:

November 12, 2004 through March 27, 2005

Organizing Department: Prints, Drawings and Photographs
Collections: Photography
Location: This exhibition is no longer on view in Mezzanine Gallery, 2nd Floor
Description:

Records: Exhibition views: installations. 14 Stations: Photographed by David Michalek. [11/12/2004 - 03/27/2005]. Installation view.

Citation:

Brooklyn Museum. Digital Collections and Services.

(DIG_E_2004_Michalek)

Source:

born digital

Related Links:
Print
Press Releases
July 2004: 14 Stations: Photographed by David Michalek an exhibition depicting the traditional Christian devotional Stations of the Cross, and enacted by men and women who were recently homeless, will be on view at the Brooklyn Museum November 19, 2004 through March 27, 2005.

14 Stations: Photographed by David Michalek was made in collaboration with the Interfaith Assembly on Homelessness and Housing (IAHH), a non-profit organization based at the Cathedral of St. John the Devine in New York City. The organization is committed to bearing witness to the dignity of all vulnerable people, particularly those who have been homeless.

Each station was enacted by members of the organization, with a different man or woman taking the place of the traditional Christ figure in each. Michalek then photographed the resulting tableaux. The project avoided direct correlation with canonical representations of the Stations and opted instead for scenes of "everyday life" or, more specifically, scenes suggestive of the experience of being homeless.

The large-scale black-and-white photographs, which are mounted on backlit display boxes, are meant to serve as social and personal statements rather than comprising an exhibition of fine art in the usual sense.

David Michalek received a B.A. in English literature from the University of California, Los Angeles, and a certificate in filmmaking from NYU. He works as a freelance portrait photographer as well as creating performance- based work and multidisciplinary installations. He has been active as an artist since the 1990s and his stated endeavor is to unify aesthetics and ethics as well as to create work that stimulates the imagination.

Charlotta Kotik, curator and chair of the Department of Contemporary Art, organized 14 Stations for the Brooklyn Museum.

14 Stations: Photographs by David Michalek was made possible, in part, by funds from the Durfee Foundation, The Franklin Furnace Fund for Performance Art, The Jerome Foundation, and The New York State Council on the Arts. Metrospace Airport Advertising generously donated 14 lightboxes.