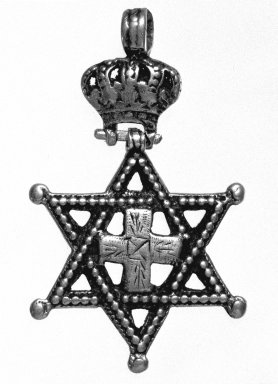 Pendant Cross with Crown and Star of David
Catalogue Description:
Silver neck cross in the shape of the Star of David with an equilateral cross in the center. To the superior arm is attached by a hinge, a small crown surmounted by a ring for suspension. The cross and crown are decorated on one side only with an applique patter of small dots. The arms of the Cross of David terminate in small circles. Condition: Good, evidence of wear. The hinge portion is particularly worn and thin and must be handled with care.
---