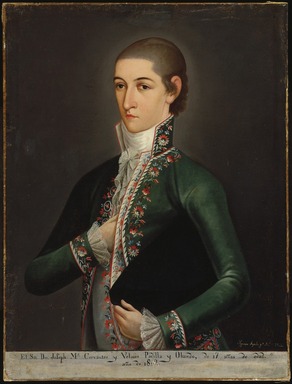 Don José María Gómez de Cervantes y Altamirano de Velasco, Count of Santiago de Calimaya
This portrait depicts Don José Marí­a as a proud young aristocrat. The sitter wears a splendid silk dress coat and vest lavishly embroidered with flowers in the Neoclassical style. A high collar partially covers a magnificent lace frill matched by lace sleeves. He carries a black tricorn hat under his left arm and inserts his right hand into his vest, in a gesture common in male portraits of the period including Jeremiah Theus's image, hanging nearby, of a youthful North American (30.59).
Born in Mexico, Don José Marí­a (Gómez de) Cervantes y Altamirano de Velasco (1786 1856) entered the royal army with the rank of Captain of the Distinguished Patriot of Ferdinand VII in 1810, rising to commander, and then to colonel by 1813. He began to sympathize with the rebels in 1815, joined the independence movement, and signed the Act of Independence of the Mexican Empire in 1821.
Artist: Ignacio Ayala
Medium: Oil on canvas
Geographical Location: Mexico
Dates: 1802
Dimensions: 33 x 25 1/8in. (83.8 x 63.8cm) frame: 38 x 30 x 2 in. (96.5 x 76.2 x 5.1 cm)
Signature: Signed and dated lower right " Ygnacio Ayala pto. Mo. a. 1802."
Inscriptions: Inscribed across the bottom: "El Sor. Dn Joseph Ma Cervantes y Velasco Padilla y Obando, de 17 años de edad./año de 1802."
Collection: European Art
Museum Location: Brooklyn Museum, BMA, 5Q12-LUCE, Unit 24, SCR A
Exhibitions:
Accession Number: 52.166.7
Catalogue Description:
Don Jose Maria Cervantes y Velasco Padilla y Obando (1786-1856). An oil painting sighed by Ygnacio Ayala showing Don Jose Maria at the age of 17 years. He is wearing a green coat embroidered with red. etc. Flowers down the front with a lace jaboe and high stock. He carries his hat under his left arm and his right hand is in his vest. This is a three-quarter view and length with him facing to the left. This Don Jose Maria was one of the signers of the Mexican Act of Independence, and a Brigidier General in the Army of the Republic, and Chancellor of the Mexican Order of Guadalupe. Condition: good
---