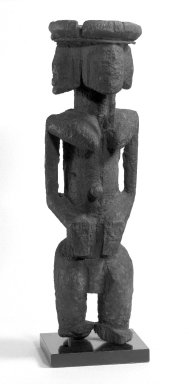 Figure with Four Faces (Ginin)
This type of statue with multiple heads, called ginin, was commissioned by a group of individuals with a shared lineage, to be placed on an ancestral altar. It represents solidarity and the protection of the family, with one face looking in each of the cardinal directions from which danger might come.
Catalogue Description:
The standing figure is a rich brown-black color and completely covered with sacrificial patina. The four opposing heads face outward, and are surmounted by a shallow, circular, concave, disk-like configuration. Under the rim of the disk is an iron ring. There is a narrow cylindrical articulation from the chin of one of the heads. All the facial features are in low relief, an affect that is heightened because of the sacrificial patina. The torso is cylindrical with sharply defined breasts, protruding navel, and arms, held apart from sides, are bent at the elbow. The hands are held in front of the abdomen. The knees are slightly flexed and portions of both feet are missing. CONDITION: Good. The rim of the disk is chipped in two places and there is visible erosion. Some pitting and flaking of the surface. Sections of both feet are broken away and missing. The figure is mounted on a modern black metal stand.
---