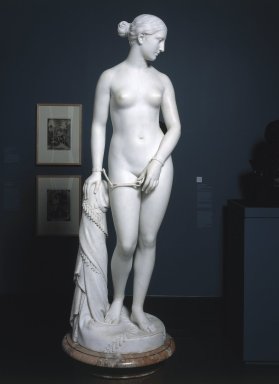 The Greek Slave
Although Hiram Powers conceived the first version of this sculpture (completed 1841–47) out of sympathy for the Greek women enslaved during their war of independence with the Turks (1821–30), his subsequent versions (including this last of six) took on new meaning in the climate of the Civil War era. Viewers who saw the sculpture on public exhibition associated the figure with the violation of enslaved mulatto and black women in America.
A writer for the liberal antislavery newspaper The National Era commented, "As this elegant statue traverses the land, may many a mother and daughter of the Republic be awakened to a sense of the enormity of slavery . . . Thus may Art, indeed, fulfill its high and holy mission! Let the solemn lesson sink deep into the hearts of the fair women of the North and of the South! Waste not your sympathies on the senseless marble, but reserve some tears for the helpless humanity that lies quivering beneath the lash of American freemen!"
Catalogue Description:
Life-size figure of idealized nude female standing in contrapposto pose on round base; head turned to left and slightly downward; hands bound together with chains with proper left hand over genitalia and proper right hand leaning on post draped with patterned cloth. Condition: Good.
---