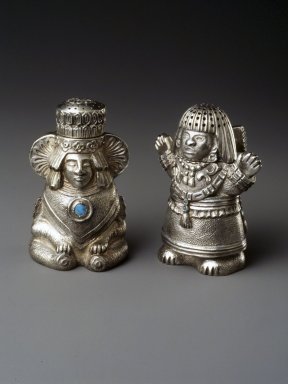 Salt or Pepper Shaker, One of Pair
Catalogue Description:
Shaker (a) and lid (b), silver, in form of Aztec female deity in tunic with arms upraised. Head unscrews with bayonet mechanism. Top of head pierced with many small holes. Pendant braids on rear, each set with small turquoise stone. CONDITION: Some oxidation on b near juncture of a & b; two turquoise stones missing from necklace in front. Turquoise stone on back chipped. 06 13 1989, two missing stones purchased from Greenwood Gems. 10 West 49th St. and remounted by Kirk's Setting Co., 2 West 47 St. NYC.
---