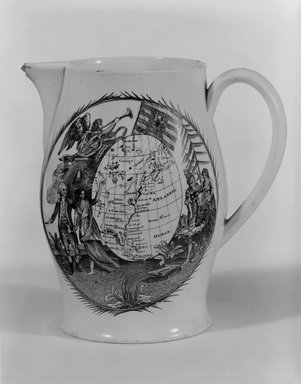 Pitcher
This ceramic object celebrates George Washington, the hero of the War of Independence and the first American president. The cult of the Founding Fathers began even while those national heroes were still alive. Washington, in particular, but also Benjamin Franklin and Thomas Jefferson, enjoyed a celebrity status that is difficult for us to appreciate, even in our age of instant fame and media-generated notoriety. Upon his death in 1799, it was even proposed that Washington be buried in a pyramid in emulation of ancient Egyptian pharaohs.
Catalogue Description:
Glazed earthenware pitcher (creamware) with transfer-printed black decoration. Map of America with Washington, Liberty and Franklin on one side. On the other side, a poem in a reserve surrounded by trophies and a banner saying "Independence" and a wreathed hat saying "Liberty." Condition: Spout chipped and cracked. Some discoloration of glaze.
---