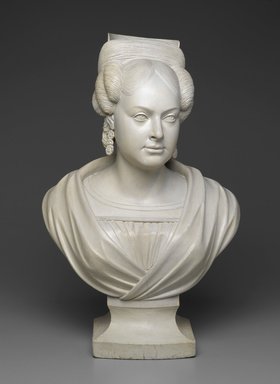 Mrs. Charles Dodge
After training in his father's New York carving firm, Charles Dodge established his own shop by 1842, and he remained active until 1870 as a ship carver and maker of cigar-store Indians. In this finely wrought bust (believed to be a portrait of his wife), he departed from the conventions of his commercial craftsmanship. The smooth surface and sensitively rendered, though idealized, features and drapery show knowledge of the Neoclassical then in vogue, although the insistent detail of coiffure, comb, and earrings betrays a still-strong decorative bent. Painting the wood surface white was in all likelihood an effort imitate the white marble of the Neoclassical models that inspired the artist.
Catalogue Description:
Bust portrait of a woman carved in high detail and painted off-white; facing frontally and glancing to the proper left; she has hanging earrings and elaborate hairstyle with several rolls on sides of head, hair wrapped around a large comb at top of head; figure wears robe around shoulders over dress with round neckline and square front with gathers; on a squared pedestal base. Condition: Good, few cracks in base; few scratches on woman's chest.
---