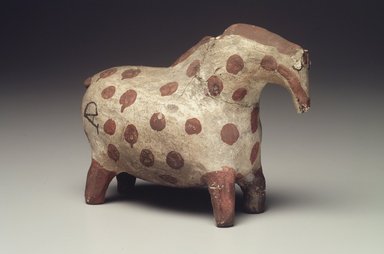 Vessel in the Shape of a Horse
Catalogue Description:
Pottery vessel in the shape of large horse. The opening of the vessel is located in the middle part of the horse's mane. The horse is cream colored slip decorated with red dots also of slip, about 1/2 inch in diameter. The legs, tail part of the mane also have red dots. The eyes and nose are modeled from clay and emphasized by a brown circle around the eyes and a stripe around the nose. The vessel has red initials AD on the proper right side which possibly is a signature or a form of ownership brand. Two front legs have been broken and repaired. Head has also been broken off and repaired. There are blind cracks extending out from head break into the body of the horse on right and left sides. Ears are broken off and missing. Tail and proper right ear are chipped.
---