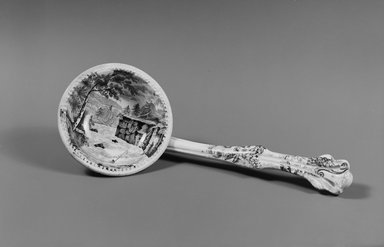 Ladle, "Rapids above Hadley's Falls"
Catalogue Description:
Earthenware ladle with black underglaze transfer-printed design. View in bowl of ladle: "Rapids above Hadley's Falls," left bank of Hudson in diagonal line from right through center to left in foreground; man on ledge with fishing pole; turbulent waters of the falls at right; steep cliffs at right, three boulders in falls and steep plateau crowned with trees in middle distance; mountains in background center. Source of view: painting by Thomas Cole. Condition: some discoloration, lab report on file.
---