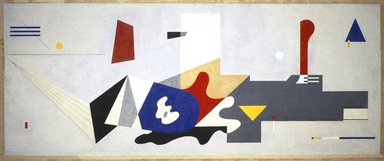 Untitled, From the Williamsburg Housing Project Murals
Of the four artists represented in the Williamsburg Housing Prolect murals (Ilya Bolotowsky, Balcomb Greene, Paul Kelpe, and Albert Swinden), Ilya Bolotowsky achieved the greatest and most sustained measure of recognition. An intellectually and physically energetic man, he had wideranging interests that encompassed writing short stories and plays, collecting Eskimo and other North American Indian art, and making his own documentary and experimental films. Bolotowsky was primarily a painter, however, and was among the first of his generation to paint abstractions.
Bolotowsky was born in Petrograd, Russia, to staunchly anti-Communist parents who later fled the country for political reasons. After some years in Constantinople, where he attended St. Joseph's College from 1921 to 1923, his family finally settled in New York in 1923. From 1924 to 1930 Bolotowsky studied at the National Academy of Design, where he was trained to work in a figurative manner. In 1933, however, he saw paintings by Piet Mondrian and Joan Miró and was moved by their example to experiment in an entirely nonfigurative mode. As demonstrated in his Williamsburg mural displayed here, he had, by 1936, fully embraced an idiom that testifies to his admiration for Miró in both its lively interaction of hard-edged geometric and biomorphic shapes and its use of bright, unmodeled areas of color. The issue of pictorial space versus flatness was central to discussions among the members of the American Abstract Artists, in which Bolotowsky figured prominently. This mural may be seen to incorporate the two opposing approaches; some of his shapes seem to cavort in a vaguely illusionistic space, while others appear to be solidly anchored on the painting's surface, emphasizing two-dimensional nature of the canvas.
By the 1940s Bolotowsky had devoted himself to the strict Neoplasticism of Mondrian. He continued to create his own variations on geometric abstraction for the rest of his career.
---