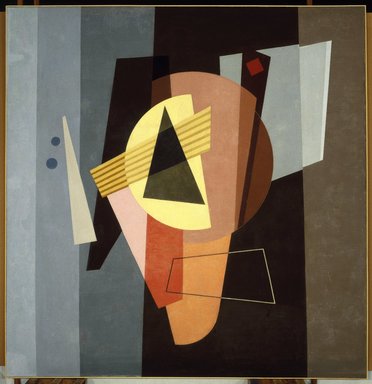 Untitled (right panel of a pair), from the Williamsburg Housing Project Murals
Paul Kelpe's Williamsburg Housing Project murals, like those of Bolotowsky, Greene, and Swinden, were conceived as entirely nonobjective compositions. However, they reveal a distinctly different approach to abstraction. Kelpe is unique among these artists for his strikingly unusual color combinations, his decorative patterning of selected fields of color, and his sculpturesque forms suggesting axial rotation.
Kelpe was a founding member of the American Abstract Artists and participated actively in the organization as an exhibitor and an officeholder. Despite the stance of unity among the organization's members in their desire to promote the acceptance of abstraction, Kelpe's work provoked considerable criticism from within the group. His critics, most of whom favored the gridded geometries inspired by Mondrian, deplored his persistence in maintaining an illusionistic, three-dimensional space in which his abstract geometric solids float.
Kelpe was thoroughly familiar with the European avant-garde. Born in Minden, Germany, he studied art history and architecture in Hanover, where he gained firsthand knowledge of the work of Kurt Schwitters, Wassily Kandinsky, and the Russian Constructivists, among others. After immigrating to the United States in 1925, he settled in Chicago in 1931. When he applied to the Chicago Regional Mural Division of the Federal Art Project, his application was denied because his bold abstract imagery did not correspond with the realistically rendered portrayals of American life that the Chicago office preferred. This rejection spurred him to move to New York City, where his abstractions found a more favorable response from Burgoyne Diller, who hired him to participate in the New York City Works Progress Administration Mural Program at Williamsburg.
Although Kelpe continued to paint and exhibit frequently, he also pursued more academic aspects of art and earned a master's degree and a doctorate in art history from the University of Chicago in 1948 and 1957, respectively. After teaching art history at the university level tor many years, he retired in 1969 to devote himself to painting.
---