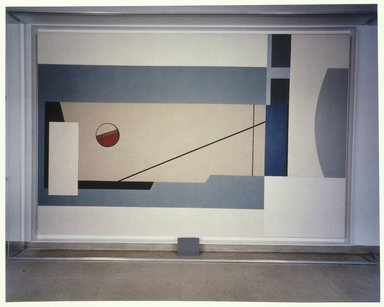 Untitled, From the Williamsburg Housing Project Murals
The cool austerity revealed in Balcomb Greene's mural displayed here provides a visual equivalent to the intellectual concerns he articulated in many essays and lectures throughout his career. Born in Milville, New York, and raised in the Midwest, Greene earned a B.A. in philosophy from Syracuse University in 1926. His introduction to the art world was through the young artist Gertrude Glass, whom he met in 1926 and married shortly thereafter. Greene went on for graduate study in psychology in Vienna in 1927. On returning to the United States, he shifted his focus to English literature, studying at Columbia University and then teaching at Dartmouth College from 1928 to 1931. Thereafter, the Greenes went to Paris, where Gertrude pursued her own career and Balcomb continued to write—poetry and fiction—and also became more deeply engaged with contemporary art. In Paris both Balcomb and Gertrude Greene found aesthetic affinity with the ideas of the Abstraction-Creation group, which emphasized pure plastic (or formal) elements such as line, color, and shape, and rejected anecdotal or natural elements and identifiable subject matter.
Greene's relatively sudden embrace of painting met with early success, and he had his first solo exhibition in Paris in 1931. The Greenes returned to New York in 1932. Although Balcomb continued to write, his attention was increasingly drawn to painting. As a founder and the first chairman of the American Abstract Artists, Greene was an important force in promoting the group's beliefs both in his paintings and in print.
In the late 1930s Greene worked for the Mural Division of the WPA/FAP, executing this Williamsburg mural and another important one for the Federal Hall of Medicine at the 1939 World's Fair. He also earned a master's degree in art history at New York University in 1941.
From 1942 to 1959 Greene taught art history and aesthetics at the Carnegie Institute of Technology in Pittsburgh. Although he continued to paint and exhibit actively, he was no longer affiliated with any particular artists' group or communal aesthetic or sociopolitical efforts. His work of the 1930s underscored his belief that art should be impersonal—as shown here in the cool remoteness of this mural—yet he turned in the early 1940s to an abstract idiom that relied on identifiable objects, a manner that he explored in his late paintings created in the Long Island studio that became his base in 1959.
---