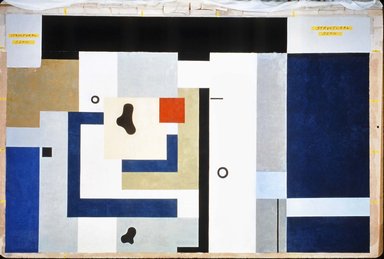 Untitled, From the Williamsburg Housing Project Murals
Albert Swinden's abstractions have been referred to as "calmly classical visions." These words provide an apt description for this mural specifically, with its carefully balanced, disciplined composition of rectangular shapes punctuated by occasional biomorphic forms. Swinden seldom wrote about his art, but his brief essay "On Simplification," published in the 1938 American Abstract Artists Yearbook, provides a succinct comment on the aesthetic concerns embodied in this mural. "We are moved not only by particular, or individual forms," he wrote, "but by the relationships between the particular forms and their significance as a unity."
Swinden's Williamsburg mural does not conform to his original conception for it. The changes he made (such as the addition of a black horizontal strip of canvas at the top and a wide, broken band of blue on the right) were probably in response to the demands of the specific space in which the mural was installed at the Williamsburg Housing Project. Similarly, the two inserts of unpainted canvas in the upper right and left corners represent areas occupied by structural beams at the mural's original Williamsburg site.
Swinden was born in Birmingham, England, and lived in Canada from the age of seven until his immigration to the United States in 1919. After studying at The Art Institute of Chicago for about eighteen months, he settled in New York City. There he enrolled in art classes at the National Academy of Design but soon decided to attend the Art Students League instead, where he studied from 1930 to 1934 and began to teach in 1932. He also studied for a time with the influential artist Hans Hofmann.
Despite his association with, and position of respect among, some of the most progressive artists of his day, Swinden was unsuccessful in promoting his art in the commercial sphere. Although he was instrumental in founding the American Abstract Artists, was selected by Burgoyne Diller to execute important murals for the Williamsburg Housing Project and the 1939 World's Fair, and was included in many group exhibitions in the 1940s, he often supported himself working as a textile designer or an engineering draftsman.
Even though Swinden painted steadily throughout his life, his oeuvre is comparatively small. In addition, most of his early paintings were destroyed in 1940 in a fire at the studio he shared with Balcomb Greene (whose Williamsburg mural is also on view nearby). These facts increase the historical and aesthetic significance of Swinden's "rediscovered" Williamsburg mural, for it now stands as a rare, and possibly the most important, surviving example of his early work.
---