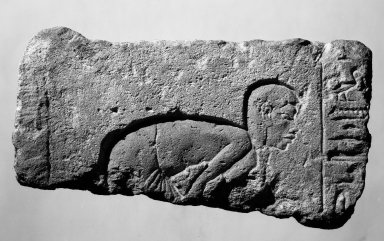 Relief of a Bowing Courtier
Catalogue Description:
White limestone slab with deeply carved representation of a bowing courtier in sunk relief in front of whom are the remains of a column of inscription. The text shows traces of blue paint whereas the figure is painted red. The front plane of the slab curves concavely. Condition: Broken on right and lower edges; chipped all around; slightly damaged in various places.
---