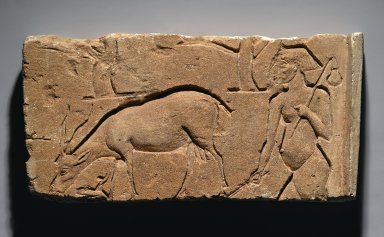 Relief Representation of Goatherd with Goat and Trees
Catalogue Description:
Limestone slab decorated with a sunk relief representation of a bearded man (goatherd), a goat and two trees. The relief may once have decorated the end of a wall because there is a projection surface at the right end of the slab. Condition: Man's lower legs, lowest part of three of the goat's feet, the goat's nose and the tops of the trees are not preserved. Front of man's face damaged. Large chip in field.
---