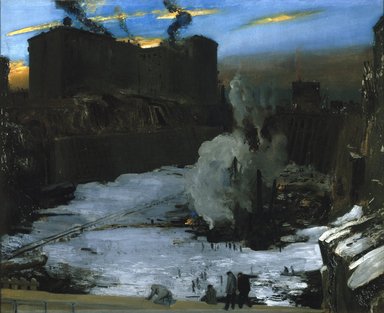 Pennsylvania Station Excavation
George Bellows's painting of the excavation for the new Pennsylvania Station (a project that transformed the densely populated area between Thirty-first and Thirty-third streets from Seventh to Ninth avenues into an unprecedented gaping expanse) is a forceful example of his exceptional embrace of contemporary urban reality as subject matter. It also demonstrates the emotional charge of his muscular Realist style. The scene has an infernal quality, with the digging machinery circled by small fires and rising smoke near the center of the snowy pit, and all overshadowed by a massive building from which soot streams across the acid blue of a winter sunset.
Catalogue Description:
Painting of pit for foundation of Penn Station.
---