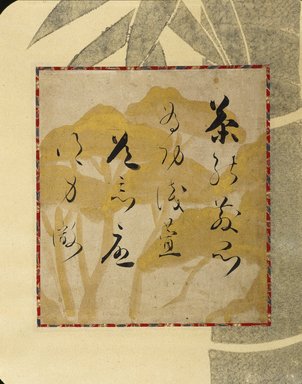 Calligraphy
Koetsu, a calligrapher, and Sotatsu, a painter, often collaborated to produce works in which calligraphy and painting complemented each other. This piece contains a poem that reads:
Tea helps dispel worries and cares,

Leading us to easiness, free from the pursuit of worldly success,

Tea, like a day lily, helps us forget,

Leaving us totally relaxed.
The free-flowing brushwork matches the loose spirit of them poem. In both style and subject matter, this calligraphy pays homage to "tea taste," an aesthetic in which natural, accidental beauty is careful studied, appreciated, and replicated.
Artist: Hon'ami Koetsu (Calligrapher)
Medium: Hanging scroll, ink and gold on paper
Geographical Location: Japan
Dates: 17th century
Period: Momoyama Period
Dimensions: 34 3/4 x 11 1/8 in. (88.3 x 28.3 cm) poem card only: 7 7/16 x 6 5/8 in. (18.9 x 16.8 cm)
Signature: Unsigned. No seals.
Collection: Asian Art
Museum Location: Brooklyn Museum, BMA, 6H4, 38
Accession Number: 1991.1.1
Catalogue Description:
Album leaf with calligraphy of a poem about tea by Koetsu in square poem card format (shikishi). The paper is decorated with a pine tree grove painted by Sotatsu in tarashikomi technique. Koetsu was known to have copied poems from earlier anthologies, imitating courtly manner of 12th century. Unsigned, no seals. Mount: Strips of Indian dyed cloth (17th cen.) surrounding card. Condition: Excellent. No prior repairs visible.
---