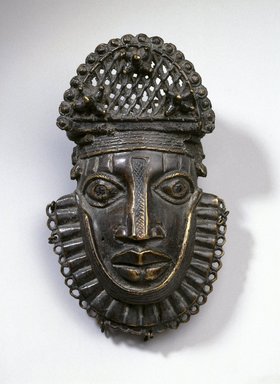 Hip Ornament with Human Face (Uhunmwun-ekue)
Benin court officials wear a variety of brass ornaments as part of their elaborate regalia for ceremonial occasions. Hip ornaments such as this one are worn on the left hip, covering the closure of a wrapped skirt. The three inlaid metal scarification marks on either side of the forehead identify the individual portrayed as a royal Edo man.
Catalogue Description:
Human face with ornate adornments. Semi-circular "crown" extends 2 1/4 in. above forehead with lattice-like area and three 5-lobed decorations at center. Small, globular forms around edge. At forehead, five strands of "beads." Above each eye, three vertical incised lines. Band of incised lines from center of brow to tip of nose. Seven strands of beads represented around lower edge of face. Extending from beaded strands, series of conical projections, resembling ruffled collar; loops attached to each flaring element. Five small, figure-eight shaped wires attached to loops. Condition is good. Small hole in proper right cheek.
---