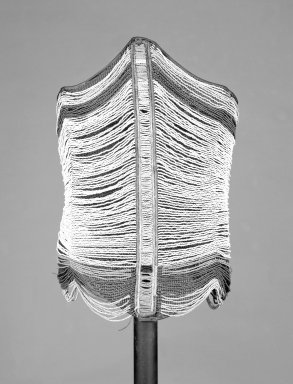 Man's Corset
Both Dinka men and women wear beaded corsets as their principal form of clothing and body ornamentation. The glass beads and wire used in making the corsets are imported products of great value to these pastoral people.
Catalogue Description:
Beaded corset supported in the back by a long narrow rectangular form of rigid wire covered with brown fiber. The wire form, across which rows of beads are strung , is 3/4 in. wide and worn against the spine. The front open support is made of two rigid wires covered with brown fiber, one on either side, with alternating small wire loops all the way down, through which a third , seperate uncovered wire with a large loop at one end is pushed through to close the corset. There are ties on the top and bottom. Long strands of beads each stitched to the corset's support wires, are arranged to make bands of color that drape along the sides of the torso. The widest band of beads is yellow: narrower bands are red, dark blue, and light blue. Yellow is worn by Dinka men over 30 years old. Condition: Good. Fiber worn slightly.
---