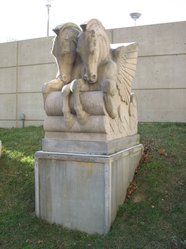 Double Pegasus, one of four, from the Coney Island High Pressure Pumping Station, 2301 Neptune Avenue, Brooklyn
Catalogue Description:
One of four double pegasus sculptures galloping through waves. Made of limestone, on a granite plinth. Originally adorning the Art Deco facade of the Fire Service Pumping Station, Neptune Avenue, Coney Island. By the early 1970s, the building was shut down, as advances in pumper design and local water supply made the station unnecessary. In 1981 the sculptures were removed and relocated at the Brooklyn Museum.
---