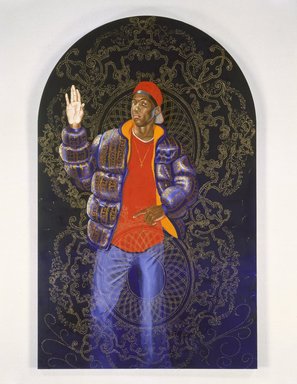 Passing/Posing (Female Prophet Deborah)
Catalogue Description:
Young black man standing in a dramatic pose with his proper left hand in front of his body at hip level, index finger is pointing and rest of fingers are curled inward. His proper right arm is raised at the elbow with his open hand poised in a greeting or placating type of gesture. He is wearing a cross necklace around his neck, puffy jacket, and a baseball cap turned backwards. The canvas is arched at top. The background is lavishly decorated with intricate designs.
---