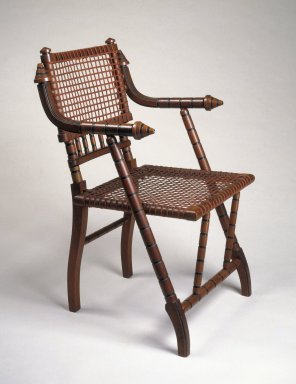 Armchair
George Hunzinger was one of the first designers for whom the machine, the means of production, became an aesthetic influence. Indeed, the structural members of this chair, with its pared-down design, resemble parts of the machines that were used to produce it. This is a very early example of the machine aesthetic that would become the norm in the early twentieth century. Hunzinger secured twenty-one patents for the wide range of furniture that he designed, including folding and reclining chairs, flip-top gaming tables, and folding beds. He used the ideas of novelty and invention a selling tool and proudly marked each chair with the patent date.
Catalogue Description:
Armchair, steel mesh with fabric, stained in middle-tone with mainly turned parts, ebonized details and red fabric. Composed of rectangular back raised atop gently curving rectangular legs by two levels of turned spindles. Attached to each side of the back, an arm that begins parallel to the back then abruptly curves to a horizontal plane (each arm capped at each end by a turned cone). Supporting the front of each arm is a long diagonal front leg which is attached to the sides of the rectangular seat. Spanning the front legs is a stretcher that also supports two uprights that support the front of the seat. Condition: Good, original finish and worn. Some conservation work is evident. Replacement of dowels and glue repairs. See conservation report on file.
---