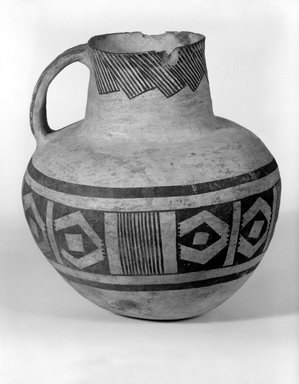 Pitcher with Black on White Geometric Design
The Anasazi, ancestors of modern Pueblo peoples now living in New Mexico and Arizona, settled and farmed in the Four Corners region between about A.D. 1 and 1300. Originally, utilitarian Anasazi vessels were basketry, but by A.D. 500, clay that was hand-coiled, smoothed, painted, and baked in open-air fires became the medium of choice. One speculation is that the different black-and-white pottery designs may represent family, clan, or village affiliations, but since few designs are exactly alike, each may simply reflect the individual potter s imagination. This pitcher is a fine example of the thin clay walls that the potter could achieve and the dynamic interplay of line designs.
Catalogue Description:
Pitcher with handle between lip and shoulder. The bottom of pitcher is plain. Design is black on whitish gray. Handle has four black bands on the parallel coils. Band around center of pot has design sets of diamonds, alternating with vertical stripes enclosed by two thick bands. Shoulder and neck have diagonally slanting parallel lines with saw toothed ends. Mouth is plain. Two chips on rim: long and shallow 3/4" and V-shaped 3/8," opposite each other. Some abrasion of paint, rusty discoloration on one side.
---