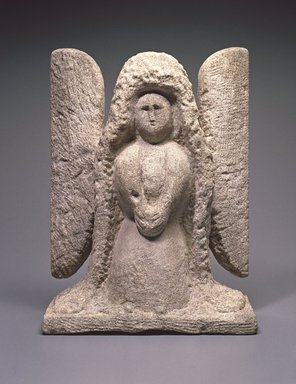 Angel
The son of slaves, William Edmondson did not begin to sculpt until 1931, when the Nashville hospital where he worked as an orderly closed. A deeply religious man, he obeyed what he experienced as a divine calling to carve tombstones. "I was out in the driveway with some old pieces of stone," he explained, "when I heard a voice telling me to pick up my tools and start to work on a tombstone. I looked up in the sky and right there in the noon daylight He hung a tombstone out for me to make." Gradually, Edmondson extended the scope of his work to include small animals and figures. Angel conveys the essence of his art in its directness and simplicity. The pitted limestone surface recalls the weathered faces of the early American and African American tombstones that were the source for many of his motifs.
Catalogue Description:
Blocky and simplifed figure of angel standing on a rectangular plinth with hands clasped in front of belly, wings attached to hooded cloak that falls to floor around body, surfaces roughly hewn and pocked.
---