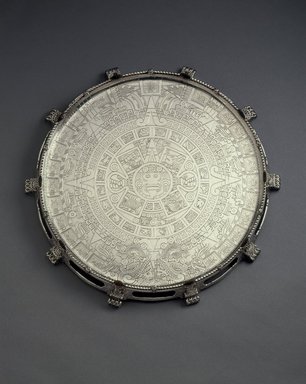 Tray or Waiter
Exhibited in Tiffany's display at the 1893 World's Columbian Exposition in Chicago, this tray is evidence of the nineteenth-century search for America's roots in its pre-European cultures. The object is based on the famous "sun calendar" of the Aztecs, which had been excavated in Mexico City about a hundred years before and had become an icon of the Pre-Columbian past. After its exhibition, the tray was purchased by William Randolph Hearst for use at his palatial residence, San Simeon.
Catalogue Description:
Circular tray or waiter (plateau sur table), raised on 10 stepped, ornamented feet, each representing stylized Aztec deity and each crowned by scalloped, semi-circular, brown and black agate disk headdress that rises above gallery. Between each foot is sloping pierced band with stylized, engraved ornament. Between the headdresses is gallery of low, pierced arcade of repeating arches, each centered with small, elaborate cartouche. Center of tray slopes in concave curve away from gallery; surface is ornamented with acid-etched replica of the Aztec sun calendar. CONDITION: Normal wear. One agate headdress (just left of lower center) replaced with enameled copper.
---