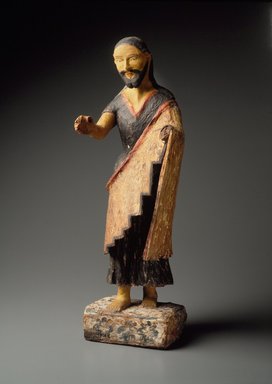 Carved Figure (Bulto) of Saint Joseph
Catalogue Description:
A polychrome figure (bulto) of Saint Joseph set on a thick wooden base in a frontal pose with one foot in front of the other. He is dressed in a black short-sleeve robe with a red V-neck collar. A yellow cape with a step-shaped border is draped diagonally over the figure's torso. The skin has a yellow pallor and the eyes are painted white with large black pupils. Three floral motifs are painted on the front of the base. Smaller three-pronged motifs embellish the top surface. There is overall gesso and paint loss on the piece and fabric can be seen under the gesso on the back and sides of the base and cape. The entire left forearm has been broken and is missing.
---