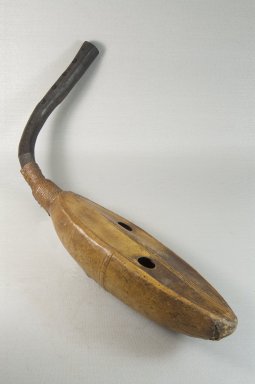 Five-stringed Harp (Kundi)
Catalogue Description:
(a)Viol-shaped wooden resonator covered with hide. Two round openings on anterior surface. (b) Highly polished, curved neck with human head and headdress. Neck has five peg holes, one above the other; pegs are missing. Face with incised geometric scarification. Neck is detachable. Condition: On back of instrument, hide cracked. Strings and pegs missing.
---