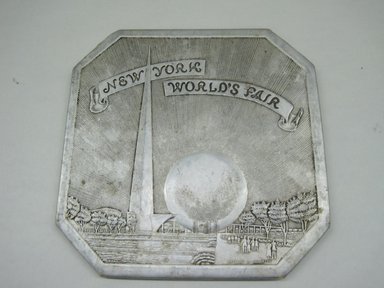 Hot Plate, "New York World's Fair"
Catalogue Description:
Flat square hotplate with chamfered corners and overall impressed scene of World's Fair landscape with Trylon and Perisphere, Trylon proper right, Perisphere proper left. Rays radiating from Perisphere comprise majority of background design. Top proper right, large banner reads "NEW YORK", top proper left, large banner reads "WORLD'S FAIR". Slightly raised undecorated outer edge wraps to back and is secured by brown cardboard backing of the same shape. Condition: Good original. Loss to metallic surface and denting to outer edge, scratching, light chipping and tarnishing throughout.
---